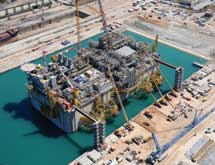 Dragados Offshore has served major oil and gas industry clients around the world for more than 30 years. It specializes in fabricating the topsides of fixed platforms and floating, production storage and offloading (FPSO) platform structures. During its history, Dragados has built large projects including jackets, accommodation, utility and production decks, semisubmersible hulls, load and mooring buoys, and modular refinery plants, the company says.
Platforms fabricated by Dragados are located in the Atlantic, the North Sea, the Arctic, the Mediterranean Sea, the Adriatic Sea, Brazil, the West Coast of Africa and the Gulf of Mexico.
Dragados was founded in Spain in 1972 and is part of ACS Group, a construction and infrastructure services company. The firm maintains its headquarters in Puerto Real, Spain, with fabrication yards located in Puerto Real and Algeciras, both in Spain; and in Tampico, Mexico. U.S. commercial operations were established in Houston in 2004.
"Most of the major oil companies have their offices here and make their decisions for the areas we operate in here in Houston," says Harold Velazquez, U.S. business development director.
Current Projects
Earlier this year, the company was awarded a contract from ConocoPhillips to build two decks for the Judy Riser Platform and Jasmine Wellhead Platform in the British portion of the North Sea, Velazquez says.
The contract includes constructability analysis, construction engineering, construction, commissioning, load-out and sea fastening of the two approximately 6,000-ton decks.
Constructability analysis will take place in WorleyParsons' offices in London, and deck fabrication will be in the yard in Puerto Real. The project is under construction and will be finished in May 2012. An average of 800 workers will be needed during construction.
Other major projects underway include a power generation platform and living quarters platform for platforms operated by Pemex Exploration and Production (PEP) in the Gulf of Mexico in Mexico. Both projects are being fabricated entirely in Mexico. Construction started in 2009 and will finish in 2011.
Dragados closely follows customers' specifications and focuses intensely on safety and quality in all the projects it builds, Velazquez says. "We build to our customers' specifications, but if we saw something that was not structured right, it would be clarified before production," he adds. "We strictly enforce and follow general safety guidelines that are adapted to the specific requirements of each project, and promote the safety behavior from the general manager down to the rest of the organization."
Growth Opportunities
Velazquez sees the company continuing to grow its operations internationally, particularly in West Africa, which is not far from its international headquarters.
Velazquez explains one of Dragados Offshore's other strengths is the way it manages mobilization and demobilization of its labor force. "In most projects it is crucial to be able to man up quickly to achieve required progress early on in the projects, but also to demobilize quickly in order to avoid incurring unnecessary costs," he says. "This is surely one of the aspects why Dragados Offshore has been able to participate in extraordinary projects while also being able to cope with periods of low activity, unlike many other fabricators that have not survived such fluctuations."