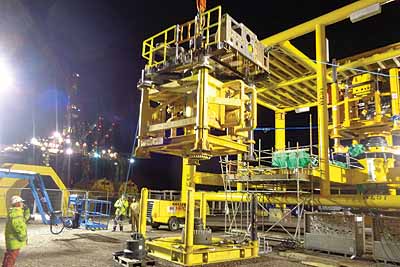 Setting a global standard
Dril-Quip, Inc., founded in 1981, has established itself as one of the world's leading manufacturers of offshore drilling and production equipment that is well suited for use in deep-water applications.
The company designs and manufactures subsea, surface and offshore rig equipment for use by oil and gas companies and drilling contractors in offshore areas throughout the world. Dril-Quip also provides technical advisory services, reconditioning services and running tools for use in connection with the installation and retrieval of its products.
Headquartered in Houston, Texas, Dril-Quip has major manufacturing facilities in the United States, Brazil, Scotland and Singapore, and has sales and service offices in numerous locations throughout the world.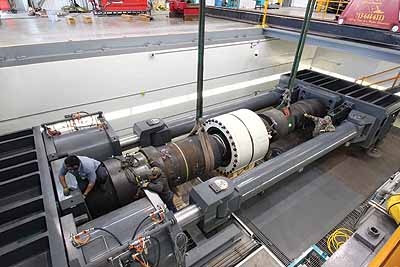 Dril-Quip's global operations are divided into three geographic regions – the Western Hemisphere region serving the offshore markets of North and South America; the Eastern Hemisphere region serving the offshore markets in the North Sea, Iceland, Greenland, Africa and the Mediterranean; and the Asia- Pacific region serving the offshore markets in the Asia-Pacific Rim, India, China, Australia and the Middle East.
The company's product lines are generally categorised into subsea well systems, dry tree systems, subsea completion systems and offshore rig equipment.
Subsea Well Systems – The company supplies equipment for offshore exploration applications, which include specialty casing connectors, subsea wellhead equipment, mudline suspension equipment and liner hangers.
Dry Tree Systems – The company supplies dry tree completion systems for fixed platform and floating production platform applications which include specialty casing connectors, subsea and surface wellhead systems, templates, liner hangers, tie-back connectors, production risers, production riser tensioners and surface production trees.
Subsea Completion Systems – The company supplies subsea completion systems for subsea field developments which include specialty casing connectors, subsea wellhead systems, liner hangers, templates, subsea completion trees, subsea controls, flowline connection systems, pipeline-end manifolds, pipeline-end terminations and flow-control manifolds.
Offshore Rig Equipment – The company supplies a line of rig equipment to offshore drilling vessels that include diverter systems, marine drilling riser systems and wellhead/ BOP connectors.
Dril-Quip is somewhat unique in its industry segment because its manufacturing operations are vertically integrated, with the company performing essentially all of its forging, heat treating, machining, fabrication, inspection, assembly and testing at its own facilities. The company develops its broad line of subsea, surface and offshore rig equipment primarily through internal product development efforts.Dril-Quip is also one of the first in its industry segment to operate under a quality management system following the APQP (Advanced Product Quality Planning) process that incorporates a structured method of assessing design and manufacturing characteristics that govern the fit, function and service life of the product. This assessment is the foundation of design and manufacturing process controls used to ensure safe and reliable products that meet or exceed performance requirements and customer expectations.The company's product design philosophy demands detailed engineering design evaluation followed by prototype testing prior to putting the product in-service. All of its critical products undergo rigorous 2D and 3D Finite Element Analysis (FEA), failure mode and effects analysis (FMEA), and fatigue analysis, where appropriate, during the design verification process. But the company doesn't stop there. "FEA is a great tool during the design process but it requires a lot of assumptions and inputs about loads, materials, component interactions, etc. during modeling. The accuracy of these inputs and assumptions can only be verified and adjusted as needed by performing validation testing. Therefore, we believe it is very important to validate the design and analysis with physical testing," says Jim Kaculi, Vice President of Engineering at Dril-Quip. "Data obtained from our validation tests allowed us to calibrate our models and validate the analysis methodologies, and provides confirmation of the safety design margins and the limits of our equipment."In 2013, the company completed a dedicated Connector Test Facility to accomplish validation testing, which it also believes is unique in the industry. This state-of-the-art facility includes a Vertical Test Machine, a Fatigue Test Machine, and a Horizontal Test Machine capable of testing a complete subsea wellhead system. "Dril-Quip believes that validation testing is critical to meeting the customers' expectations for safety and field performance requirements. It ensures that our products perform as predicted by design analysis," says Marcus Smedley, Vice President of Sales and Marketing.The company is currently using the Horizontal Test Machine to perform validation testing on its specialty connectors and subsea wellhead systems. The Horizontal Test Machine is equipped with hydraulic cylinders and a control system that applies prescribed loads to a test specimen. This highly engineered machine, built in-house, is able to perform component and system level tests of large equipment to their limits at very high load magnitudes: 20 million ft-lbf bending, 13 million lbf tension/compression, six million lbf casing weight, and 20,000 psi pressure. What makes this machine unique in the industry is that it can generate high loads and apply various load combinations simultaneously, including bending, tension, compression, internal pressure and associated pressure end-loads, external pressure, and casing weight for normal, extreme, and survival conditions.In 2010, the company was asked for a proposal of a specialty subsea wellhead with high fatigue specifications for a Tension Leg Platform (TLP) development in the Gulf of Mexico. The company looked at several locking profiles on 30″ OD mandrels and optimised its own locking profile to provide a design geometry that was capable of 460 years of un-factored fatigue life based on the specific project's loading conditions. Following the recommendations of API PER15K for a system level approach to both verification and validation, system validation testing was performed on the wellhead and its locking profile to confirm the analysis results. Going through this extensive and internally funded effort gave Dril-Quip a better understanding of wellhead system behavior, and the knowledge obtained from this test program was used to design the next generation wellhead system. The company won an award for the best technical paper presented at the 2015 Offshore Technology Conference, addressing the structural integrity of a new and enhanced subsea wellhead system with a 35″ mandrel suitable for 20,000 psi HPHT applications and capable of supporting up to 20 million ft-lbf of survival bending moments. "Because we have already qualified our 20,000 psi subsea wellhead component technology to API 17D 2nd edition, and API 6A Appendix F Group 4 dynamic test requirements for 15,000 psi equipment, we have all but completed development efforts for the next generation 20,000 psi subsea wellhead systems," says Smedley.
Dril-Quip designed, built and delivered its first fixed platform unitised wellhead system and production trees in the late 1990s. Since then, the company has continued its development of critical service platform wellheads and production trees for single-well vertical, multislot vertical and horizontal tree applications in key field developments in the North Sea and Asia Pacific.
The company has been supplying dry tree components to TLP and Spar field developments since the early 1990s. In early 2000, the company adapted its fixed platform unitised wellhead and production tree technology for service on a floating production platform in the Gulf of Mexico. The company recently added riser tensioners to its product line, enabling it to provide entire dry tree completion systems to its clients. Its first dry tree system was supplied to a Spar application in the South China Sea in 2012. The company is currently supporting installation of its dry tree systems for multiple TLP projects in the Gulf of Mexico and offshore Brazil, as well as manufacturing dry tree systems for a TLP project offshore Malaysia.
Dril-Quip has provided and successfully installed over 300 subsea trees in various locations around the world. The company has shipped subsea trees for installation in the Gulf of Mexico and the North Sea, and off the coast of Australia, Brazil, and the Philippines and most recently off the coast of Trinidad. In 2006, the company supplied its first control system to a field development in the North Sea and since then has supplied controls for subsea trees, production manifolds and High Integrity Pipeline Protection Systems (HIPPS) for numerous developments. Dril-Quip is currently designing and manufacturing 18 subsea trees and associated subsea controls under a frame agreement for a North Sea field development. The company has developed a horizontal tree, which is in the final design stages and will be entering prototype testing this year.
Dril-Quip is dedicated to serving the oil and gas industry with fully qualified offshore and subsea drilling and completion equipment that meets industry requirements. Since its inception, the company has sought to provide innovative and reliable products to its customers. Dril- Quip has accomplished this through its efforts to raise the standards of verification analysis and validation testing of offshore drilling and production technology. This, in combination with a vertical integration structure, has given the company its competitive edge in the market.
Dril-Quip
Services: Subsea, surface and offshore rig equipment
Issue 125 October 2015