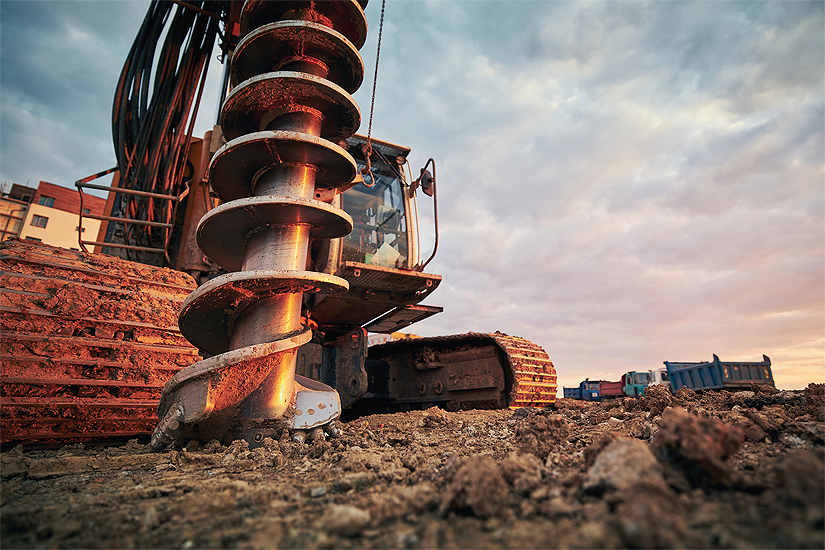 We're all aware of the importance of moving to renewable energy. Every industry is making moves to increase their sustainability, and geotech is no exception. In recent years, there has been a huge surge in the popularity of geothermal energy. Why? Who wouldn't want to be able to heat their home from their own back garden? Small, but mighty, ground source heat pumps (GSHP) can keep your home warm, even in the harshest of weather.
Why geothermal?
Why should I choose geothermal over solar or wind? Whilst the latter two have certainly been in the public eye for longer – a factor which generally makes people feel a lot more comfortable with the idea of bringing them into their daily life – but doesn't necessarily make them more reliable. Nor are they as cost effective as GSHP.
Unlike some other sources, such as solar or tidal energy, geothermal is the only renewable energy we can currently harness that is available to us 24/7. It's not completely unknown, either. Iceland, an island known for its volcanic activity, currently gets 90 per cent of its heating from geothermal sources. This type of energy can be scaled easily from running the biggest steam turbines and industrial greenhouses to the heating of a small cottage in the woods. There are geothermal reservoirs all over the world, and this makes this energy source an exciting choice, no matter the needs.
How does it work?
It's fair to say that Iceland isn't going to be running off of small-scale ground source heat pumps for their country's energy, but GSHP are surprisingly versatile. Aside from the amount of space they take up underneath one's back garden, they require minimal upkeep throughout their lifetime. The installation is carried out by a contractor, who sees the project through from start to finish. This is normally either done by drilling a series of boreholes or surface excavating, which is eventually refilled. Then, loops of conductive piping are installed. Through the loops, heat-carrying fluid is circulated, which absorbs heat from the surrounding soil, and carries it back into the property. GSHP are able to take advantage of the underlying geothermal potential up to 250m, and be tailored to each individual home.
Depending on the available space on a property, the choice is made between carrying out the work using horizontal or vertical excavations. In general, there is minimal difference between the energy output of either process. The extent of the excavation ultimately depends on the size of the property to heat, but is also dependent on the surface geology, as some features transfer heat better than others. If there is less space available for excavation, the contractors will generally recommend vertical boreholes. If there's more, then a shallower excavation can be carried out.
Another excellent element of GSHP is that they're not solely geothermal. Despite the underground heat that can be harnessed, solar energy will also warm the surface and allow the maximum output from any underlying potential energy, to avoid heat from escaping.
What are the benefits?
Ground Source Heat Pumps are incredibly reliable, relatively inexpensive, cheap to run in the long term, and require minimal maintenance. The only disadvantage to GSHP is the space required to install them. Despite that, there's little to no aftercare required, apart from waiting for your grass to grow back!
The importance of renewable energy is always worth reiterating. If no one continues to keep pushing for the use of renewables, we're never going to hit our sustainable development goals.
GSHP are surprisingly quiet, and once your garden ukhas recovered from the installation, you won't even realize they're there.
Gas and electricity are notoriously expensive and regular financial drains on monthly expenditure. Using geothermal energy will save you a pretty penny following the installation of a GSHP.
There are additional advantages to investing in a GSHP, perhaps most notably government incentives. The Renewable Heat Incentive, run by Ofgem – the UK Governments' regulatory body for gas and electricity – can be used on domestic properties. The DRHI can be extremely persuasive, especially with significant monthly financial rewards.
BOREHOLE SOLUTIONS
John Rodgman is Managing Director at Borehole Solutions, a leading provider of geotechnical drilling solutions across the United Kingdom, with over two decades' worth of experience. Whatever the site investigation needs – whether it be the smallest of city basements or a large stadium project – Borehole Solutions will provide the bespoke and tailored service that you require. Borehole Solutions is a proud member of various prestigious industry bodies – the British Drilling Association, CHAS, RISQS and Construction Line, to name but a few.
For further information please visit: www.boreholesolutions.co.uk