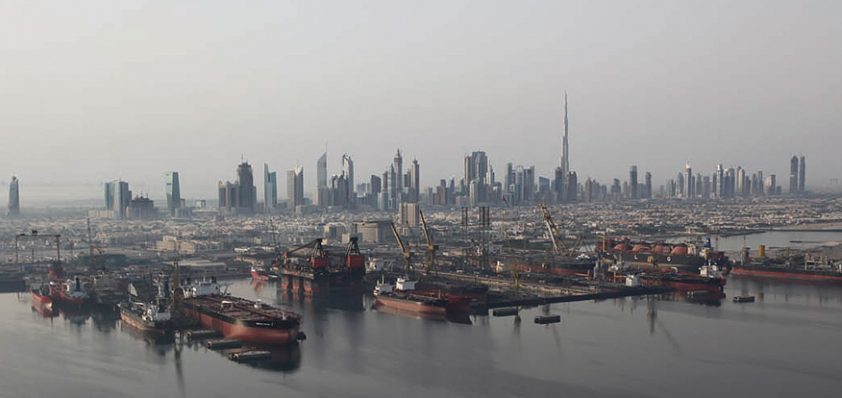 Operational excellence
Drydocks World, a subsidiary of Dubai World, is one of the most prominent names in the maritime industry.
Over the past 30 years, the organisation has established itself as a leading, and fast growing international player in offshore and engineering, ship repair and maintenance, shipbuilding and conversion, rig building and refurbishment, FPSO/FSO conversion, offshore fabrication, maritime clusters and yacht and fleet operations. It has facilities in both the Middle East, and Southeast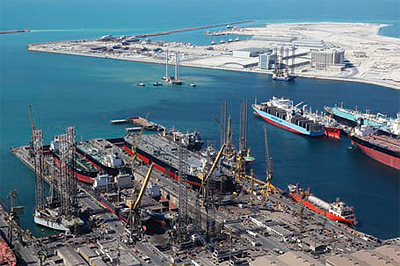 Asia through its joint venture DDW-PaxOcean Asia Pte. Ltd.
Located in one of the rapidly developing regions of the world and a busy trading route, Drydocks World's flagship Dubai shipyard is one of the most prolific shipyards in operation in the world today. The shipyard is the largest facility in the Middle East and is the preferred location for vessel conversions, new building and offshore construction.
Conceived as an ambitious project under the guidance of H.H. Sheikh Rashid Bin Saeed Al Maktoum, the late Ruler of Dubai, the facility, on average, handles 350 vessels in a year, most of them ULCCs (Ultra Large Crude Carriers) and VLCCs (Very Large Crude Carriers). A very recent contract win for the Dubai yard perfectly illustrates the high standing that it holds in the market. In January 2013 MS Queen Elizabeth (known popularly as QE2) was moved to Drydocks World Dubai for undertaking classification checks prior to her renovation as a luxury floating hotel.
QE2 Dubai has created a large consortium to convert the QE2 into a five-star hotel with 500 rooms managed by a prestigious international hotel as an operator. The Oceanic Group, a group of deeply experienced advisers to cruise operators and managers in Asia, will take the lead in managing this project.
The vision for the QE2 is for her to become a landmark cultural and tourist attraction. The consortium will lavish many millions of dollars on this magnificent ship to restore her to the splendour of her glory days as an icon of the very best the world has to offer.
Khamis Juma Buamim, chairman of Drydocks World & Maritime World, said: "We are greatly privileged to be part of this move to create history with this project, which is perhaps one of the most defining moments in maritime travel. This prestigious project will no doubt be another milestone in not only Drydocks World but in Dubai's expanding portfolio of world-leading attractions. We are pleased to be in partnership with the QE2 consortium and the Oceanic Group in the very challenging project. I have no doubt that together we will achieve total success in this endeavour."
Plans for the upgrading of the QE2 include a shopping mall with the finest world leading brands, a QE2 Café offering meals similar to those served during cruises, three Michelinstarred restaurants, and convention and meeting facilities. There will also be an on-board maritime museum displaying QE2 memorabilia and her rich history, along with a collection of treasures of Dubai.
Drydocks World's Dubai yard may be the world's largest and most modern facility between Europe and the Far East, however it is not the only facility under its control. The yard is supplemented by four other fully operational facilities; one in Singapore and three on Batam Island, Indonesia, under the management of the newly-formed DDW-PaxOcean Asia Pte. Ltd. The shipyards have built and repaired over 2000 vessels of various types and sizes, and their customers include major owners and management companies worldwide.
There is one primary characteristic that unites all of these yards and that is quality. Providing a service that fully meets the customer's expectations is a key process objective within the company.
Drydocks World Dubai is leading the way in this, and is certified by Lloyds Register Quality Assurance for meeting ISO 9001, OHSAS 18001 and ISO 14001 requirements, and is authorised by ASME and National Board of Boiler and Pressure Vessel Inspectors for the usage of 'U', 'R' and 'NB' Stamps.
Drydocks World Dubai has maintained a British Safety Council Five-Star Award for its safety management system and was also the proud recipient of the coveted British Safety Council Sword of Honour Award for 2012. The award is given to organisations that achieve exemplary standards in occupational health and safety management, with only 80 companies worldwide receiving the award in 2012.
Although awards such as this are truly remarkable and great honours to receive, it is only by continuing to win major contracts that Drydocks World can maintain its world-leading position. To this end the company is constantly searching for new opportunities, and in November 2012 it made a significant move into the offshore sector, when it entered into a multi-million contract with Premier Oil, a well-known oil exploration and production company with interests in several countries. The contract is for the construction of a subsea facility for Solan oil field, at its Dubai based shipyard. It was signed at a gala ceremony in the presence of HH Sheikh Mansour Bin Mohammed Bin Rashid Al Maktoum.
Khamis Juma Buamim commented: "We have achieved yet another breakthrough in penetrating the offshore oil sector with our superlative services by entering into this agreement with a reputed company like Premier Oil. The subsea oil tank is an essential component of a significant project, the Solan field, which is a future prospective resource of the United Kingdom. Our consistent emphasis on safety, quality and operating excellence has helped us acquire premium projects for industry leading companies and has helped in value addition to the advantage of our clients."
In January 2012, Khamis Juma Buamim stated on Drydocks World's website his vision for the future: "To be valued by our customers and employees as a world leading ship repair, conversion, ship building, maritime cluster and offshore organisation". Just 12 months on from this, Drydocks World has a full order book, a prestigious contract with the QE2 and Premier Oil to fulfil and many other interesting projects in the pipeline. It is clear that the company's chairman is keeping the company on course for all the successes he has envisioned.
Drydocks World
Services: Offshore engineering, ,ship repair/maintenance, rig building and conversion and associated services