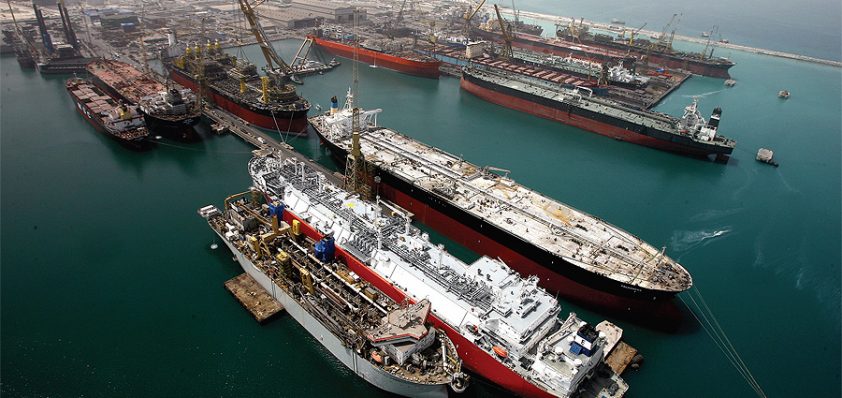 Taking on the world
Created as a result of His Highness Sheikh Rashid Bin Saed Al Maktourn's feasibility study for the construction of an ambitious and large ship repair facility, commissioned in 1971; Drydocks World – Dubai started operations in 1983 and is the leading shipyard in Dubai with agents and clients stretching across the globe.
It is celebrating its 25th anniversary in the shipping business and in this time the company has repaired over 5000 vessels of all types and sizes, many of which are ULCCs (ultra large crude carriers) and VLCCs (very large crude carriers), as well as a large proportion of the world's tanker fleet. The company can boast the fact that virtually every major owner and management company across the globe will have used Drydocks World – Dubai at some point in its operations. It employs 11,000 highly skilled employees in Dubai. This workforce can also be supplemented by a further 1500 workers from local subcontractors, as and when it is necessary. As well as this, the company has agents and a network of employees all over the world, working with both potential and existing clients.
Drydocks World – Dubai has a distinct vision: 'To be valued by our customers and employees as a world leading shipyard group', driven by the mission 'We are committed to operate in a safe and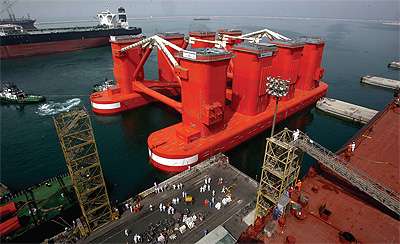 ethical manner, providing a product or service, which meets or exceeds our customer's expectations in every respect whilst achieving commercially acceptable returns for our stake holders', shaping its business practices and company ethos. As a world leading shipyard and a premier yard between Europe and the Far East, Drydocks World – Dubai has four superior docks from which it operates its range of services including; repair, maintenance and refurbishments of ships, rigs and FPSOs (floating production storage and offloading).
The company has 2500 metres of repair berths, accommodating up to eight ULCCs at any one time and the dock is dredged to a depth of 11.5 metres. To aid this large capacity the dock holds a number of advanced crane facilities; a total of ten rail cranes are installed throughout the yard and a 120 tonne crane caters for each of the docks. In April 2005 the company's own floating crane with a lifting capacity of 2000 tonnes and a lifting height of 70 metres became operational.
Due to the booming shipping trade in the Gulf area, Drydocks World – Dubai has become the main choice in ship repair for tankers, LNG/LPGs, dry cargo ships, containers, fishing and coastal vessels. In addition to these, 15 of the worlds largest dredgers also use its repair facilities. Its ability to host a variety of vessels at any one time means the company is a premier choice for dry docking in the shipping industry; being able to accommodate the larger dredgers and tankers while at the same time catering for and equally valuing the smaller fishing and coastal ships means that Drydocks World – Dubai remains at the forefront of the industry. In addition, the dock has the facilities to carry out conversions, lengthening and retrofitting on ships and has established itself as a major player in the market for such works.
Drydocks World – Dubai is also able to provide services for a range of offshore customers. Ten to 15 jackup rigs are drydocked, serviced or repaired at the yard every year, as well as crane and work barges that use the dock for steel repair and reinforcements, geo-technical ships for service and overhaul of their specialised equipment and supply ships that work offshore in the Gulf area. Drydocks World – Dubai is also involved in the new building and construction of offshore facilities, tankers, floating docks and vessels – in 2007 its new building plant produced two Aker H6e semisubmersible rigs bringing the company into new production markets.
With such a wide range of processes and procedures in operation Drydocks World – Dubai holds safety as a priority. In December 2007 the company not only gained the 'Shipyard of the Year' award but also achieved the 'British Safety Council Sword of Honour' award. Its safety management system is certified to OHSAS18001-1999 standards while the quality management system holds ISO 9001-2000 status. The dock has its own fire station on site, constantly manned and on hand whilst risky procedures are conducted. The fire team also works in conjunction with local fire services to ensure the quickest emergency response possible. All employees are trained to the highest safety standards and a designated safety team ensures the continuance of safe practices.
Drydocks World – Dubai has an extensive range of premier services, conducting repair, maintenance and construction works on both onshore and offshore vessels and its safety procedures ensure the company is at the forefront of the industry for quality and security. The dock is set to grow in capacity and facilities for as long as the market can sustain its growth. Drydocks World – Dubai is the first choice for all shipping needs in the Gulf area and is growing in popularity for those further afield. It hopes to be the world's prevalent and largest docking facility in the future.
Drydocks World – Dubai
Services onshore and offshore repairs, maintenance and construction