Dive to succeed
Based in Copenhagen, Denmark, DSE A/S is a leading marine contractor that provides a range of diving services to various industries, including oil and gas, offshore wind power and marine construction.
It also offers ships and mobile offshore unit surveying, as well as wet welding and underwater cutting, quay and jetty work, bottom stabilisation, scour protection and cable work. Furthermore, the
company has its own equipment available for hire, including remote operated vehicles (ROV) and depression chambers.
The company was founded in 1994 as PM Diving, but changed its name to DSE after recently merging with Sweden's largest diving company, SSE. By joining together, the two businesses have been able to expand upon their international customer base, and today DSE works across much of Europe, Africa, as well as the Middle East, South America, Australia and Greenland.
Henrik Jensen, managing director of DSE, elaborates on the span of its operations: "We are one of the only companies in our industry in Denmark to work on such an international scale, and our projects range from sheet pile cutting on the Gaza strip to concrete injection in Somalia, or from harbour deepening in Namibia to cold water intake in Greenland. Our service portfolio is vast, as are our levels of experience and expertise."
DSE is also looking to further expand its operations into the burgeoning wind energy market, after having recently completed a project off the coast of Denmark. It has also assisted in the erection of wind turbines around the UK and Germany, and Henrik is of the belief that this will become an increasingly important area of business for DSE in the coming years: "Not long ago, we had just one wind farm project underway at any one time whereas now we have three up and running. At the rate we are going, I expect us to be working on as many as 10 separate wind farm projects at any one time by 2011, because the renewable energy market is starting to pick up significantly."
The company has been able to gradually establish itself as a key player in the wind energy sector over the years. Henrik explains how this has been possible, and the benefits it brings to the business: "Denmark is renowned for its early entrance into the wind power industry, and so as a country we really have a lot of know-how in the area. As a company, DSE has some of the best wet welding facilities in the world – which, combined with our experience, allows us to remain at the forefront of the field. This is an industry that is continuing to grow and a typical wind farm requires up to 20 divers – so even if we take on just a small portion of the work, we will continue to grow substantially."
In addition, DSE intends on further expanding its oil and gas-related activities, and is currently looking out for potential markets in the field. In addition to entering a new contract with international oil and gas company Maersk Oil, DSE is also looking to step-up its operations in Africa. Henrik highlights some of the company's plans: "The oil and gas sector is one that presents continuous opportunities, and Africa is a prime example – we have recently conducted civil works including repair services to damaged sheet piles in Malabo, Equatorial Guinea, for instance."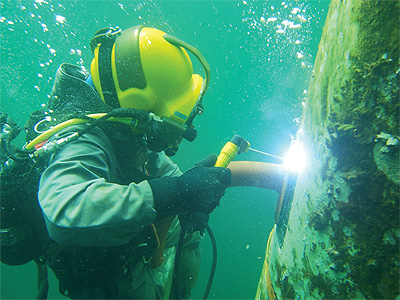 Another important business area for DSE is its ROV hire, where a wide range of equipment is on offer. Included within its portfolio here is the Seaeye Falcon, manufactured by Saab Underwater Systems, the world's leading provider of sensor and precision engagement systems, and remotely operated and autonomous underwater vehicles. The Falcon ROV is able to descend up to 300 metres below the surface and carry a 16 kilogramme payload. This ROV also possesses auto heading, depth, compass and rate gyro, as well as a high-resolution colour camera on a 180-degree tilt platform. Such features make this an ideal tool to conduct a wide variety of inspection, surveying and salvaging activities.
Also included within its ROV range is the Metex 620, an advance model that is designed primarily for work in the offshore sector. Its powerful motors allow it to operate under the adverse conditions present in areas like the North Sea. It is also specially equipped for both photo and video inspection of welding joints found on offshore steel constructions or oil platforms. DSE also offers the Phantom 300, another ROV model that is also well suited to all types of underwater inspections, being easily transportable and having recently been upgraded to HD 2.
Because the environment in which DSE's divers operate is often fraught with danger, the company takes stringent measures with regards to its safety policy. It strives to maintain the highest quality of workmanship at all times, and under the authorisation of all the registered classes of water surveys for ships and mobile offshore units. DSE is approved by the likes of Bureau Veritas, Germanischter Lloyd, RINA, ABS and DNV.
Henrik expects that the company will continue to witness success for the years to come, predicting that: "DSE is in an excellent position now, having built up a great deal of experience over the years to take us further into both the wind energy and the oil and gas industries. We have continued to expand our operations to all areas of the world – we have recently started operating in the Gulf of Mexico too, where we are renting our various depression chambers. Our approach is to remain highly alert to any opportunities, and by taking this philosophy we shall continue to grow."
DSE A/S
Services: Diving services