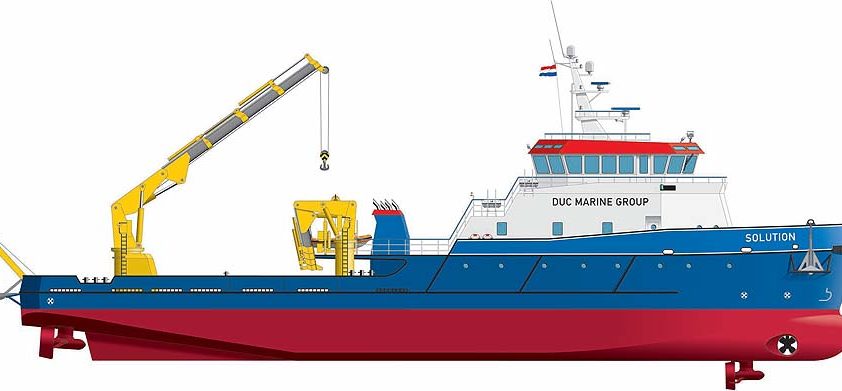 The marine solution
DUC Diving BV has realised both growth and development over the past 30 years, growing from an experienced & reliable inshore/ coastal diving company, into today being a fully functional marine contractor & offshore construction services provider, operating globally and furthermore achieving successful diversification across a wide spectrum of industrial sectors.
Offshore renewable energy, oil and gas constructions, submarine cable projects, salvage projects and large inshore projects are some of the main sectors it currently supplies to and in highlighting this fact, the company recently formed the DUC Marine Group, of which it strongly believes the name describes better its prime capabilities and activities.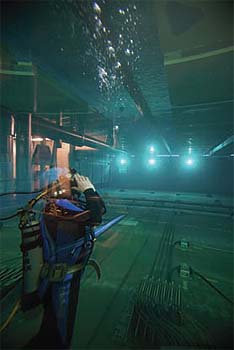 These services include inspection, salvage, concrete pouring and repair, construction activities, UXO-clearance, vessel charter, windfarm support activities as well as oil and gas services.
DUC Diving never relies on a 'one size fits all' approach. All DUC-divers and technicians are trained, qualified and committed to achieve excellence in everything they do. Contrary to most diving companies DUC employs almost all divers itself. This is done to keep the gained experience in the company.
DUC Diving is certified by Bureau Veritas (BV) for:
Quality: ISO 9001;
Environment: ISO 14001;
Health and Safety: SCC**
DUC Diving is member of Achilles – FPAL.
The company is in the last phase of obtaining its membership with IMCA and its final audit is planned for mid-2015 – the company is very confident of successfully becoming a full member of IMCA diving division.
MPSV SOLUTION
As a result of its existing coastal DSV (Ram) being fully employed most of the year, historically DUC chartered vessels from the spot market. It appeared however that these vessels didn't meet its requirements: or they were too small (big Multicats) or they were actually a bit overkill for the jobs (the purpose build DSV's). Therefore DUC started to design its own medium sized DSV, which will be positioned exactly in between these vessels in the DSV market.
The new DSV is an all Dutch product. Owners (DUC Marine Group), naval architect (Hernand Jansen), hull yard (Shipcon) and outfitting-yard (Hoekman Shipbuilding).
The new 'Solution' is currently under construction and expected for delivery during December 2015. The vessel will have a length of 55 metres, a draft min./max of 2.80 metres – 3.50 metres and a cruising speed of 12 knots. The ship will be powered by a Diesel-Electric system. Powered by six Volvo Penta D-13 at 475 kW each, aft thrusters comprised of two electric Omega Verhaar azipods at 650 kW each and two electric bow thrusters at 450 kW each, out of which one is of the swing-up type. The vessel will be equipped with a DPII system and has an impressive DP-capability plot.
The 'Solution' will include a knuckle boom crane mid-ship (90 Tm) and a knuckle boom crane (290 Tm) located on its aft deck. The vessel's main crane will include a ten-tonne active heave compensated winch as well as man-riding capacity of up to two tonnes. Her four-point mooring with CT-winches, combined with her removable bulwarks and her 250 m2 free deckspace makes the vessel ideal for diving, ROV-operations and small offshore construction works. At her stern she has a six metre roller, and there is the option to install a 50 ton tugger winch. A 20 ton A-frame will be installed at the yard. Two Ø1,20 m moon pools are installed, so she is also perfectly suitable for survey works.
The 'Solution' will also be able to accommodate a sizeable crew with sleeping arrangements on board for 42 people and the ability to accommodate additional client offices on the vessel's upper deck. Extra measurements have been taken to avoid noise and vibrations in the accommodations. All cabins will be equipped with TV, internet and air-conditioning.
RAM
When undertaking operations in coastal waters DUC is able to call on its existing multipurpose and diving support vessel, 'Ram'. She measures 56 metres in length and is equipped with a remote controlled knuckle-boom crane located mid-ships in the bow area, as well as a second crane on her PS-aft. She has a four-point mooring system (1,5 ton Flipper-Delta x 600 m) but additionally the Ram can also be equipped with extendable spud poles of up to 27 metres long!
The vessel is perfectly suited for diving operations due to the presence of breathing gas compressors and an on-board decompression chamber, all fully IMCA-compliant. Furthermore the permanent accommodation aboard the Ram can accommodate a compliment of four crewmembers and five passengers. The Ram can operate up to 30 nautical miles off the coast, making it suitable for a host of operations.
Equipment
DUC Marine Group is able to respond quickly to the needs of any project and can quickly assemble the required personnel and equipment. Besides the sea-going vessels it operates a small inland work vessel and several small workboats, including a seaworthy RIB (2 x 250 hp, 45 knots!), equipped with an SRS-dive system. The company owns several containerised decompression chambers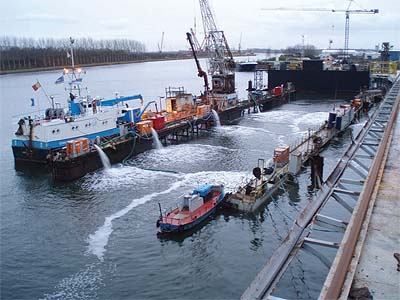 (Ø 1500mm as well as Ø 1800mm), LARS-systems, Nitrox-equipment, a 2500 bar HP waterjet, airlifts, salvage bags, Saab Falcon ROV, and numerous equipment for welding, cutting, drilling and underwater concrete injection works. It also owns a robot for cleaning jetty piles for its 'pile encapsulation system'.
UXO
Since March 2014 the Ram has been continuously engaged in the inspection and removal of unexploded ordinance (UXO) in the North Sea, off the coast of Germany. To host all passengers (UXO-experts, ROV-pilots and divers) an extra TLQ was placed on her deck. Due to her high block-factor and low centre of gravity the Ram is extremely stable and her rolling due to waves and swell proved to be considerable less than other work vessels working together on the same job-site.
Renewable Industry
With its current and upcoming vessels, DUC Marine Group is ready to serve clients across the world and within different sectors. During 2013 – 2014 for example, the company received a contract from RWE Innogy for works on the offshore windfarm Nordsee-Ost, located some 30 kilometres northeast of the Island of Helgoland in the German Bight. The contract called for the removal of temporary grout- and hydraulic lines, which had been utilised during the installation of 49 offshore foundation jackets. In total the company removed some 29 km of hoses running from a service station at the top of the jackets to the sleeves at the bottom of the structure.
In executing this project DUC teamed up with the Rope Access Group, based in the Netherlands, to assist in the necessary industrial climbing works. Following seven months in operation the partnership proved to be very successful for both DUC Diving and the Rope Access Group.
Together several projects have been undertaken very successfully. The co-operation can thus serve clients from 'Top to Bottom'. Other examples of projects undertaken in the renewables are the repairs and installation of several boat landings, general inspection works (above and underwater), installation of underwater transponders incl. cabling, burial of export cables loops and debris removal in cable areas before trenching.
Other projects
DUC Marine works in several different sectors, they can be split in:
Offshore & renewables;
Salvage- and wreck removal;
Harbour- and industrial works;
And various other jobs.
Last years DUC Marine Group performed several salvage- and wreck removal jobs, varying from small inland yachts up to a sunken 650 ton container gantry crane in the North Sea, seven small wrecks in the North-Sea and a 1600 ton sunken dry-dock in Holland. Its teams also worked on salvage projects in Sierra Leone and Nigeria. It salvaged numerous of anchors and tons of chains in a big 'cleaning campaign' during a few months in the anchorages in front of the Dutch main ports.
The business executed several inspection and repair jobs in Turkey as well in Romania for hydropower plants, repaired slipways shipyards in Holland, worked on numerous sluices, locks and other industrial projects all over Europe. In Flushing it installed some 4800 aluminium anodes on sheet piles. For RWE it worked on cooling-inlets of a new coal power plant.
With its 'Ram' the company undertook several soil investigation campaigns. Not only using a big vibrocorer, but also with an underwater CPT. As the company awaits the arrival of its new vessel, DUC Marine Group stands ready to serve clients within the offshore oil and gas market and beyond.
DUC Diving BV
Services: Inshore and offshore marine support and underwater services