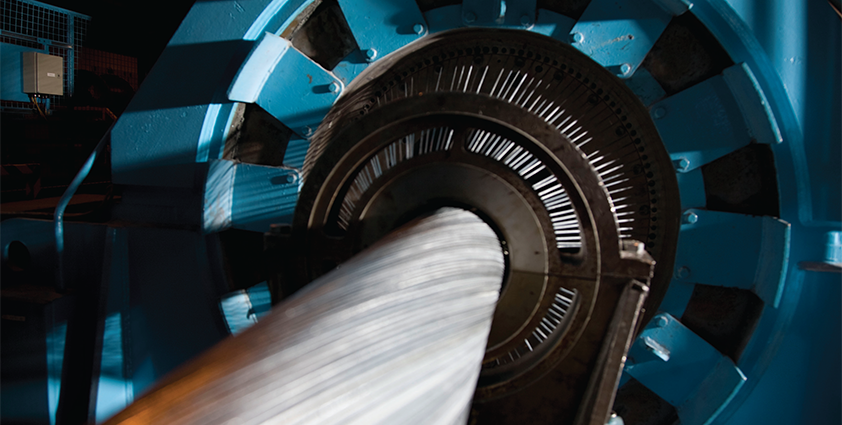 The strongest link
Duco Ltd is a UK company specialising in the engineering, design and manufacture of subsea umbilical systems, used for the transfer of power, chemicals, communication services or data transmission.
It is part of the Technip Group, an international provider of technologies, and project management and engineering services for the oil and gas industry, and forms the central hub for Technip's Umbilical Systems (TUS) division. Having been in the business for nearly 40 years, it has made a name for innovative products and close working relationships with its clients.
Subsea umbilical systems can be used in a wide range of different applications including production control, chemical injection, subsea pumping and processing, gas lift and underground gas storage. The umbilicals manufactured at Duco Ltd can include any combination of internal components including steel tubes, thermoplastic hose fluid conduits, large bore centre tube for bulk chemical transfer, both low and medium voltage electrical power cores and optical fibre cables.
Projects and engineering vice president Sarah Cridland further discusses the capabilities of Duco Ltd's headquarters, located in Newcastle, UK: "Because this site is the hub for the Technip's Umbilical Systems division, we have a substantial R&D facility with an equally large financial investment into R&D. The site also has a large engineering and drafting facility, and because we carry Duco 10 2010 bout the majority of the project management for the division we also have a strong projects department. The majority of the division's global process engineers are based here as well, as they are then able to oversee the way in which we and the other sites carry out our manufacturing process. Clearly, we have a central function here that works to support all of the other sites."
These other sites Sarah mentions are:
Duco Inc based in Houston, the US
Angoflex based in Lobito, Angola
Asiaflex based in Johor, Malaysia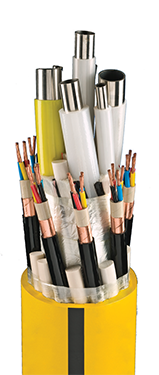 The synergy between these four sites is one of the division's strongest features; through the sharing of expertise, ideas and resources across the network, each is rendered better equipped than they would be individually. Additionally, with TUS, and furthermore Technip, being such an internationally spread company, assistance and support can be found in almost every region that Duco Ltd would be involved in should this be required.
This becomes particularly important when looking at the clients and projects Duco Ltd has been involved with. There are three main categories:
Offshore operators
EPCI contractors
Control suppliers
First and foremost the company works directly with oil and gas operators, including major global names such as BP, Anadarko, Shell and British Gas as well as emerging operators based in the North Sea. For example, Duco Ltd recently completed a 20 million euro delivery to BP for its Norwegian Skarv development, in which it designed and manufactured two dynamic umbilicals, six static umbilicals and one fibre optic cable.
Duco Ltd works with EPCI contractors either through Technip, or other parties, which use its large fleets of vessels to install umbilicals and other subsea products offshore. Sarah discusses the company's relationship with control suppliers: "In this area we work with companies like FMC, Vetco Gray and Cameron, and tend to supply fewer umbilical products because the final client doesn't often order umbilical products through the control side. Instead, this is what we call our 'SPS' business where we supply a lot of flying leads that are used to support connections between subsea structures."
The company has gained a reputation for being able to provide innovative products and engineering solutions afforded by the level of excellence amongst its engineers, fifteen of whom have been recognised as Technip 'Experts'. A pertinent example of this is Shell's Perdido project in 2009, where Duco Ltd and Duco Inc engineered, designed, and supplied a number of static and dynamic umbilicals at a water depth of 3000 metres. In doing this, the company set a world record for the deepest installed umbilical system.
More recently the company's work with Shell has seen it sign a seven-year frame agreement to cover projects carried out in the North Sea, following a similar five-year agreement with Shell Malaysia. This is part of Duco Ltd's continued plan of growth; with oil and gas extraction from the North Sea becoming progressively more inventive, the company sees itself as ideally set up to help forward the technology needed to continue North Sea extraction.
Sarah concludes with further insight into the company's future: "We're constantly looking at new geographical areas. There is a very large emerging market in Brazil, and with Technip already having a major presence there, it would make sense for us to investigate it. Moving into more regional markets in general would be of great benefit to the company, I believe, as well as moving towards support for deeper extraction."
Duco Ltd
Services: Subsea umbilical systems