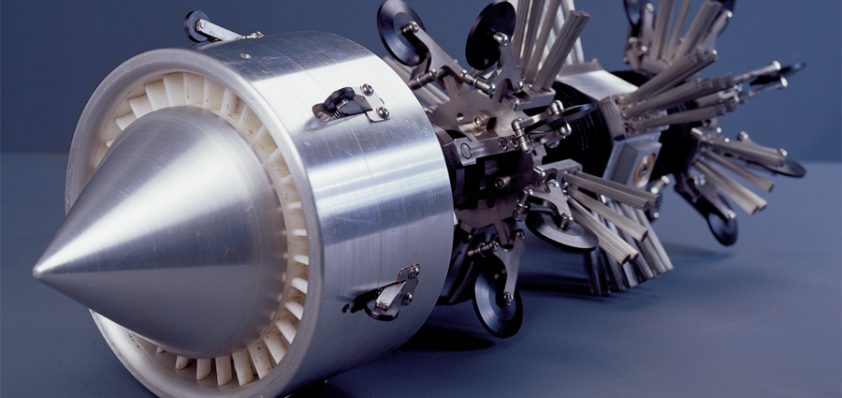 Durham Pipeline Technology
Pigging the unpiggable
One of the biggest issues within the oil and gas industry is the prevention of revenue loss during operations.
To ensure a constant flow of oil and gas, companies working in the offshore sector are always keen to ensure that their pipelines are clean and in goodcondition, as b lockages or ruptures can result in heavy financial loss, environmental damage, or the loss of life in the worst case scenarios.
Durham Pipeline Technology (DPT) is a recently formed pipeline cleaning and inspection company, working with oil and gas operators all over the world. The key factor that differentiates the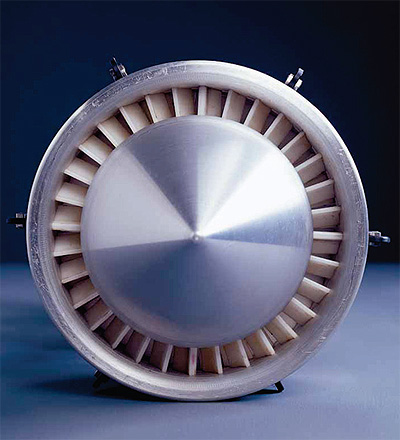 Gateshead-based business from others operating in the same sector is its pioneering bristle-actuated pipeline tractors, also known as pipeline crawlers. The unique benefit of this versatile tool means that it drives through the pipe either with the flow, against the flow and even if there is no flow at all. With various fail-safe features intrinsic in the design, DPT crawlers minimise the risk of the tool stopping in the line, which can cause further blockages and downtime. At the same time, the technology can be potentially used on a significant percentage of the industry's pipelines that are considered 'unpiggable'.
Managing Director Nick Searby outlines the predicament facing oil and gas operators: "Periodically, a company's pipeline needs to be inspected and intelligent inspections are recognised as an established method of gathering data on how corroded the pipeline has become. The worst-case scenario for an energy company is that a pipeline ruptures, costing millions in lost revenue and environmental lawsuits, environmental damage and potentially the loss of life. Naturally, the industry is managing these risks and improvements in cleaning and inspection technologies are where DPT are focusing their products and services.
"It is believed that up to 40 per cent of the world oil and gas pipelines are deemed to be unpiggable, which by their definitions means it cannot be conventionally cleaned or inspected," Nick continues. "Because of this high proportion of unpiggable pipes, major operators have found it extremely difficult, bordering on impossible, to clean and inspect pipelines, and this is where our DPT crawlers are particularly applicable. Within this sector of the industry, we can clean and inspect difficult pipelines, a process that was previously unthinkable. The technology is sure to change in the future, and once we have established our product further, we can develop the intelligence and the robust technical superiority of our crawlers."
Nick elaborates on the physical properties of DPT's products, and how it works in oil and gas environments: "We have developed a technique of crawling a tool through a pipeline, either with or against the flow, in situations where there is very high or very low flow lines, or no flow at all. This is a unique factor of our technology – conventional pigging requires a degree of oil or gas flow to drive the tool through the pipeline to clean or inspect the line. With our technology, no flow is required – so where global oil and gas reserves are depleting, and flow rates can be extremely low, it is difficult to use other technologies. We use the bristles from a conventional pig to tractor our tools through the pipelines, and we can also reverse the tool after a certain distance or when an immovable object is confronted. The massive benefit of our tool is that it will stop and with some tools automatically reverse".
The company has expanded rapidly over the past four years through operating in a number of industrial disciplines. As Nick explains: "DPT is now at the point where it has invested a lot of money on research and development in order to create a number of products and solutions. We refer to our technology solutions as our tool kit, which is a collection of ideas that have been generated
through the problems we have been asked to look at. When the company is faced with new pipeline challenges, we are in a position to quickly assess the feasibility of perfoming the service required with exisiting technology or create a new development project to overcome the speficic issues. These capabilities come from three or four years of working with people primarily in the nuclear, water, and oil and gas industries. We were fortunate to secure a couple of sizable contracts with British Nuclear Fuels (BNFL), which allowed us to develop a number of solutions over the first few years.
"Durham Pipeline used some of the investment it received to start developing tools to be used in the oil and gas industry," Nick continues. "The challenges are much the same across the industries in regards to negotiating pipeline features. What we learnt from operating in the nuclear industry is to make sure the first feature that we concentrate on is to ensure all our products can be retrieved on a project. Retrieval is paramount – if we can't get it out, we won't put it in."
Nick is keen to highlight one particular pipeline project completed for Conoco Phillips recently: "We worked with our Norwegian partners KTN to provide an Ultrasonic Inspection in the North Sea, a pipeline with no conventional launch/receive facility. On the Conoco Phillips project, we were able to rapidly provide a solution to complete the inspection works, we ultimately finished in February of this year."
The main reason for DPT's unique position in the pipeline cleaning and inspection sector is the competence it can offer clients at every level, as Nick comments: "The company's core skill is its experience in developing new technologies that deal with existing pipeline problems. What sets Durham Pipeline Technology aside from its competitors is the creative thinking and sound technical solutions we can offer clients in a timeframe that offers significant operational and commercial benefits. We also have test facilities at our site that are second to none, and we are able to design, develop, and manufacture some very innovative products that can deal with a range of serious pipeline problems. Our technical director who invented all of the technologies developed at DPT, is a former Professor of Engineering at Durham University. Equally, the company's chief engineer is a former PhD Graduate at the University of Durham, so we have a highly experienced academic team located at our facility.
"In order to grow commercially as a business, we must establish partnerships around the world, to offer localised technological solutions for global oil and gas clients," Nick states. "As our fleet of tools and range of partnerships increase, this means we will be able to provide a more comprehensive service to clients, at a reasonable cost. With a higher profile and further success there will be further technological challenges for us to get our teeth into," he concludes.
Durham Pipeline Technology
Products: Pipeline crawlers