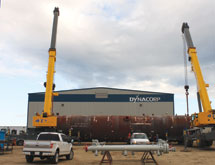 Dynacorp Fabricators Inc.
Since it was incorporated in 1995, Calgary-based Dynacorp Fabricators Inc. has striven to provide the petrochemical and oil and gas industries with custom-fabricated products and solutions. It is because of a commitment to service and long-term business relationships that the company has become well known for manufacturing high-quality, durable and cost-effective equipment.
"Dynacorp originally started with a single shop bay in Grand Prairie, Alberta, and was sold in 2006," COO Justin Morin says. "The public company we sold it to went into receivership, so we repurchased the assets in 2008 and started Dynacorp again as a new entity. In the last four years, we've grown from 6,000 square feet of manufacturing space to 55,000 square feet [and] $30 million in revenue."
Source for Solutions
The company excels in several areas. Its fabrication divisions include locations in Grande Prairie and Calgary. These locations are where the company designs and manufactures equipment for customers.
Dynacorp uses the latest manufacturing technology and manufactures an array of equipment, including custom pressure vessels and piping, sand filters, production testing units, storage vessels, line heaters, inlet slug catchers, flare knock outs and separator packages. The company has a line of standard designs, but thanks to in-house engineering services and an ability to innovate, Dynacorp is capable of offering customized solutions for any project.
"Our customers have come to expect a high-quality product from us," Morin says. "Our shops have a strong focus on production, safety and quality management, which enables us to be more efficient and turn out products on time. Repeat business and referrals are key for us, and we've invested in new equipment to help with efficiency, speed production and minimizes downtime."
Customers can also reach out to Dynacorp for sand filters and equipment rentals. The company's rental fleet is equipped with new production equipment such as sand filters, line heaters, flare stacks and production storage tanks. Customers looking to rent can rely on Dynacorp for on-site installation, start-up and ongoing support. Customers that need specific equipment can depend on the company's design flexibility and quick turn-around time, Morin says.
"We've diversified our customer portfolio, working directly with oil companies as well as through engineering and service companies," he says. "The rental business helps us manage the peaks and valleys as the industries we serve go through cycles. The fabrication business can be cyclical and based on commodity prices, and rental business is a steady source of income."
In addition, customers on the custom fabrication and rental side receive support through Dynacorp's field services and maintenance division. The company offers on-call and on-demand portable welding and maintenance services in the shop or field. This ensures that equipment gets back in service with minimal downtime.
"The service business is all reactionary; one month it can be flat out, the next it can be slow," Morin says. "Having all these different divisions means we can move people around depending on where they are needed. We have dedicated managers for each division, and they help us determine where we need to ramp up and where we need to slow down."
Keys to Quality
In all aspects of its operations, Dynacorp maintains a strong safety program that is in line with government regulations and designed to protect workers, clients, property, the environment and the public. Dynacorp says its management, administrators, supervisors, workers, contractors and subcontractors are all held accountable for following safety rules and safe work practices. The company's management expects workers to participate in the company's safety program, and the company provides safety equipment and training.
"Safety accountability starts with the senior management's involvement and being active in following our protocols," Morin explains. "We have several memberships in safety organizations, and we've implemented a safety database called Simply Safety that better serves our company by centralizing all safety paperwork, tracking incidents and training required. That helps keep safety front and center, and it helps us to know where we need to invest in improving safety."
As the company moves forward, it understands that the labor market will remain highly competitive. That is why it will continue to offer competitive wages, as well as maintain its involvement with apprentices programs for high school students such as the RAP program provided by the Alberta government. "That allows us to get young people in and give them a taste of the business," Morin says. "We can then take them on full-time when they graduate."
Dynacorp also has its eyes open for growth opportunities. Having seen impressive growth in recent years, the company has no plans to retreat.
"The best avenues for growth come in moving forward with rental division and looking for potential fabrication expansion opportunities," Morin says. "We think we can take our rental business into the United States in the next few years, and we want to invest in growing the size of our rental fleet because it will keep our fabrication shops busy and help us expand our services in new market places." EMI