Energising tomorrow
The energy landscape is in the midst of a rapid shift, moving itself into a decentralised, distributed and digitalised market. As is the case with any substantial change to the way an industry operates, said change requires the creation and adoption of new techniques, technologies and innovations. For this particular movement, one of the solutions comes in the form of microgrids.
While a typical 'grid' is defined as a combination of power sources, power users, wires to connect them, and a control system to operate it all, a microgrid is a freestanding system which can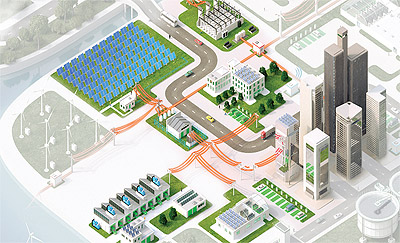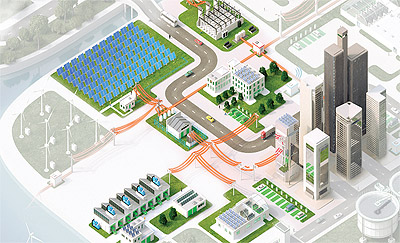 operate independent of, or in co-ordination with, the traditional utility grid. Microgrids can come in all different shapes, sizes and forms of technology and are customised to fit each user's needs. Whether it is a district energy system meant to power several critical sites in a city, an institutional campus or a central transportation hub, microgrids allow end users to take control of their energy.
"Microgrids are key to establishing the foundation of distributed energy networks that will continue to expand, change and grow," explains Karen Morgan, Chief Executive Officer of Dynamic Energy Networks (DEN). "Although modularity and standardisation are part of the evolutionary process in our market, there are other needs, such as providing secure energy, avoidance of 'single points of failure', and delivering resilient and reliable power at predictable prices. Microgrids, and related distributed energy systems, are often central to achieving corporate sustainability goals."
DEN is an energy infrastructure platform that owns and operates microgrids and related distributed energy assets in the commercial and industrial (C&I), medical and education markets, as well as other key sectors. "DEN specialises in deploying integrated, holistic, 'energy-as-a-service' solutions to our customers," Morgan continues. "Our differentiated value proposition comes in the form of a combination of strategic and flexible capital structuring, and technical solutions. Our domain expertise across the energy and capital markets enables us to deliver reliable, resilient and secure energy without burdening customers with capital expenditures, marking a shift from a 'CAPEX' to an 'OPEX' model."
Collectively, the DEN team is responsible for the design of more than 60 microgrids, accounting for more than 200MW of capacity. It is also credited with building the first utility microgrid and the first community microgrid in the United States, and with integrating a total of 20 energy storage systems ranging up to 1500kWh.
Strategic alliances
Launched in November 2017, DEN's business model is predicated on 'best-in-class' partnerships, such as those with the Carlyle Group and Schneider Electric. Strategic alliances with these established energy and industrial sector powerhouses will allow DEN to transform the market to deliver holistic 'energy-as-a-service' with innovative financial and technological solutions.
"Our cornerstone strategic partners were carefully selected after identifying many others in both the capital markets and the technology sector," Morgan states. "When it comes to the Carlyle Group and Schneider Electric, both are global entities, both are portfolio companies, and both are tier one players with strong customer bases. When factored together, these qualities help to deliver flexible and innovative solutions that support our vision to build a robust industrial strength platform for the future."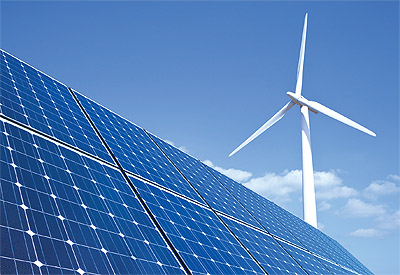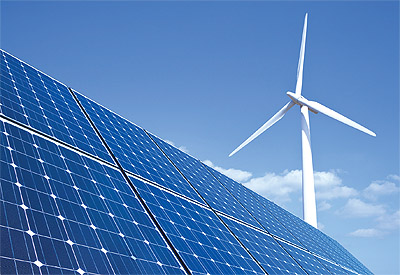 Valuable model
According to Morgan one of the most important developments in recent times to affect DEN has been the increasing level of awareness in the marketplace to and rapid adoption of so-called 'smart' energy environments, which usually include integrated systems such as microgrids. The issue that historically prevented the adoption of microgrids was the lack of upfront funding to build such systems. However, thanks to the announcement of significant investment from the Carlyle Group, that problem could soon be a thing of the past and is a reason why DEN finds itself positioned to be a leader in this market.
The Carlyle Group has set aside an initial pot of $500 million, which DEN will deploy to create microgrids, then operate them onlong-term contracts. This model has been deployed in several instances already, proving itself valuable as it eliminates upfront capital requirements and caters to customers that want cleaner, more reliable power, yet do not wish to be a part of the energy asset management business. The scale of funding here also opens up the possibility for enterprise-wide microgrid contracts and other forms of big thinking. If all goes to plan, DEN will come to resemble an independent power producer, earning capital for the power flowing from its fleet of generators that are located within the microgrids themselves. The company calculates that this platform will be worth between $3 billion and $5 billion in the next three-to-five years.
DEN's focus for 2018 is to execute its plan to build this multi-billion-dollar platform in the timescale highlighted above, something it intends to achieve by leveraging not only its own experience, but that of the Carlyle Group and Schneider Electric, as well as other key industry participants. In doing so, DEN will take a big step forward in achieving its goal of leading and influencing the energy industry's revolutionary shift from one-way static power grids to two-way dynamic power infrastructure.
"The DEN team has decades of experience in designing microgrids and distributed energy systems, as well as success in building energy ownership platforms. As we now look to the future, we look forward to working together with our partners to develop and advance the new energy landscape of tomorrow," Morgan concludes.
Dynamic Energy Networks
Products: Microgrids and distributed energy resources