Dynamic performance
When it was initially founded in 1985, Dynamic Industries, Inc. (Dynamic) existed as an offshore services company that specialised in interconnecting pipe fabrication, associated pipe installation and commissioning, and offshore maintenance services. It was not until 1998, when the business welcomed a change of ownership, that it would quickly evolve into one of the premier hook up and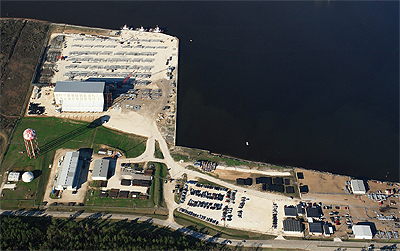 commissioning contractors in the Gulf of Mexico.
Having spent 22 years developing a firstclass reputation for itself, 2007 saw one of the largest private equity firms in the United States acquire a majority ownership in Dynamic. Buoyed by a combination of significant investment and human assets, the company was able to expand its footprint globally, helping it to establish a presence in key locations such as West Africa, Mexico, the Caribbean, South America and the Middle East.
In 2012, Dynamic's parent company took on the moniker of Dynamic Energy Services International, LLC (DYNESI), to better epitomise what the business has grown into, that being a full line energy service provider. Through a combination of strategic acquisitions, capital investments, expansion and the accumulation of physical facilities, as well as the assembly of an experienced, knowledgeable management team, Dynamic is able to offer a broad spectrum of services via its four strategic business units – US Fabrication, International, Dynamic Construction Services, and Accommodations.
While each unit is unique and stands alone in its specific field, they are supportive of one another and thus allow for Dynamic to provide a fully integrated and commercially beneficial solution to its clients. The US Fabrication unit is, in itself, one of the largest privately owned upstream and downstream modular fabricators in the United States, delivering its solutions to road, rail and water to locations across North America and overseas. Meanwhile, the International business unit, located in Houston, provides engineering, procurement, construction, installation and maintenance (EPCIM) brownfield solutions in West Africa, the Caribbean Basin, South America and Saudi Arabia, to a growing list of international clients.
Multiple competencies
Dynamic Construction Services is the unit dedicated to providing unique integrated solutions to the upstream, downstream and midstream markets. To these it offers a wealth of services, including those linked with hook-ups, commissioning, maintenance, electrical and instrumentation, automation, fire and safety, pipe fabrication, scaffolding and coatings, to projects across the United States and to those based offshore in the Gulf of Mexico. Last, but not least, the Accommodation unit is a full line business providing for the engineering and construction of portable living quarters or single lifts, for sale or rent, offshore or onshore, with a patented lightweight aluminum design for the deep water and blast rated market. This unit also provides accommodation barges to domestic and international locations, and provides construction equipment either via direct rental or in support of its construction services.
Dynamic's multiple competencies has, perhaps understandably, seen it draw the attention of some of the energy industries biggest global players, which have called upon the company to support a number important projects, often as part of Long Term Agreements. One example of these partnerships comes in the form of Saudi Aramco, Saudi Arabia's national petroleum and natural gas company, and in November 2016, it was announced that Dynamic has been awarded a major offshore EPCI project under said Agreement. As an integral partner in Saudi Aramco's Offshore Maintain Potential Programme and Gas Programme, Dynamic's responsibilities include engineering, procurement, fabrication, transportation, installation, demolition, testing and the pre-commissioning of various components for offshore oil facilities in the Arabian Gulf.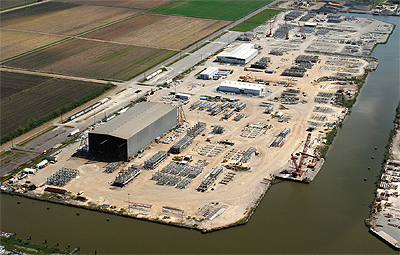 Complex projects
Another highly valued client has been Shell Oil, for whom the company has providing invaluable support for in the development of Shell's largest floating platform in the Gulf of Mexico, Appomattox. For its part, Dynamic was involved in a two-year module fabrication project, which has seen it deliver five modules from its New Iberia Facility in the Port of Iberia to 7400 feet of water approximately 80 miles south of New Orleans. Upon installation, where they will play a vital role in allowing for the producing of 175,000 barrels of oil per day at peak times.
The project, which saw the total weight of the five modules coming in at approximately 3500 tonnes, included the procurement and fabrication of all raw material, including 1350 tonnes of structural steel, 31,000 square feet of fiberglass grating, 250,000 square feet of paint, and almost five miles of piping, all of which was procured from local vendors. The module fabrication was complex and had several different piping materials, such as stainless steel, 9 chrome, copper nickel, and super duplex. Dynamic pre-fabricated, painted, installed, and hydro tested all of the pipe spools onsite in its New Iberia facility. Overall Dynamic made over 13,000 pipe welds and bolted up 2700 sets of flanges to complete the piping systems on the modules.
In addition to the complex piping on the project, Dynamic handled and installed several sensitive pieces of equipment, including four, 80-tonne compressors and one, 200-tonne steam turbine generator, the first of its kind to be installed in the Gulf of Mexico. The equipment installation required precise field machining and shimming of the equipment mounting pads to ensure the equipment was perfectly level for operation.
More recently, in early August 2018, the company announced the awarding of one its biggest new contracts in the last few years, that being one to supply 38 pre-assembly modules, consisting of Inside Battery Limits (IBL) and Outside Battery Limits (OBL) pipe racks for a Propylene Oxide (PO) and Tertiary Butyl Alcohol (TBA) plant located in Texas. Once installed, these critical building blocks will help produce 470,000 metric tons of PO and one million Metric Tons of TBA. Fabrication will be performed at Dynamic's New Iberia facility, with the project scheduled to start in January 2019, with completion set for December 2019. The total tonnage of this project for Dynamic will be 7933 tonnes with an average module weight of 208 tonnes each.
Jeff Clement, EVP & COO of Dynamic Industries, Inc. US Fabrication Division commented: "This is a great opportunity for Dynamic for the upcoming year. We are particularly excited about this award because it is our first for this client. Dynamic's ten plus years in the downstream sector has proven invaluable, and we strive to be the best in quality and safety. Our goal as a company is to be the front-runner for modular fabrication, and thanks to the hard work of all involved in securing this very important project, it shows we are on the right track."
Dynamic Industries
Products: Fabrication, construction, commissioning and maintenance provider