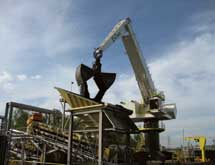 E-Crane International USA
Whenever the word "custom" is associated with a product, one can expect the bottom-line costs to increase exponentially. If the customization refers to duty cycle equipment, one can imagine that the cost will likely skyrocket by thousands of dollars.
E-Crane International (ECI) offers a revolutionary solution. Created specifically for any industry that transports dry, free-flowing materials – such as coal, grain, fertilizers or even scrap metal processing – the E-Crane provides a unique bulk material handling machine capable of lifting from 4 to 30 tons with a reach that extends from 65 to 150 feet. ECI can also provide turnkey terminal solutions that include barge handling equipment, hoppers and feeders.
Using an assortment of the company's standard modular parts, ECI can create a material handler suited to a specific application. E-Cranes are designed for material handling, storage and process feeding at ports, harbors or any other operations requiring this type of equipment – mainly ship and barge unloading.
"E-Crane offers a custom-built solution from an inventory of standard parts," President Mark Osborne boasts. "We can build a custom crane at an
off-the-shelf price." He adds that ECI's success is largely due to the fact that it offers "great equipment at an attractive price that can be modified to a company's unique material handling needs." Since the company began 11 years ago, it has installed 52 E-Cranes in North and South America.
The basic concept of the machinery involves an equilibrium crane based on a parallelogram-style boom that provides a direct mechanical connection between the counterweight and the load. The company asserts that this configuration enables near-perfect balance throughout its full working range. The equipment also provides significant savings in both maintenance and operating costs as it is capable of operating with 50 percent less power than a conventional design.
In addition to operating savings, a company will spend substantially less money on the E-Crane equipment itself. "Using the simple design of the balance crane, each crane is essentially made up of standard pieces that include an operator's cab, main boom, counterweight, stick, bucket or grapple," Osborne says. "From there, we can add whatever parts are necessary to make it precisely accommodate the client's specific needs."
Knowledge Applied
One big edge that Osborne believes ECI has over its competitors is a small, dedicated group of employees who offer a wealth of core knowledge in all areas of heavy equipment design, hydraulics, welding and general transport problem-solving to its clients. "We use the knowledge we've gained from other terminals that we've visited in the past," Osborne attests. "We offer a lot of core knowledge that other suppliers may not have." He adds that because the company concentrates its efforts solely on E-Cranes, the teams are well versed in its capabilities and are skilled at choosing the right equipment for any operation.
Once the appropriate system is chosen, the equipment is ordered from its parent company, E-Crane Worldwide, Adegem, Belgium, where it is engineered and built to the customer's specifications. Once built, ECI delivers the new crane to the nearest U.S. port, and dismantles and removes the existing equipment. ECI then installs the new equipment and handles all site-crew training. ECI also handles long-term maintenance issues going forward.
"We keep a $2 million parts inventory on hand with 90 percent of the parts readily available to our clients," Osborne asserts. "We realize that our clients lose money if they aren't in operation."
The company also has a full-time parts manager who ensures that all parts are available. "We maintain an ongoing relationship with our clients to be sure they have everything they need to run smoothly and efficiently."