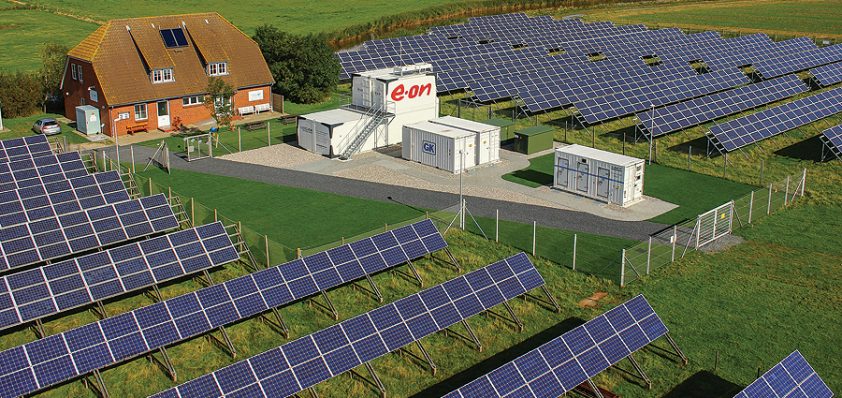 E.ON Climate and Renewables (EC&R)
Fields of green
Over the last decade the need to decrease our reliance on fossil fuels and instead turn to more renewable solutions has been an ever growing concern. New and existing companies have since risen up and taken responsibility for addressing this need, and the energy industry has seen numerous steps made towards innovation in a variety of solutions designed to harness the power of wind, sunlight, waves and biomass amongst many others. E.ON, one of the world's largest energy providers, is undoubtedly playing a key role in this evolution. In 2007, its renewables arm, E.ON Climate and Renewables (EC&R) was set up and over the years that followed has grown to an investment level that surpassed ten billion euros early in 2016.


With its major focus concentrated on both on and offshore wind generation, plus photovoltaic solar generation, the company now operates a diversified portfolio of 4.5GW across Europe and the US. In 2014 this amounted to a total electricity production of 12.3TWh. Such focused activity means that E.ON is now the second largest offshore wind operator in the world and the 12th largest onshore provider in a highly competitive market. Such leadership not only establishes EC&R as a pioneer in the global transition to green energy, but also serves to demonstrate the significant impact the technology can have. Over its nine-year operational period, for instance, its entire green generation portfolio has displaced over 60 million metric tonnes of carbon – the equivalent to Berlin's emissions for six years.
Ever keen to continue developing and expanding its portfolio, EC&R remains busy delivering key projects. In terms of offshore in Europe, it became the first company to complete two separate projects in the same year in 2015. Due for completion in the summer, but completed two months ahead of schedule in May, the Humber Gateway wind farm, which sits eight kilometres off the coast of Holderness, has a total installed capacity of 219MW from 73 turbines, the first of which came online in February 2014.
"There was a little bit of luck involved in being able to finish this in such good time as offshore construction is very weather dependent and it was very favourable for us," says Corporate Communications Officer, Markus Nitschke. "However, more importantly, we have developed a very strong set of key competencies in building offshore. We do not hand the project operation to a main contractor for a turnkey solution, instead we co-ordinate all the different activities in-house and this transpired into a very successful delivery for the Humber Gateway project."
The second project to be completed in that year was the Amrumbank West wind farm 100km off the coast of Germany in the North Sea, EC&R's first commercial programme in the country as a sole operator. "Being that much further out to sea and in waters around 30 metres deep, this was much more of a logistical challenge compared to some of the UK projects that tend to be closer to the shore," continues Markus. "We have a base on the nearby island of Helgoland where we now have the service station for the farm, and this served as the co-ordination centre throughout its development."
When completed in October 2015, Amrumbank West, which consists of 80 150-metre high turbines, had an operational capacity of 288MW, enough to power 300,000 households. However, following an innovative software upgrade early in 2016 this has now been increased to 302MW. The project as a whole required an investment of one billion euros of capital expenditure, but combined with the Humber Gate programme meant that in 2015 EC&R developed enough capacity to power a total of 470,000 households and save 1.3 million tonnes of CO2 a year.
Successful growth continues and in May of the same year E.ON confirmed the 1.9 billion euro investment into a new 400MW wind farm 13km off the coast of Sussex, the first to be located in the English Channel. Due to be completed in early 2018 the Rampion project will generate 1300GWh of electricity every year supplying up to 300,000 homes across Europe courtesy of 116 turbines. Illustrating the company's open approach to partnerships, Green Investment Bank plc (GIB), the first green-focused investment bank of its kind in the world, and Canadian energy company, Endridge, have joined forces to help develop the Rampion wind farm, with E.ON retaining a controlling share of 50.1 per cent.
Across the pond in the US, E.ON continues to establish its onshore and solar portfolio. In November of 2015 its Maricopa West utility scale solar farm in California entered full operation. Completed ahead of schedule and under a budget of 50 million euros, the site consists of 89,000 panels, with a 28MW capacity and runs alongside a state-of-the-art tracking system ensuring the panels are always orientated to the sun. In terms of wind power, Markus informs of a 200MW onshore programme currently in development in Northern Texas named Colbeck's Corner.
It is clear that whilst E.ON as a group readily occupies a space at the forefront of renewable power generation it is not ready to rest on its laurels and maintaining growth and development is key to the company's strategy as it moves forward. At the beginning of the year it split its conventional coal and gas power generation portfolio into a separate company called Uniper and as such now focuses on three core pillars: customer solutions, energy networks and renewables. With this strategic move in motion Markus highlights that it is now the company's focus to bring everything together improving the way it operates and making the most of new opportunities. "This is a cultural thing as much as it is an organisational thing," he says. "We have to change our way of thinking, particularly when it comes to technical innovation and there are a number of internal and external investment initiatives in place to help foster this by supporting and developing innovative tech start ups from the field of energy around the world."
E.ON and its renewables division is playing a central role in the development of the world's clean energy reliance and searching for new opportunities to establish key investment partnerships, develop new sites and support new innovations is a big part of achieving this. Continuing to do so not only defines its own future but also the industry's as a whole, and in this respect the coming years look to be very positive indeed.
E.ON Climate and Renewables (EC&R)
Services: E.ON's industrial-scale renewables arm