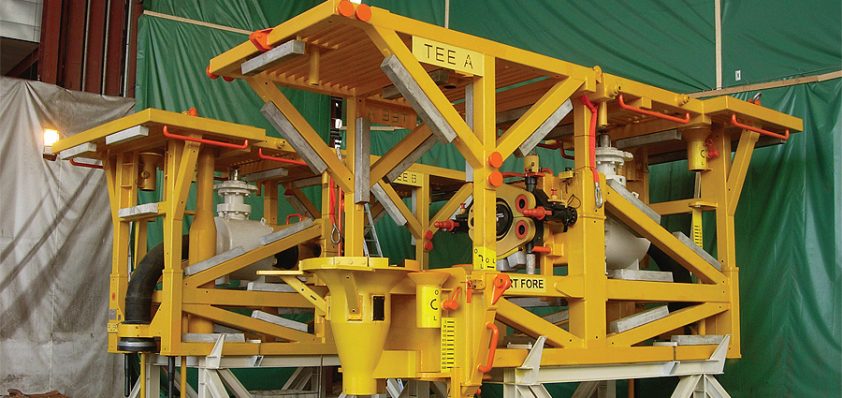 In the pipeline
EAB was established in 1952, as a mechanical engineering company, offering consulting services to the oil and gas industry.
In 1988 it began to specialise in subsea engineering, and today offers FEED studies, development, engineering and detailed design solutions. The company has established itself as a specialist in subsea tie-in and infrastructure from the wellhead to the point of export. EAB's services include flowline and umbilical terminations, connections, branches, spools and jumpers, as well as inline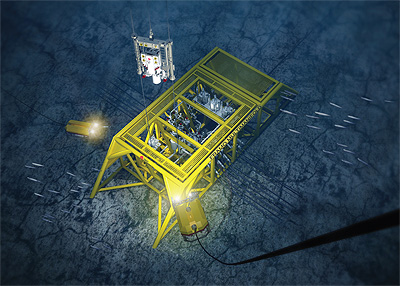 modules for distribution or manifold functions.
Harald Bakke, managing director of EAB, talks about the change in business focus: "When we stopped being consultants in the 1990s, we began to offer subsea equipment and we were initially involved in various types of tooling solutions. In 2000, we started to deliver smaller structures, as a part of the pipeline infrastructure we now offer, between the wellheads and the point of export. The pipeline systems are becoming more and more complex, involving manifolds with riser bases, for example. These smaller and medium-sized structures can link up all the various wellheads and connections that are required. A specific example of this type of work is the Ormen Lange project, which will supply 20 per cent of the UK's gas consumption. For this project, we delivered the pipe end modules, In Line Tee and a pig loop. The equipment operates at depths of about 850 metres. These are used to connect the pipeline itself to the template where the wellheads are located."
Important customers for EAB over the past 20 years include FMC Kongsberg Subsea, Aker Kvaerner Subsea and ABBOS/VetcoGray as well as large installation contractors. EAB has been involved with most of the pull-in and connection systems available in the North Sea. Its experienced, highly qualified and specialised engineering staff are committed to delivering top quality services relating to subsea engineering and technology.
Harald describes the company's broad client base: "The system suppliers make up a very important small customer group. With our  extensive experience in the various systems that these companies use, we are regarded as an interesting supplier to the larger contractors. These include companies that are carrying out pipeline installations, as well as work on subsea structures. Most of these units operate tie-in systems from one of the larger system suppliers. We have participated in the development of many of these systems, and this experience is a huge benefit to us. We also tailor additional equipment, and provide the tooling required for installation and connections."
EAB's services are based on its long experience with cost effective solutions, together with feedback from installation and operation. EAB's extensive knowledge of the standards, codes, rules and regulations to be followed in subsea projects, means that it is familiar with all the requirements of tie-in equipment used by the main system suppliers. Additionally, EAB's network of sub-suppliers is made up of experienced suppliers to the subsea industry, meeting all the industry requirements in terms of qualifications, procedures, documentation and high quality workmanship.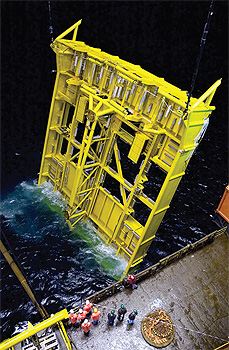 Over the years, EAB Engineering has developed unique products to improve its services. Harald describes some recent additions to the company's portfolio: "Although we often tailor our equipment to meet the typical demands of a particular project, we also have a number of more general products that we have developed over time. An example of this is our flow line installation tool, which is used to install umbilicals and riser bases. It has become more or less industry standard since it was introduced, and incorporates standardised equipment, which is used during the installation and commissioning of pipelines.
"We have also seen great success with our shock absorbing cylinder, which is designed to be used when placing heavy structures on the seabed. The soft landing cylinder has been developed to work with structures weighing up to 2000 tonnes. The product has now been incorporated into frame agreements that we have drawn up with FMC Kongsberg. Finally, based on our extensive experience with the various tie-in systems that have been on the market over the last 20 years, we have now introduced our own procedure, which we call a spool connection system. It is for use on the range of small pipeline connection systems, ranging from four to 30 inches."
These product innovations have only been possible due to the company's commitment to R&D, as Harald explains: "I would say that so far we have been able to develop our solutions within the contracts that we carry out for customers. We are increasingly standardising our systems, and putting more funds into our R&D department, which is mostly financed directly by our operations."
Within its native Norway, EAB is increasing its presence, while looking to extend its global market. "We have certainly become better known in the industry," Harald elaborates. "We are also beginning to receive enquiries internationally. As we are still a fairly small company, we feel that we need to strengthen our position through our extensive experience and our strong connections with the main players in the industry. This gives us a unique position in the marketplace.
"In the future, we would like to remain working in this infrastructure, all our equipment is geared towards tooling and installation. Of course, we are hoping that we will have success with our new spool connection system, which will open up a large market area to us – although it's a niche market it has a high value, which will be very important to EAB and our future growth."
EAB Engineering
Services: Subsea engineering