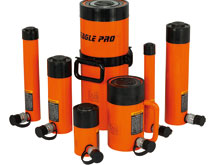 Eagle Pro Industrial Tools Inc.
Eagle Pro Industrial Tools may be new to the U.S. market but that doesn't mean it's inexperienced. Since 1996, the Vancouver-based company has manufactured hydraulic tools for industrial applications such as power generation, mining and construction. From its ISO 9001:2008-certified facility, the company has sold to countries in Asia, Europe and to Australia. Historically, its presence in the United States has been sparse, but last year, the company decided to change that.
"I came to Eagle Pro Tools in June of last year when we entered the U.S. market and I've been responsible for the sales force and structuring the distribution and various other channels," says Dustin Nielson, vice president of sales. "We are basically building the company from the ground up, like a start-up."
Fortunately, Eagle Pro Tools is market-ready with an exhaustive list of hydraulic cylinders that meet or exceed ANSI B30.1 standards as well as an extensive offering of pumps, bolting products, jacks and related accessories. Now, the company just has to work on building its presence in the States. The strategy for that, Nielson explains, may not be as high tech as the products it makes, but it is just as effective.
"There are several other major competitors in this market," Nielson explains. "If you strip off the paint of the designs we are all very similar, which is why right now we are focused on brand recognition."
Building Bridges
The sales team is operating by a relational approach. It sales only through distributors but it does reach out to end users. With each group, the company is focusing on fostering win-win relationships.
"We are focusing on going old school," Nielson says. "One thing I want to do is build partnerships with our distributors. It's not about us dictating to them what they need to do with their business. It's about us helping them grow their business and that will turn into success for us. We are looking to truly partner with our distributors.
"Distributors want to feel they are part of the process and that regardless of their size, they are important to whatever vendor they go with," Nielson continues. "I still believe that, especially in the mining and power generation industries, people buy from people and we're going to great lengths to foster close relationships."
One crucial way Eagle Pro helps its distributors succeed is through highly competitive pricing, not only for the products, but also for its aggressive freight pricing. Because Eagle Pro has stuck with the same arena since its founding, it constantly has improved its products as well as the processes to make them.
The Product Pipeline
"We manufacture everything that we sell, which allows us to control costs and ensure high quality," Nielson says. "And we've been making these products for a while so we have a good idea of what it will cost to manufacture an item." The same goes for new products coming down the pipeline, which will also be in the hydraulic manufacturing arena, Nielson says.
The company will be able to speak about new products, which will be introduced at the end of 2012 and mid-2013, and current products at the upcoming MINExpo International 2012 this September at the Las Vegas Convention Center. Sponsored by the National Mining Association, it's the world's largest and most comprehensive exposition dedicated to mining equipment, products and services. The event, held once every four years, expects 1,400 exhibitors this year.
It's a key time for the company to build rapport with distributors and end-users. "Our goal is to do about five or six trade shows a year," Nielson says. "It's a great way for us to get market information and to see the end users and talk to them about our products and learn what the needs of our customers are." EMI