EagleBurgmann Norway AS (EBN)
Flying high
Founded as a subsidiary of the family owned EagleBurgmann Germany GmbH in 1990, EagleBurgmann Norway AS (EBN) has enjoyed 23 years of organic, steady growth to become the leading player in the manufacture of seals and seal systems in Norway.
Aware that no industrial production plant can operate without seals, EBN delivers products and services to a wide range of organisations within the oil and gas industry, as Kristian Malnes, managing director of EBN, states: "Our main market is definitely the oil and gas industry as we can offer a comprehensive range of sealing solution services to companies within it, such as oil pumping and cracking, process gas containment, gas compression, phase separation or synthesis of chemical substances, temperature expansion in flue gas systems and pipeline sealing. Our strengths lie in our fast service, flexibility and customer focus as well as our pool of certified offshore service technicians and the worldwide presence and support we receive from our parent company EagleBurgmann Germany. This has resulted in our busiest year ever, with several contracts from Statoil awarded to supply seals and accessories for the Valemon and Gudrun projects as well as working on Lundin's Edvard Grieg project."
As a leader in sealing technology, EBN delivers safe, reliable products for any application and finds the best solution for each unique request through the innovative design of seals that are capable of withstanding a comprehensive range of media, various pressures and temperatures and different aggregate states. Its extensive portfolio includes both standard seals and one-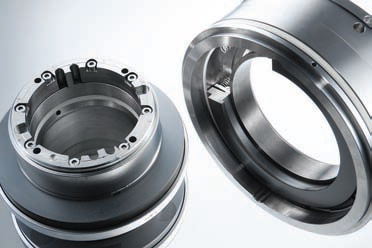 off, unique, application specific designs, such as mechanical seals, seal supply systems, gaskets, expansion joints, special products and total sealcare services. "We have total commitment to outstanding quality at EagleBurgmann," says Kristian. "We at EBN have local manufacturing and in-house test facilities to ensure our mechanical seals meet the most demanding customer expectations."
Dedicated to innovation, the company introduced its cutting edge mechanical seal coating technology, DiamondFaces, in 2007. Seal faces with DiamondFaces are extremely hard and wear resistant, with excellent thermal conductivity and strong chemical resistance. This results in a longer service life, with extended maintenance intervals and huge reductions in life cycle costs. "We are very proud of our technical developments and have successfully launched our new revolutionary oil barrier/separation seal, the CobaSeal, to the market. This product has been very well received and we are currently increasing our installed based worldwide for this product," enthuses Kristian. This co-axial gas lubricated seal eliminates all of the disadvantages of existing systems that are currently in the industry. With a similar design to a gas seal, the CobaSeal consists of a ductile rotating seat and a stationary spring-loaded seal face. Contrary to conventional mechanical seal systems, the separation gas goes through the stationary seal face into the centre of the sliding face via the axial bores before it is separated into two leakage streams towards the inside and outside diameter of the sliding face. Certified by NACE, features include a ready-to-fit cartridge unit and aerostatic lift off, it is also gas lubricated and bi-directional.
Another innovative product within the company's expansive portfolio is the RoTechBooster; described as 'the unbeatable solution for reliable seal gas supply flow', the RoTechBooster is simple to set up and easy to operate. With a centrifugal design it is highly reliable, virtually maintenance free and boasts an extended life that is three to four times greater than current boosters. Through compressing the filtered flushing gas and supplies it to the seal, which prevents dirt deposits collecting and causing leaks or damage. "The RoTechBooster helps the operator to ensure maximum reliability of the seal gas supply to their compressor seals, resulting in maximum equipment uptime and plant availability," says Kristian.
As investments in offshore Norway continue to show growth, the future looks positive for EBN, as it continues to offer sealing solutions to industries around the world, as Kristian concludes: "We are a family owned company which always has, and will continue to have, a long term focus, which will e nsure sustainable growth and profitability. Our target is to increase our installed base and guarantee continued customer satisfaction. If this is achieved I am certain the numbers will develop positively".
EagleBurgmann Norway AS (EBN)
Services: Leading sealing technology provider