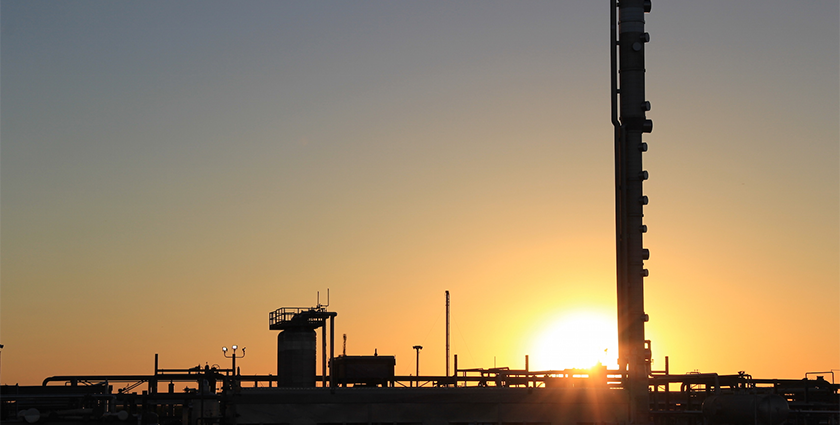 EagleClaw Midstream Ventures LLC
Despite the downturn in oil and gas, EagleClaw Midstream Ventures has capitalized on opportunities to expand as a midstream energy services provider.
Since starting up operations in 2012, EagleClaw Midstream Ventures has become the largest privately held midstream operator in the Southern Delaware Basin in Texas. Led by a senior management team with deep roots in west Texas and decades of collective experience in the region, EagleClaw is focused on providing producers with rapid response time and flexible solutions that meet their infrastructure requirements on time and on budget so they can focus on their core businesses.
"In the last two years, we've grown from five employees to 50," President and CEO Bob Milam says. "Our volume has grown and we've expanded our customer base, picking up some major players in the Delaware Basin. We are very excited about our growth potential through 2017."
Building the System
EagleClaw is backed by $350 million in growth capital from EnCap Flatrock Midstream of San Antonio. Its core capabilities include natural gas gathering, transportation, compression, treating and processing. EagleClaw has invested heavily in its operational capabilities.
The company's expertise at building pipelines and plants, optimizing output, locating markets and structuring deals helps it to stay ahead of development schedules. It also helps customers move product to high-value markets by providing midstream services that are aligned with their fundamental business objectives.
Today, EagleClaw owns and operates natural gas gathering and processing facilities primarily in Reeves County, Texas. These facilities serve producers targeting stacked pay zones in the Delaware Basin, including the Upper and Middle Wolfcamp, Bone Spring and the Avalon Shale formations. The company has 332 total miles of pipeline and 30,360 total field compression horsepower with a total processing capacity of 120,000 MMcf/d and a total processing capacity under construction of 200 MMcf/d.
"We've seen drilling activity around us increase at a time when much of the nation has shut down," Milam says. "We've also seen pipe installation costs drop dramatically. That is what has allowed us to grow and make significant investments and acquisitions."
The company's Toyah System includes more than 120 miles of gas gathering pipeline, five field compressor stations with a total of 11,000 horsepower in low-pressure compression, and the Toyah I 60 MMcf/d cryogenic processing plant located at the East Toyah Natural Gas Processing Complex. The company is also installing an additional natural gas processing plant at the Toyah Natural Gas Processing Complex, the Toyah II plant.
The new state-of-the-art plant was manufactured by Honeywell UOP Russell and provides significant flexibility for various NGL recoveries. Construction is progressing rapidly with expected start up date in December. The Toyah II plant adds capacity to process an additional 200 MMcf/d.
The decision to move forward with the Toyah II plant was influenced by the performance of recent wells drilled in the area, including two wells drilled by Silverback Exploration, each with initial production rates of approximately 7 MMcf/d of natural gas and 820 barrels per day of crude oil. EagleClaw expects to bring the Toyah II plant online later this year, bringing EagleClaw's year end total processing capacity to 320 MMcf/d. In addition, EagleClaw has purchased another 200 MMcf/d Honeywell UOP Russell with expected delivery in February 2017. This additional plant will be Toyah III and will be installed at the same plant location.
An 18-mile NGL line connects the East Toyah Processing Complex to Lone Star's West Texas Gateway Pipeline, which transports NGLs to the market center at Mont Belvieu, Texas. The East Toyah complex also is connected to Kinder Morgan's El Paso 1600 Pipeline, and by this fall it had an additional connect into ONEOK's WestTex Transmission System, an intrastate natural gas pipeline system that connects into the Roadrunner Gas Transmission Pipeline. Phase One of the Roadrunner project is complete and currently serving markets in El Paso, Texas, and Mexico.
"The area we are in in the heart of the Delaware Basin is turning out great well results and great success in oil and gas through the downturn. Production type curves continue to improve monthly as producers gain knowledge of the reservoirs," Milam says.
Poised for Growth
EagleClaw is focused on growing its existing assets in the Delaware Basin as well as pursuing greenfield and acquisition opportunities in the region. In fact, in August 2016 EagleClaw closed the acquisition of PennTex Permian and its assets, together known as the Pecos System. Those assets include a 60 MMcf/d cryogenic processing plant, approximately 90 miles of gathering pipeline and four field compressor stations. PennTex Permian's assets are supported by long-term dedications of more than 75,000 acres from the region's leading producers.
EagleClaw will connect the Pecos system to its East Toyah System, bringing total processing capacity to 120 MMcf/d and total gathering pipeline to more than 200 miles served by nine field compressor stations with approximately 30,000 horsepower of low- and high-pressure compression. Total processing capacity will reach 320 MMcf/d in Q4 2016. The combined systems serve producers in the Permian's Delaware Basin targeting stacked pay zones including the Upper and Middle Wolfcamp, Bone Spring and the Avalon Shale formations, and they are supported by customer dedications of approximately 200,000 acres.
"Because we've stayed funded in the downturn we've been able to capitalize on less expensive installation and asset costs, we've been able to deploy capital and fund our investments more efficiently into our system," Milam says. "We have been able to improve our investment decisions based on the profitability potential of the reduced investments through these savings."
Over the next 18 months, EagleClaw thinks most of its growth will be from greenfield developments. It does not have any target acquisitions at the moment, but it will entertain any solid options that are presented. For now, the company expects to see greenfield growth from the producers on its system, and it will continue to make prudent decisions as opportunities arise.
"We expect to see greenfield extensions from existing facilities and are focused on keeping up with capacity, as our producers are all ramping up volume," Milam says. "We are looking forward to seeing an increase in the appetite for drilling and rigs on acreage that is dedicated to us."
www.eagleclawmidstream.com
Headquarters: Midland, Texas
Employees: 50
Specialty: Midstream energy services