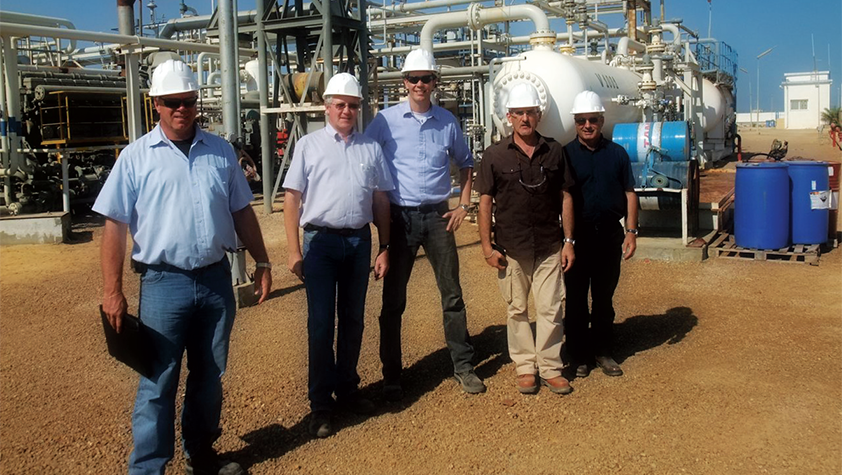 Accumulating interests
Energy is a truly global business, and in much the same way Candax Energy Inc is an internationally orientated energy company.
Although headquartered in Toronto, Canada, the business is primarily focused on the exploration and production of oil and gas in Tunisia, North Africa. As such, its operational head office is based in Tunis where it acts under the name Ecumed Petroleum Limited with a team of local oil industry professionals managing the day-to-day operations of its assets. Furthermore, Candax also holds an exploration interest in Madagascar.
"One of the things we pride ourselves on is having a very good relationship with both the local Tunisian communities in which we work, but also with the Tunisian authorities and ETAP – the state oil company. In fact much of our production is under the umbrella of a joint venture called Maretap, which is a 50/50 partnership between ourselves and ETAP," begins John Younger, president at Candax Energy.
"We also have a very strong board of directors including M'hamed Ali Bouleymen, a former mayor of Tunis and a highly respected authority in Tunisia. He has been instrumental in making sure that we develop the right attitude and approach to working with the community and the authorities in order to be successful," he continues.
At present Ecumed maintains five concessions within Tunisia, which are split between producing and non-producing assets. "Our three producing fields are Ezzaouia, El Bibane, and Robbana," highlights John. "For Ezzaouia we have a target production of between 700 and 1000 barrels of oil per day (bopd) of which we have a 45 per cent interest. Currently we have three producing wells within the field reaching around 500 bopd, and expectations to have a further three back online within the next few months. These wells; Ezzaouia 1, Ezzaouia 9, and Ezzaouia 17 are in the process of being converted from a jet pumping to a sucker rod method in order to better produce oil from the Jurassic reservoir. We believe that such a change will benefit the long-term production of the field, with aspirations of achieving a further five to ten million barrels for the business.
"In contrast to the onshore Ezzaouia asset, l Bibane is an offshore field, which is 100 per cent owned and operated by Candax. At present we are engaged in a gas cycling programme where we are extracting around 250 barrels of condensate a day, and five million standard cubic feet (scf) of gas. The biggest limitation on extracting oil from this field is the amount of gas we can process and extract the condensate from so we are planning on purchasing a second compressor, which will hopefully close to double production from the field. The other exciting feature about El Bibane is the amount of gas the asset contains, and given the high price per Mcf of gas in Tunisia at present, our longer term plan is to start to produce gas from the field as well, which could potentially significantly increase our revenues," he continues.
Rounding off Ecumed's producing assets is the Robbana field, which is currently more of a prospective resource with just one active well generating around 30 bopd. "We think there could be a substantial remaining potential in this field and a full G&G review/synthesis will start by mid-2013 to assess this potential and define the way forward. Finally, at this time we have two non-producing fields. The first is Belli, which in the mid-1990s was producing as high as 15,000 bopd, so our plan over the course of 2013 is to reopen one well, and going forward potentially drill another as well. The second is a concession called Al Manzah, which we see as having the potential for interesting but modest production, so it's not on our immediate to-do list," elaborates John.
When it comes to Candax itself the story is very much one of rebirth in recent years, during which time it has been strongly supported by its major shareholder Geofinance. The former owner of leading oil services company Geoservices, Geofinance's sale of this business to Schlumberger has in turn delivered benefits to Candax.
"A number of the key management team at Candax including our chairman and CEO Benoit Debray, COO Pascal Mirville, and some individuals on the ground in Tunisia came out of Geoservices," explains John. "This is positive from a couple of perspectives. Firstly, it's a good cohesive team. Secondly, the types of assets we are dealing with are, to a large extent, mature concessions, and so, having that oil services background is key to nurturing the fields and realising the full potential of these assets. As such, I think our skill set really fits our portfolio at present."
With a number of significant lines of investment coming to fruition over the next year, Ecumed is confident about its prospects – both as a business and in terms of the assets themselves. "Our strategy is predicated on the fact that we're a rebirth story, so the first thing we're looking to do is take the skills that we have within the team and deliver some on-the-ground results," notes John. "Right now our production levels are a lot higher than they were a year ago so the trend is definitely moving in the right direction. We need to continue that and prove ourselves to investors, so operational excellence from a strategic perspective is number one for us.
"Once we have done that then we will be better able to finance the embedded exploration potential within the company. To me there are a lot of prospects within the region, not just for us as an operating entity, but also potentially in terms of consolidation and acquisitions so we are keeping an open mind should such opportunities present themselves," he concludes.
Ecumed Petroleum Limited
Services: Exploration and production