Test of metal
Ed Fagan Europe is a branch of US-based specialist metals supplier Ed Fagan Inc (EFI).
Based in Devon, the UK, Ed Fagan Europe acts as a regional distribution arm for its American parent, delivering metals and support services to electronic component manufacturers in the oil and gas, renewables, and aerospace supply chain. The division was established in 2007 and, despite a major recession during the intervening period, has grown year-on-year to date. It has overcome the challenge of establishing a new name on the market and gone into partnership with some of the most well known manufacturers in its core markets.
Ed Fagan Europe is primarily a distributor of metals stocked and processed by EFI in New Jersey, using third party logistic service companies to provide swift delivery of orders from the US to anywhere in Europe. For customers who require a faster and a more seamless operation, Ed Fagan Europe does stock materials on consignemnt or Kanban to meet specific needs.
"We are two or three tiers down the supply chain, supplying the materials that become the components to be put into parts, but ultimately within oil and gas we work with the likes of Schlumberger and National Oilwell Varco (NOV) advising on availability of products for their supply chain," says European manager Chris Mahn. "It is a similar story within aerospace, where our materials are eventually used by companies such as Rolls Royce and Goodrich. Though we don't deliver directly to them, they are using the metal we supply and they are aware they can come directly to us if necessary for support and technical data on any material or supply chain concern We're well known for being able to assist in, and resolve, issues with our metals from the raw material stage right through to the end product."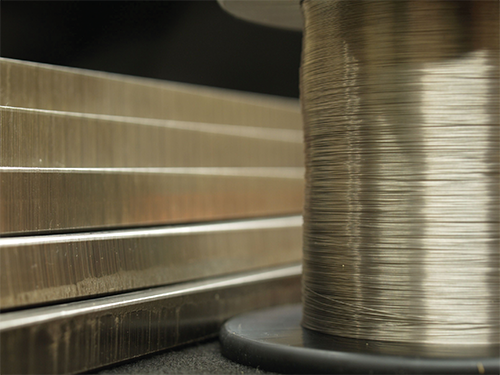 As highlighted, Ed Fagan Europe undertakes important work to support its clients and help them overcome challenges. It has for example a number of senior metallurgists working within the wider organisation that can provide metallurgical and physical information on the different metals stocked and supplied. Because the company has machining facilities and experience, it also understands the physical and mechanical attributes of the materials it distributes – this essentially helps clients develop advanced and techincal designs, plus helps to identify production improvements in their designs.
This attitude of placing the customer at the forefront is best illustrated through Ed Fagan Europe's commitment to ADS' SC21 programme. The manager discusses why he chose SC21 and how it has been of benefit: "It came about because we noticed a lot of our customers were starting to use it and report the fact that they were able to develop better understanding and relationships with suppliers and customers. When looking into it, one thing that interested me is that it's an externally driven system meaning it helps a company improve for the benefit of its customer, not just for the company itself. By engaging with it, customers started talking and telling us where we needed to improve to be better for them.
"We embarked upon the SC21 journey in September 2012 and found straight away that our impressions of what we were doing were very different to the reality of our actions. Though we had and have extremely good relationships with buyers and other clients, the cold hard facts they reported back to us were very different to what we thought we achieved. In some respects, the good relationship actually masked those issues. Nonetheless we wanted to be as good as possible in all aspects and, despite being relatively new to the programme, SC21 is not only helping us to have good relationships but to offer fantastic quality and delivery performance. We are looking to achieve the SC21 bronze award by April 2013."
Positive responses have already emerged from joining SC21. One customer that formerly provided Ed Fagan Europe with ad hoc business, for example, has now committed long-term contracts to the distributor as a direct result of its SC21 implementation. The greater level of credibility offered by the ADS' programme is very appealing in the aerospace supply chain at present. The benefits of the programme also impact on Ed Fagan Europe's business with the oil and gas industry because the scheme is implemented throughout the entire company. Consequently, the company stands out from many others in the oil and gas supply chain due to its exceptional quality and delivery performance.
Business for Ed Fagan Europe is better today than ever before. Year-on-year growth since 2007 has pushed even faster forwards during the last six months with high volumes of orders and particularly long-term contracts. Utilising SC21, the distributor has engaged more closely with customers across oil and gas and its other sectors to become not just a supplier but also an assistant in the design and manufacture of components. This is a model the company hopes to pursue in going forwards.
"The business plan for the future is to carry on developing ourselves to a stage where we can offer more contract supply of products to customers," explains Chris. "We want to become more involved in the design and engineering stage of our clients' products, to be at the point where a customer will turn around and say, 'we want to make this product, can you help with the design and development and then advise on the best stocking programme for the next three years'." After development this will make the purchase a simple repeat process, eliminating costs and noise within the supply chain due to the already established close working relationship and understanding of each other.
Ed Fagan Europe
Products: Specialists of controlled expansion, soft magnetic and refractory alloys