EDL Anlagenbau Gesellschaft mbH
A refined design
With more than two decades of experience in the delivery of cutting-edge process technologies, plant engineering and revamp services, EDL Anlagenbau Gesellschaft mbH has built a first-rate reputation in the process industry as a reliable and competent partner for the planning and construction of complete plants and plant units using own and third-party technologies. Furthermore, in recent years the company has demonstrated its expertise in refinery revamps through the execution of over 40 large-scale projects.
EDL was founded during September 1991 and today continues to operate from its headquarters in Leipzig, Germany. In January 2003 EDL became a member of the Austrian Pörner Group, a leading independent engineering contractor for process plants in Central Europe with its headquarters located in Vienna. The Pörner Group currently employs around 500 people, 160 of which are based with EDL in Leipzig. Across the group, Pörner and EDL offer the full range of engineering services for both new and refurbished process plants for refineries as well as the petrochemical, chemical, gas, power generation, industrial production and pharmaceutical industries. Across these sectors EDL provides classic engineering services and extensive process know-how and special technologies; including BTX-extraction; solvent deasphalting plants (SDA); solvent extraction plants for lube oils and aromatic extracts (DAE/ RAE, TDEA / TRAE) production; solvent de-waxing and de-oiling plants; hydrotreating and hydrofinishing plants for production of base oils, waxes, petroleum jelly, white oils and white spirit; lube oil blending and grease plants; depolymerisation and spray micronisation plants; used oil re-refining plants. "Thanks to our comprehensive suite of technical competencies we can add value to every phase of a project, from feasibility studies and conceptual design, through to execution and implementation, up to operational support," highlights EDL's CEO, Dr. Michael Haid.
Its rich well of experience has allowed EDL to work with many of the oil and gas industries most recognised blue chip companies, including OMV, BP, Shell and Total, as well as some of Europe's leading refineries such as PCK Raffinerie GmbH in Germany. "We are very active within the petrochemical and chemical industries and in recent years, depending on demand, our business has been split 50-50 between the chemical and refinery sectors," explains Managing Director, Wolfgang Kursch. "Our competence and experience in the field of revamps enables us to fulfil special tasks that not as many companies can undertake. However it is an important service that allows the plants to operate with greater effectiveness. There are other significant drivers in this area too, such as environmental and energy saving concerns."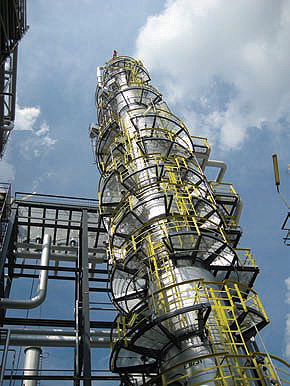 Traditionally EDL has operated inside its native domestic markets, within Europe's German speaking regions, however as these areas have become more developed and the demand for new and revamped refinery projects has lessened the company has continued to branch out to clients in new locations. "At the beginning, EDL was mainly active inside regions such as Germany and Austria," Wolfgang elaborates. And Michael adds: "During the last ten years we have started to develop into the international market, Russia especially and also Western Europe. We are also becoming active in the Middle East by working in Iran and other countries."
Although the present low price of oil and the uncertainty within the market resulting from the political turmoil within the Ukraine and Middle East have combined to cause a slowdown in refinery projects, EDL is confident that it possesses both the technology and the know-how to offer its clients efficient, money saving solutions. Within the Pörner concept of "Anlagenbau 4.0" the group offers plants using most advanced systems and equipment that are quickly and efficiently procured and built – for maximum productivity and competitiveness for many decades.
"Many of our clients are waiting for the market situation to change and this is why they have stopped some projects or are only undertaking phases such as project studies, basic engineering and cross calculations while they wait for the best moment to start the projects in full," Wolfgang says. "We are a process driven company with more than 30 own process engineers that are developing new technologies for us to deliver. We look for niches and develop technologies in order to address the problems that our clients face. For example, the cost per barrel is a big challenge for refiners." "With our state-of-the-art proven residue processing technologies we convert refinery residue into valuable high-quality products allowing the refiners a better utilization of the crude oil feed," Michael explains. "In addition, our partnerships and alliances create a strong technology portfolio with industry leading technology providers such as UOP, Shell, KBR, KBC, Sulzer, and more."
Throughout the refining industry, stricterenvironmental regulations and the increasing useof heavy, high-sulphur crude products require refineries to consider efficient solutions to address residual petroleum residues. As a specialist in the field of residue processing technology, EDL together with Pörner and its Biturox® bitumen technology is able to provide solutions for an ideally 100 per cent residue-free refinery. An SDA plant combined with a Biturox® bitumen plant for example, is capable of processing various heavy residues entirely to become valuable products, such as DAO and Bitumen.
"As the petrochemical and refining markets continue to evolve, EDL will continue to work with its clients to engineer lead-edge solutions leading to greater efficacy and returns. While the markets within Europe and the Middle East continue to develop along differing market trends and requirements, EDL will be on-hand to provide services in both regions," as Wolfgang highlights. Michael concludes: "Within Europe there is a need to move to more petrochemical products and less fuel because producers in the Middle East are more effective. We are able to provide solutions in all fields and with state-ofthe- art technologies. Within Europe in particular there is a lot of competition, but we can offer tailor made solutions that are always unique for each client."
EDL Anlagenbau Gesellschaft mbH
Services: Plant engineering and process technologies