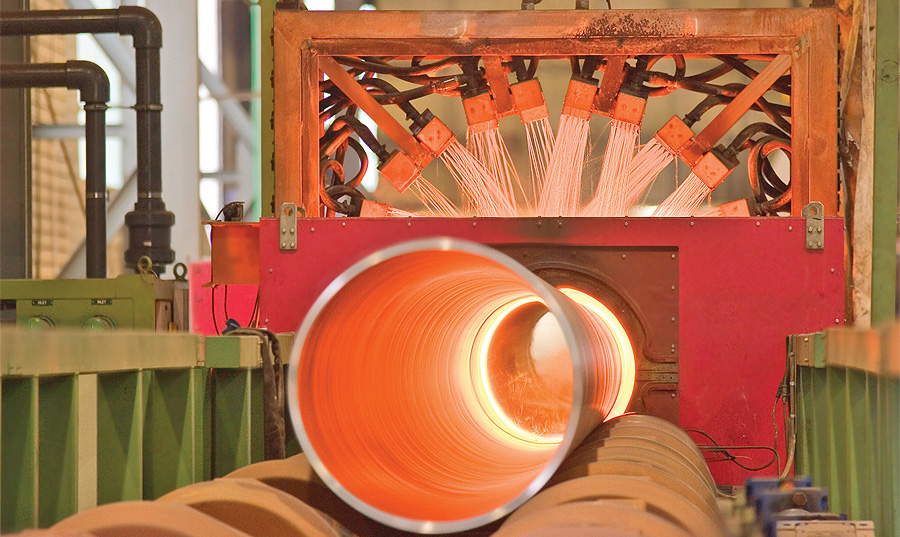 One length ahead
Erndtebrücker Eisenwerk, also known as EEW, is a Germany company that has supplied steel pipes and provided services to all kind of industries for more than 30 years.
EEW is one of the leading specialists in submerged-arc welded (SAW) pipes. Its head office is located in Germany and the company is focused on upholding the German high standards of quality when manufacturing in its subsidiary mills in countries such as Korea and Malaysia. EEW's branch in Rostock, Germany, is specialised in offshore oil and gas as well as wind, benefitting from an excellent location due to the harbour access.
EEW has been developing its activities in the SAW pipe business since 1974. Currently there is no other pipe manufacturer in a position to offer the same kind of complete product range for the offshore, oil and gas process plant and steel construction industry as EEW. The company can produce large diameter, thin and heavy wall thickness pipes in carbon and stainless steels as well as clad materials. The combination of sizes, material grades, approvals, and additional services available from EEW makes it one of the most interesting partners in the world of steel pipes.
EEW produces longitudinally (SAW) welded steel pipes in single lengths of up to 13.2 m and 4.8 m. Pipes with wall thicknesses of up to 130 mm are formed on its 4.2 and 4.8 metre rolling machines. Conical and eccentric reducers with wall thicknesses of up to 65 mm can be supplied according to the same diameter range for pipes.
EEW steel pipes are used in the following areas:
Offshore oil, gas and wind construction
Oil and gas treatment plants
Power plant construction
Pipelines
Chemical and petrochemical plants
Civil constructions
Harbour construction
Machinery construction
Pressure vessel construction
In conjunction with its manufacturing expertise, EEW always aims to offer the best service. Depending on the project, it produces structural pipe components according to its point-to-point construction service. This service contains detailed engineering from the AFC drawing until the delivery of ready-to-assembly pipe components.
Its dedication to customer service is reflected in its quality assurance certification. EEW was one of the first companies in Germany to obtain the Lloyd's Register certification in accordance with ISO 9002 in 1992. To ensure that customer's requirements are being addressed exactly, manufacturing and quality control procedures are being established for all production and testing steps, based on the requirements of the order. Quality is guaranteed by exactly observing these procedures and the quality control plans. Safety, health and environment are also part of the EEW management system, and today EEW is also operating to ISO 9001. An online process is also available, reaching from plate receipt up to heat treatments and pre-fabrication of components. This makes EEW's manufacturing and quality control processes traceable and its pipe price competitive.
From the arrival of the plates to the shipment of the EEW pipes, everything moves on solid tracks throughout the facility. With its innovative approach EEW is setting new standards in the production of large pipes, as well as offering the most modern production lines for SAW pipes in the wall thickness range from eight to 75 mm. Combined with this state-of-the-art production facility, is EEW's very experienced staff – a highly qualified team of engineers, a research and development department and motivated workers, are combined with suitable professional machinery equipment to produce the best results.
Within the factory, EEW operates three different production lines, one of which is dedicated to circumferential welds – EEW's speciality. This separate production line is equipped with special machines, and per month, the average production capacity of circumferential welds is up to 300. Components of up to a unit weight of 1000 tons can be produced.
When it comes to limited tolerances, EEW has always had a capacity to manufacture these products. To improve its offering in this area, modern calibration presses are now being installed and commissioned, which represents a considerable improvement of its capacity and thus the output of pipes for machine construction. The welding procedure is again based on submerged-arc welding (SAW). Welding procedure qualifications are available for all types of steel, plus all kinds of post weld heat treatment can be performed in EEW's own fully-controlled furnaces or in its inductive heating facility with a water cooling device.
The pre-fabrication of pressure vessels is another area of EEW's expertise, and it performs pre-fabrication of pressure vessels according to clients' requirements in:
Circumferential welding of several shells at each other
CNC cutting of nozzle openings
CNC cutting of nozzle saddle profiles
Assembly of dished ends, flanges, and other pieces
In addition to the services mentioned, EEW also offers heat treatments, a complete machining service, surface treatments and subcontracted jobs.
1990 was an exciting development for EEW, when it started producing stainless steel pipes. Its production range covers outside diameters from 406 mm to 2134 mm with wall thicknesses from eight mm up to 76 mm and individual lengths up to 13.2 metres. EEW produces longitudinally welded pipes in accordance with the requirements of EN, ASME, ASTM and client's specifications. The company's approved welding processes are GMAW, GTAW, Plasma or SAW, either used singly or in combination, dependent upon wall thickness.
EEW, with EEW Erndtebrueck in the centre, is head of the multinational EEW Group, an association of SAW pipe mills in Korea, Germany (two), Brazil, Malaysia and trading/representation companies. The yearly capacity of all pipe mills in the group exceeds 450,000 tonnes, which is based on optimal production machines and sequences, combined with more than 70 years experience in the manufacturing of steel products. EEW Malaysia features a newly designed pipe mill that strengthens the company's position in the SAW pipe market. The investment benefits from an excellent location and well-established business history in Malaysia.
EEW Korea, which counts Shell and Technip among its clients, is equipped with advanced technology and modern manufacturing facilities with an annual production capacity of 150,000 tonnes. In fact, the subsidiary provides the most modern manufacturing lines for heavy wall pipes in Korea, and its sophisticated welding technology and production know-how is supported by EEW Germany. The wide range of SAW pipes produced from this factory are used internationally for such applications as petrochemical plants, gas treatment plants and civil construction sites.
EEW's trading/representation companies are located close to its clients and are able to offer a wide range of products around SAW pipes. The EEW Group offers a full professional service worldwide and with EEW's products, clients save investment, production and handling resources – all of which will continue to grow in importance in the future.
EEW Group
Products: Steel peipes and submerged-arc welding (SAW) pipes