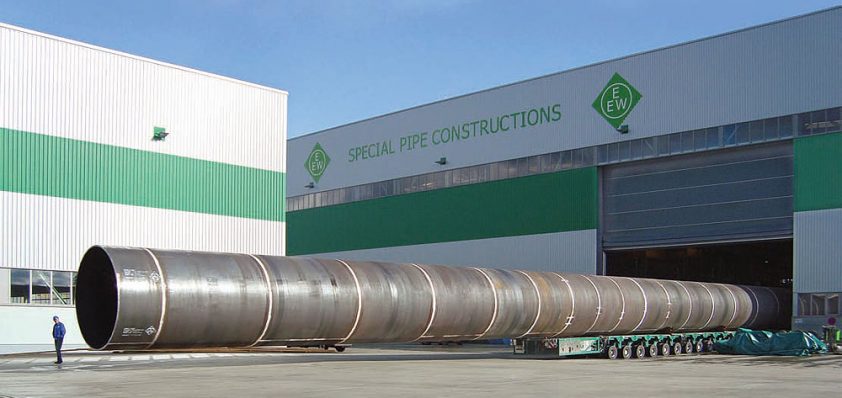 EEW Special Pipe Constructions GmbH (EEW SPC)
The special one
With its roots tracing back to the foundation of the Erndtebrücker Eisenwerk (EEW) Group in 1936, daughter company EEW Special Pipe Constructions today specialises in the manufacturing of the 'SAW' pipe for use in the oil and gas, and offshore wind industries.
In 2007, EEW Group made the conscious decision to establish the subsidiary EEW SPC Rostock, laying the foundations for a state-of-the-art fabrication and production site adjacent to the
industrial harbour. This has brought the business to the point where it is now able to make said product with a diameter between 1.5 and 7.3 metres, at any length between 1.5 and 100 metres and a unit weight of 1200 tonnes. Ultimately, this means that EEW SPCE can boast an extremely strong position in the SAW pipe market segment.
"Anyone who is familiar with EEW Group will know that it is an organisation that operates on very much a global platform. Therefore EEW SPC is able to leverage against a worldwide commercial network that takes in locations throughout Europe, the US, the Middle East and Asia," states EEW SPC managing director, Karl Klös-Hein. "From Rostock, the company serves customers based primarily in the UK, but also in European countries such as Belgium and the Netherlands."
One particular quality possessed by the business that has long helped set it apart is its equipment: "Being within the business for some 40 years, EEW SPC has built up a wealth of experience in the disciplines of pipe forming and welding," Karl continues. "Nowadays this experience is increasingly being added to and complimented by innovative, revolutionary new technologies and tools, and it is this that has helped the company break new ground.
"Meanwhile, in Rostock, the company continues to reap the benefits of its site's location. With direct access to the water, the company is also supported by some 160,000 square metres of storage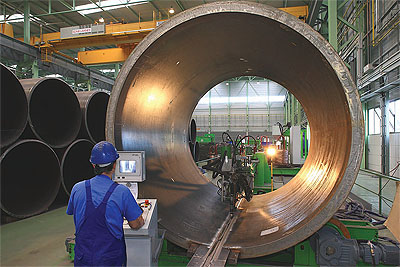 space. This is of great importance when it comes to storing offshore wind components and equipment. Furthermore, EEW SPC Rostock has already proven to be a source of high productivity, with its total capacity allowing it to support some 150,000 tonnes of steel on a yearly basis. This steel can then be formed in bulk, meaning the site is able to produce roughly six Monopiles each week. Very few companies have the ability to do this, and it is this degree of flexibility that has helped the company secure many projects in the past."
Naturally, in order to maintain this level of productivity the company has had to be alert to the need to constantly invest in its capabilities and assets: "In the time since EEW SPC Rostock was established the company has invested some 50 million euros to date, with additional programmes totaling 40 million euros currently underway," Karl highlights. "The next step from here is the planned construction of an additional fabrication hall, which is expected to open its doors towards the end of 2013.
"The trend that is driving this development is the belief that as more and more companies head into deeper waters there will be a greater need for Monopiles that measure as much as nine metres in diameter. This is a future trend the company has recognised early and is now preparing for accordingly."
In the meantime, the company is proudly at work running several different oil and gas projects from its Rostock facility: "What EEW SPC is doing is supporting the structural sector of the oil and gas industry in this region, assisting with the building of new platforms that are imminently due to enter service in the North Sea," Karl enthuses. "Elsewhere, the company is also currently supporting Total's Ofon Phase 2 project in Nigeria. This is a particularly unique and interesting undertaking for the company, which will see it delivering the piping for the platform itself."
These are undoubtedly exciting times for EEW SPC with the company more confident than ever before in its long-term prospects: "In the offshore wind sector the business is experiencing a level of demand that has rarely been seen before, with three projects that are currently ongoing that will carry it forward for the next two years at least. Nevertheless, the last five years have shown nothing is ever set in stone, which is why it is important for EEW SPC to be able to stand on more than just one leg. With this in mind it has, and will, continue to tender for oil and gas projects, ensuring it remains a recognised, strong player in the market," Karl concludes.
EEW Special Pipe Constructions GmbH (EEW SPC)
Services: Steel pipes and foundations