A flexible approach
The Eide Group offers a wide range of services in the maritime sector, including tugboat and barge transport, heavy lifting operations, construction and repairs, flotel services and delivered equipment.
Based in Norway, the company has worked with most of the major offshore companies in the Norwegian sector and many others worldwide. Founded in 1922 by Georg Eide, the company began by building wooden fishing vessels. Over time, Eide has grown to become a very successful group with its roots firmly placed in fabrication, trade and shipping.
The Eide Group consists of five different companies for which Barge Invest is the holding company. These are – Eide Marine Tech AS, Eide Contracting AS, Eide Marine Services AS, Eide Flotel Services AS and Haugesund Innkvartering AS. Through all of these companies, Eide can provide a turnkey service from planning of a project, through delivery of equipment and execution of the work, to the final documentation. The organisation's strength lies in its utilisation of technology and its strict insistence on both innovation and quality.
The purpose of Eide Marine Services (EMS) is to own and operate vessels of different types, including barges, tugs and floating cranes. The company is also engaged in the sale and purchase of various ships. At the end of 2006, EMS expanded its heavy lift transport fleet with the addition of the 'Eide Carrier'. This heavy transport vessel was originally built as an ice breaking lash barge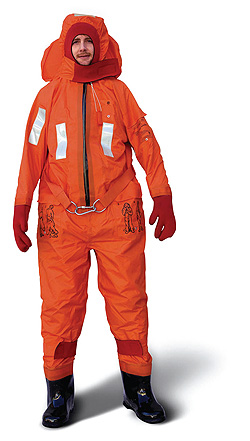 container and bulk carrier in 1989 and traded as a lash barge carrier up until October 2006. EMS purchased the vessel to convert into a large semi-submersible heavy lift vessel capable of carrying items such as, semisub drilling rigs, jack-up drilling rigs, barges, topside modules, offshore modules, submarines, motor torpedo boats, dredgers, river cruise vessels and cranes.
The main advantage of this vessel will be that it will become the world's fastest heavy lift ship, which is a great benefit for the rig owners or the military, who like to shift their equipment as fast as possible. The vessel is also of ice-breaking design, therefore it can cope with extremely harsh weather conditions.
Eide Marine Tech (EMT) is one of the leading suppliers of marine and offshore equipment in the North Sea. Its product range includes lifeboats, fast rescue boats, anchors, chains, selfclosing gates and other specially developed products. EMT's most recent addition to its product range is its new closing strap – SB2. Together with Simcon, the company has developed two types of closing strap, SB1 and SB2. SB1 was made initially and was tested in the North Sea. The test was successful and EMT received its first order for delivery of the SB1 closing strap in November 2006.
The new SB2 closing strap was developed after looking closely at feedback from users and workers in the North Sea. The SB1 was not able to provide more than six metre straps on the drum and therefore the company developed the SB2, which provides 12 metres on the drum. The SB2 is also easier to mount on walls, roofs, and under deck. EMT will now work together with Statoil to improve the SB2 even further and to satisfy the need of use offshore. In addition, the companies aim to improve the HSE standards on platforms in the North Sea.
The closing strap range is part of EMT's continual investment into developing new products and the company is currently concentrating on closing equipment for use offshore. Statoil has shown significant interest in the closing strap products and after meeting with the company, EMT looks forward to working together with it to improve and also deliver this product in the future. Another product recently added to EMT's closing equipment range is the new self-closing gate, which has proven to be very successful within the industry.
Eide Flotel Services was established to own and operate floating accommodation within the Norwegian and European market. Thecompany´s strategy is to build up a flexible fleet of flotels with different capacities and all with high standards to meet the demands of the future. Its primary market is accommodation for people working on different projects in Norway. Flotel is a very flexible alternative – accommodation can be provided for as little as two months or as long as three years. Furthermore, it can be made ready for use within a few days. The flotels are developed to a very high standard and all rooms have private facilities.
The Eide Group's long experience and knowhow in the industry provides major benefits for its customers. The company is able to choose the right equipment and ensure best quality through its long tradition of working in the maritime sector. Having experienced substantial growth recently, the Eide Group is now seeking to extend its activities within the international market. Through its flexibility, outstanding quality and reliable delivery, the company looks to have a very promising future ahead.
Eide Group
www.eide-gruppen.no