Life-saving innovations
Eide Marine Tech is part of the Eide Group, a significant player in the offshore industry.
However, the Group's history extends way beyond activity in the oil and gas sector over the past 30 years, as Georg Eide initially founded the company in 1922. The business first focused on producing wooden fishing vessels, beforegradually developing modern steel ships equipped to deal with the demands of the modern oil and gas market.
Located in Norway, but working with offshore companies on an international scale, the Group is divided into three companies: Eide Marine Services, Eide Flotell Services, and Eide Marine Tech. The latter is a leading supplier of marine and offshore equipment, for instance, totally and partially enclosed lifeboats, open and freefall lifeboats, davits, anchors, chains, and closing gates / bands.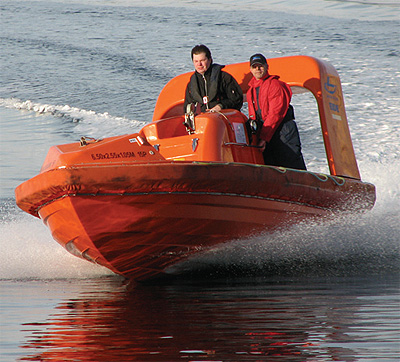 Eide Marine Tech works directly with oil and gas operators such as Statoil Hydro to develop quality HSE and lifeboat solutions for their offshore vessels and installations, and prides itself on close collaboration with clients in the design of new products.
Sales director Terje Gudding outlines the company's product portfolio: "Eide Marine Tech focuses on three vital product groups. The first is life saving equipment, like lifeboats and rescue boats with corresponding launching appliances/davits.
"We are also in the anchor and chain market, and are providing a range of services in this sector," says Terje. "A large number of vessels built in Norway and abroad are carrying anchors and anchor chain supplied by Eide Marine Tech, and our order books are quite heavy with orders of such equipment for deliveries in 2008-2010. We can deliver anchor chain for oil rigs with the highest quality grades – R4, R4+ and R5. We have recently delivered 16,000m with 84mm diameter mooring chain for Aker Kvaerner's Rig H601 – (Aker Spitsbergen) – being built at Aker Stord (Norway). Identical delivery of mooring chain for Aker Kvaerner's Rig H602 will be shipped from Shanghai in February 2008.
"Finally, we also sell a variety of HSE products within the offshore industry," he continues. "This includes products such as closing gates or bands that are frequently used on platforms to section off an area in which work is being completed. This product area forms a large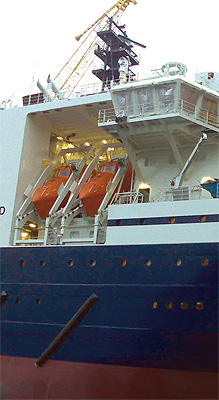 part of our turnover within the industry. We are frequently contacted by engineering companies, and on larger projects, we work directly with oil companies. Our services are not solely confined to the offshore rig sector, as we also work on FPSOs that operate in a number of oceanic locations."
Terje continues by elaborating on Eide Marine Tech's range of lifeboat products and services: "In the lifeboat sector, we are manufacturing a range of totally enclosed lifeboats for both tankers and offshore installations. The range spans the smallest conventional lifeboats up to totally enclosed lifeboats that can carry 150 people. The latter has never been built or delivered within the lifeboat market before, so we are a unique operator in this respect. The biggest totally enclosed lifeboat project we have completed in the past involved lifeboats that could carry 130 people each. Previously, the largest lifeboats on the market were only capable of carrying between 80 and 90 people, but this figure is increasing, especially on specialised construction vessels.
"Many of the lifeboats in this area are being produced for vessels being built at yards in Norway, especially at the yards in the Aker Yards Group, Ulstein Shipyard and Fosen Yard," Terje states. "We also have an extensive range of freefall lifeboats, with the newest developed model designed in conjunction with our lifeboat factory in China. The freefall lifeboat that we have just designed with our Chinese partners is capable of carrying 64 people, and of operating at a freefall height of up to 32 metres. However, what is special about this type of freefall lifeboat is the superstructure of the design, which allows water to be removed from the lifeboat far more rapidly than previous freefall lifeboats. The overall shape of the new freefall lifeboat we are creating shares aerodynamic similarities with torpedoes, which have come about through revisions to the lifeboat's superstructure. On previous freefall lifeboats, the helmsman's' position required a large 'top' to the design, and appeared at the back of the lifeboat – we have shifted this position to the middle of the lifeboat to improve its performance."
Within the lifeboat market, there are always challenges emerging, as Terje is keen to point out: "Eide Marine Tech also produces a range of partially enclosed lifeboats for passenger vessels like ferries.
"Alongside the lifeboats, we are also delivering a range of launching equipment (davits) to be used on ships," he comments. "The focus is now on developing solutions to be used in limited release spaces, so we are using davits as low as possible because of limited height on construction vessels. The davits with the  lifeboats are installed in recesses on the vessels – with limited heights available. This is a very different requirement within the market than was the case ten years ago.
"Product development will always be an important area for Eide Marine Tech, as we must constantly be aware of the requirements of the industry," Terje reiterates. "If clients are asking for specially designed equipment, we research into if what they require is possible, and set about designing a viable solution. Of course, we have a standard range of products, but we are always ready to create a bespoke solution for a customer."
As all businesses involved in the oil and gas industry can attest, the market is currently very strong. Terje describes Eide Marine Tech's position within the sector: "The oil and gas industry is stable at the moment, with a consistent amount of new build projects in which our products can be used. Market analysis suggests that there will be an eventual downturn in the amount of vessels being constructed, but this will be in around three to four years time. We have enquiries for the supply of equipment in 2010 and 2011, so we are still operating in a boom period. Within the offshore industry, oil and gas markets will often support each other, and new fields are always emerging. This focus does not solely concern the Norwegian and British North Sea sectors – there is a lot of activity internationally within the major oil and gas companies at this time, meaning we are working on projects in locations like South America or East Asia."
Terje concludes by outlining the company's aims for the future: "Eide Marine Tech will grow in the coming years, and we are focusing on bringing in the right people to achieve this aim, and complete our many projects. As the amount of enquiries expand each year, we must add to our team to meet the demands of the projects. We cooperate closely with many companies in both Asia and Europe in regards to producing new equipment that matches their requirements."
Eide Marine Tech AS
Products Life saving, Anchoring and HSE equipment