Making waves
Eidesvik Offshore ASA is a prominent provider of innovative solutions within the shipping industry and related operations.
The company operates a flexible and modern fleet of specialised vessels within the areas of supply and logistics, subsea, seismic survey and cable laying, across the world. Established in 1976, Eidesvik today manages a total of 21 vessels within these fields and there are four currently in construction.
The company is at the forefront of innovative development, having already designed several of its vessels within its project department, working closely with business associates and naval architects. Speaking to European Oil & Gas in March 2007, CEO at Eidesvik, Jan Fredrik Meling explains the company's approach to innovation: "Eidesvik is among the largest offshore supply vessel owners in Norway. Innovation is a key factor in our success and our long term plans; what makes us different from many of our competitors is the fact that we have a drive in the organisation to experiment with new, unique solutions."
Eidesvik is aware of the impact shipping activity has on the environment and so it looks to the future of both industry and the planet by focusing on developing environmentally friendly offshore solutions. In line with the Norwegian Government's commitment to reducing NOX emissions by 2010, the company was the first business in the world to launch a natural gas powered vessel in 2003 and two more new build vessels using this technology are currently underway. These vessels produce 20 per cent less CO2, equivalent to 2000 tonnes per year, than conventional engines.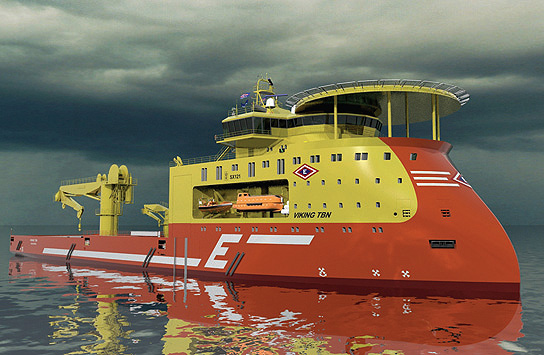 The company is also working to develop a unique fuel cell power system. The FellowSHIP project, as it is known, initiated in 2003 and involving Eidesvik and a number of other companies, aims to develop a complete integrated hybrid fuel cell system for ships. The system will offer improved efficiency, lower operational costs and lower emissions; the vessels using the ground breaking technology will release no NOX emissions and will provide a 50 per cent reduction in CO2 levels and fuel consumption. There are numerous advantages to the new technology, the fuel cell produces mostly heat and water as exhaust and the technology is silent and vibration-free, ensuring a more comfortable environment for passengers and crew. The simpler design with fewer parts requires far less maintenance than diesel engines and because the technology is modular, systems can be configured to use less onboard space. The initial research phase has indicated that the versatile fuel cell technology can be implemented in commercial shipping in the near future and later in 2008 a full-scale demonstrator of an auxiliary power plant will be initiated on an Eidesvik vessel.
While environmentally friendly development is central to the company's innovation program, it is also aiming to promote safer working conditions for those on board. The focus on health, safety, environment and quality (HSEQ) in all the company's activities is paramount and there has been a marked improvement year by year. The company recently adopted a revolutionary new rotation plan for shift patterns. Introduced originally by the US coastguard several years ago, the plan involves staff working for eight hours, resting for four and then working for four hours and resting for eight, in place of the six hours on, six hours off system operated on most supply vessels, which has been known to lead to fatigue and subsequent errors. These new measures, together with improved diets of employees on board and better lighting conditions have meant that Eidesvik is leading the way in terms of improving working conditions for its crews.
Over the years, Eidesvik has provided leading innovative technology and has built up an impressive portfolio of pioneering offshore vessels solutions and operations. These include, the Geo Explorer, which was the first 3D vessel in operation, launched by the company in 1992 and in 1996 the largest platform supply vessel in the world, the Viking Lady was delivered. In 1998 the Viking Poseidon, was the first multi-purpose supply vessel (MPSV) to be launched. In 2001 the company began developing a light well intervention vessel (LWIV) and in 2003 the first LNG fuelled vessel the Viking Energy was launched and FellowSHIP was started. Since then several more ship designs have been launched including, most recently, the Viking Queen, the second LNG fuelled vessel. In 2007 FellowSHIP phase II began with the planning of a qualification test of a 320 kW fuel cell, which is to be used onboard a gas powered PSV.
In terms of future development, the company should continue its pattern of growth as many of its ships are involved in long term contracts up until around 2014. Eidesvik looks set to continue its track record of employing and formulating new technology to improve safety and working conditions within its vessels as well as improving the environment outside the vessels, by actively working to reduce CO2 and NOX emissions and tackle the environmental concerns facing the shipping industry in general. This positive attitude and strong emphasis on new development and change means Eidesvik can maintain its reputation for being a company committed to combating environmental issues.
Eidesvik Offshore ASA
Products Specialised supply, subsea and seismic vessels