Innovative thinking
Producing approximately 100,000 tonnes of steel pipes annually, Eisenbau Krämer has been involved in the manufacture of longitudinally welded steel pipes since 1921.
The company operates three production sites across Germany, including its head office in Kredenbach. Following the boom in offshore energy production in the 1970's Eisenbau Krämer has increasingly focused on manufacturing large diameter, thick wall steel pipe solutions for oil and gas companies. As the offshore industry has expanded into harsher environments, and into deeper waters, Eisenbau Krämer has been at the forefront of technical innovation within the market, developing solutions to meet these new challenges.
The company's product portfolio includes line pipes for the long-distance transport of oil, gas and water products, clad pipes, process pipes and machinery pipes for a wide range of industries. In addition, Eisenbau Krämer also produces offshore and construction steel pipes suitable for a diverse range of applications including legs, piles, bracings, conductors, risers, anchor piles and bridges. Julian Hepburn, consultant to Eisenbau Krämer, describes the current focuses of the business: "Currently we manufacture line pipes with diameters between 16 and 60 inches, but by employing our heavy rolling facility we can produce pipes with a diameter of up to four and a half metres for structural applications. Although the bulk of the business is within the line pipe and process pipe markets, our offshore and construction sector has undergone a real renaissance this year with higher levels of projects in this area than seen in recent years."
Considering the difficult economic climate and competition from the Asian market, this increase within the offshore market has been a welcome boost for Eisenbau Krämer. Julian comments on the reasons behind this growth: "Many of the North Sea fields have been established for a long time now, which means some operators have had the need for enhancements and due to the strict delivery schedules they were seeking to achieve it was the European fabricating industry that were successful in gaining the contracts.
"Over the last year and a half in the field of line pipes and process pipes we have also won a number of key orders from Korean EPC contractors, which is interesting as their local manufacturers are capable of producing pipes at a lower cost. However many of these contractors are choosing to come to us because of the technical sophistication and quality of our products."
Bearing these market developments in mind, Julian elaborates on what sets Eisenbau Krämer apart from its competitors: "One thing we've always maintained is flexibility and the ability to adapt to customer needs. We also invest heavily in research and development, so for example the tolerances that we're able to achieve on a pipe are significantly better than the industry standards. This benefits the client through reduced fabrication costs because the pipes fit so well together. We are also able to manufacture products that our competitors can't, with regards to the ratio of wall thickness to diameter. This is due to our powerful bending mill, which can bend much thicker plates over the full length of the pipe than most other mills can."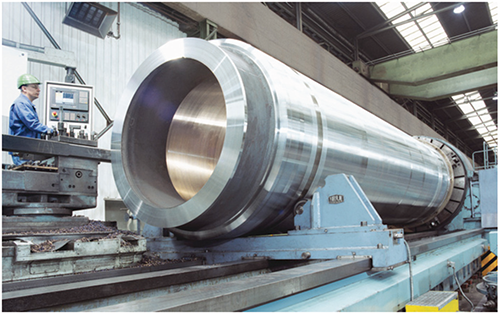 Certainly technical innovation is one area where Eisenbau Krämer excels. The company remains unique in the world in its commercial supply record of five, nine and 36 percent nickel pipes for liquid natural gas (LNG) applications. Within this technology Eisenbau Krämer also offers complete solution packages including the ability to provide overmatched mechanical values for both longitudinal and circumferential welds. Other products under development include high yield materials like X120 and X140, and dual-face steel, which is designed for use in areas of seismic activities.
Traditionally pipes for the oil and gas industry are produced including a cold expansion technique, however recently Eisenbau Krämer launched its new impander® technology, which turns this method on its head. "This technology is the first of its kind and is the result of our own R&D. Rather than cold expanding, our new impander® equipment actually shrinks the pipe. This technique reduces residual stresses to almost zero, which means that if the pipe is cut it retains its shape and tolerances, unlike in other methods. From an engineering standpoint there is a whole array of advantages in using impanded pipes such as the increased deepwater collapse properties of the pipes, which means that you no longer have to specify heavier walls for deepwater applications. In fact it is looking very likely that the new version of the DNV code will have specific design parameters for impanded pipes in it, which will enable designers to use a thinner wall thickness than the DNV currently allows for certain applications. Commercially the advantages of impanded pipes are huge, so it's a very prominent first for the industry," elaborates Julian. In fact, such are the benefits of the technology, that Eisenbau Krämer already has clients in the US and the Gulf of Mexico that have stated in their customer specifications that they will only accept impanded pipes.
The company's commitment to R&D has also enabled it to secure specialised parts of high-profile contracts such as the Gorgon project and Nord Stream project, which required a high level of technological expertise in certain areas such as production of the Buckle Arrestors, and which was not available elsewhere in the world.
As activity in the market begins to increase again following the difficult economic downturn, Julian concludes with Eisenbau Krämer's focus for the future: "As the industry continues to move forward, it brings with it new engineering challenges, some of which have an impact on pipe producers like us. Our strategy moving forward is to remain at the cutting edge of technological development and continue to produce high quality solutions, which set us apart within the market."
Eisenbau Krämer GmbH
Products: Large diameter, SAW steel pipes