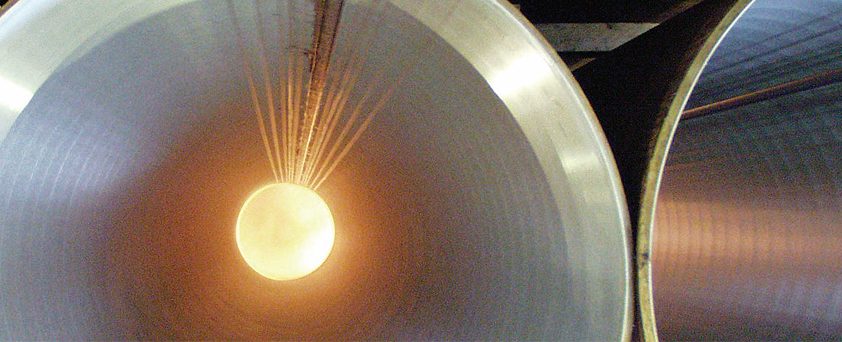 Strength through innovation
Eisenbau Krämer based in Dahlbruch, Germany, is able to draw on many years of experience within the steel pipe manufacturing industry, as the company's mill was founded in 1923.
Since the 1970s, the business has focused its activities on developing large diameter, thick wall steel pipe solutions for oil and gas companies. As the offshore industry has expanded into harsher environments, and pipes are being installed in deeper locations, Eisenbau Krämer has been at the forefront of innovation within the market, and is ready to meet the stringent requirements of the industry.
Julian Hepburn, consultant to Eisenbau- Krämer, outlines the commitment to product quality, excellent customer service and research and development, which are the foundations of the company's activities: "We were one of the first mills in the world to create pipes with very heavy wall capabilities, as previously the industry was only able to produce longer pipes with a wall thickness of 35 to 40 millimetres. Our company developed the ability to manufacture pipes up to 13 metres in length, with very heavy walls between 70 and 80 millimetres. This progress led on to our involvement in not only global offshore construction, but also the offshore line pipe sector, which has been an important part of the business ever since.
"Being at the cutting edge of technological research and development has always been Eisenbau Krämer's remit," Julian continues. "Currently, we have one of the heaviest pipe wall manufacturing capabilities in the world, and we have also expanded into developing more technically sophisticated products. Going back ten years, API 5L – X52 steel was the standard within the offshore line pipe market – nowadays, we are commercially supplying products up to X100, and we are also developing the X120 and X140 ranges. As far as we know, there are only a few mills in the world that are supplying X80 pipes for sour service.
"We can also provide nine and 36 per cent nickel materials for LNG applications, including subsea Pipe-in-Pipe solutions, and in this we are unique in the world, having commercially supplied both nine and 36 per cent nickel products," he says. "Additionally, we have developed revolutionary welding processes and unique filler metals for these nickel pipes. These new welding methods are able to provide over matching mechanical values for both longitudinal and circumferential welds, and include 'site friendly' techniques to enable these technologies to be used in field welding, without compromising weld integrity. These developments are key points and have enabled engineers for the first time to design LNG Pipein- Pipe solutions which will work."
One of the issues that has arisen through Eisenbau Krämer's projects with operators like Saipem, Shell, BP, and Exxon Mobil, is the need to reduce the weight of the solutions being used. Julian describes the company's solution, and some of the further issues that must be addressed in this area: "Eisenbau Krämer is developing materials that have very high yield strengths, meaning engineers and designers can reduce pipe wall thicknesses, and ultimately reduce the weight of the overall floating structure. These issues can be applied to the manufacture of catenary risers as well as to tether tendon pipes, and for this reason, we are heavily involved in developing our X120 and X140 ranges.
"We have implemented a leading edge heat treatment processes in which we use an induction spool," says Julian. "By not placing the pipes in a furnace we avoid the problems of loss of shape and tolerance difficulties, while still creating the properties in the material called for by the specifications. This enables us to offer material types that were not previously available in the large diameter welded pipes."
As previously stated, the emphasis within Eisenbau Krämer's activities is on innovation alongside quality. This is most visible in the company's response to the challenges of the LNG sector, as Julian elaborates: "One of the issues that continues to arise in our communications with oil and gas companies is the need for loading and offloading jetties from LNG terminals to deepwater locations. These jetties can often be very long, as the location of the terminals means they are not near good harbour facilities. For example, an LNG project located off the coast of Nigeria needs a 13-kilometre jetty to get to deepwater positions. However, in areas like this, how can this jetty be secured? Accounting for the very real threat of modern terrorism, even a passing fishing vessel could be perceived as a threat to security. This has become a key issue for operators around the world.
"Equally, another important factor to consider, highlighted by our work in Australia, is the unwillingness of a government to permit an offshore jetty construction, due to concerns linked to the environmental impact of the jetty," Julian states. "In regards to the nickel materials we have developed, we have worked with companies like ITP InTerPipe and Fluor to create subsea LNG cryogenic pipeline designs, which are completely unique within the field. These designs remove both security and environmental concerns in a stroke, because there is no longer any need for a jetty. Although this solution is cost-effective, the factor that has generated the most interest from oil and gas companies is the ability to undertake projects they previously could not develop due to security and environmental difficulties. This is a revolutionary step which Eisenbau Krämer is rightly proud to be involved with, and is a significant movement within the offshore industry in general."
Julian concludes by examining the situation going forward: "Although we need to consistently supply a standard product portfolio, we must meet the challenges set by competitors operating in low-cost markets across the globe. This factor is driving us to increase our research and development activity to create products that other companies cannot offer. The way forward for Eisenbau Krämer is to continue focusing on developing technically sophisticated solutions, to set us apart from the competition within the regular portfolio of products."
Eisenbau Krämer
Products Large diameter, thick wall steel pipes