Turning up the heat
On September 16th 1896, Swedish-based Ekstrom & Son was established, with the objective of producing household vessels from copper.
Since then, the company has grown into a leading manufacturer of pressure vessels, columns, and shell and tube heat exchangers. It employs approximately 70 people at its offices in Kristianstad, and sells its reputable range of products around the world.
Ekstrom & Son is active in several industry areas, including chemical and petrochemical, pulp and paper, food and pharmaceutical, nuclear power plants and distilleries. This broad array of applications challenges the company to adapt its designs to meet the specific needs of each individual project, a task that is accomplishable owing to the renowned expertise of its process engineers.
This skill has delivered some prestigious clients for the company; indeed, BP Chembel recently selected Ekstrom & Son to deliver a shell and tube heat exchanger to its plant in Geel, Belgium.
The company's offering to BP was a combination of its Helixchanger technology and low fin tubes. The Helixchanger is a helically baffled shell and tube heat exchanger, and enables energy savings of up to 50 per cent, owing to its reduced pressure drops. It provides two further major advantages: higher capacity with the same surface area, and decreased fouling on the shell side. The Helixchanger is an ABB/Lummus registered trademark, and is fully licensed to Ekstrom & Son.
Additionally, the company offers a number of other devices. This includes carbon black air preheaters, of which the company sells two types: single shell and double shell. Furthermore, Ekstrom & Son's catalogue contains a unique backflushing valve, designed to eliminate fouling and increase efficiency in plate heat exchangers. This valve consists of two end plates and a cylindrical shell that forms a vessel, inside which there is a valve body with four alternative flow paths. The valve body can be turned 90 degrees; in its normal position the fluid moves straight through the valve body, and in the backflushing position it moves through two crossing flow paths.
Managing director Lennart Karrberg explains the key strengths of the company's designs: "We were one of the first businesses in Sweden to begin producing pressure vessels in stainless steel, and it remains our ambition to be at the forefront of our field in that area. We specialise in using materials that can face very harsh conditions – high temperatures or a corrosive environment.
"Our main clients are engineering companies who face these kinds of challenges. For example, we work close with a Danish company that specialises in catalytic processes, and they require high temperature equipment. Such companies have specific knowledge in certain processes and they are interested in purchasing proprietary equipment from a few approved suppliers."
For optimum capacity and operating economy, the company provides a choice of advanced materials to its clients. Most common amongst these, as mentioned, are a number of standard stainless steels, but several other materials are utilised where necessary. These include nickel and nickel alloys, titanium, copper, high-alloy austentic steels, and duplex and superduplex.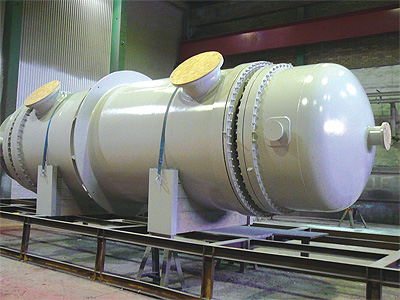 The company's global success has been built upon an unerring focus on quality, as a consequence of which the company is certified in accordance with ISO 9001:2000, ASME U-stamp (USA), SQL (China) and ISO 3834. This allows Ekstrom & Son to continue serving clients in whichever part of the world they may choose to focus their business, whether it be the EU, the US, or Asia. Indeed, the company's products have been installed in processing plants in more than 50 countries. This is made possible by a stringent quality control department, well equipped for conducting non-destructive tests. This includes two X-ray plants for checking welding joints, and equipment for both helium leak detection, and magnetic powder testing.
Lennart highlights some further benefits that Ekstrom & Son enjoys in its development process: "We are members of the HTFS, which allows us access to the latest research findings and advanced design programmes for tubular heat exchangers; so we are able to meet demanding customer requirements in that area, and in the mechanical design and fabrication of the products. We also have a workforce who can assist regarding service and installation maintenance on site."
Lennart explains that Ekstrom & Son's strong product line and new opportunities leave him feeling cautiously optimistic about the future of the business: "The oil and gas market is currently a very exciting market for us, and we will have a couple of major projects running over the next couple of years. Furthermore, biogas is an area with large potential, and we see a demand for components used in biofuel production, such as heat exchangers and reactors. It is certainly true that you can never be sure about what is around the corner, but we have a relatively good situation. We certainly have the ambition to expand, but our main production will remain here in Sweden."
Ekstrom & Son
Products Shell and tube heat exchangers and pressure vessels