Better energy
An LNG trailblazer for more than half a century, Elengy is innovating its way towards a better, more sustainable future
Benefitting from more than 50 years' experience as an asset manager and terminal operator, Elengy is one of the world's most prominent, long-standing pioneers of LNG. Renowned for its attentive approach to the latest developments in the LNG market, the company provides its customers with quality service at the best cost.
A key subsidiary of GRTgaz, which sits within the ENGIE Group, the company owns and operates three major LNG terminals in France: Montoir-de-Bretagne on the Atlantic coast, as well as Fos Tonkin and Fos Cavaou on the Mediterranean coast. Determined to develop its terminals into LNG hubs, the company can deliver on a growing range of capabilities, including the reception, unloading and reloading of carriers and vessels, regasification and transhipment.
"As of September, the total amount of energy unloaded across our three sites in 2021 amounted to 102 TWh – a 14 percent decrease on the same period in 2020," reveals Chief Commercial Officer Giuseppe Spotti. "This number involves 126 unloading operations – 43 at Montoir, 23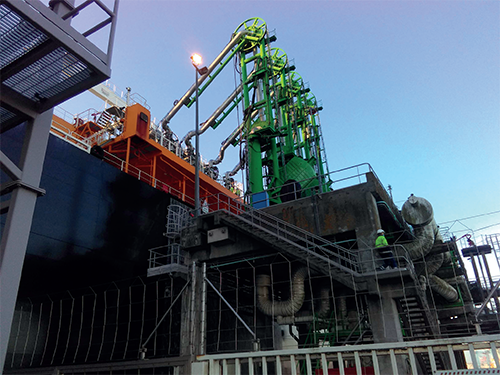 at Fos Tonkin, and 60 at Fos Cavaou.
"Though the total number of unloading operations has decreased compared to last year – as per the rest of Europe – we still registered an increase in reloading operations and a massive rise in truck loading activity. Alongside six reloading operations at Fos Cavaou and seven transhipment operations at Montoir, we have loaded 11,000 trucks since the start of 2021, which is equivalent to our total for the whole of 2020."
Constantly adapting its terminals to reduce their environmental impact, Elengy recently invested in a high-pressure BOG compressor at Montoir and is planning to do the same in Fos Cavaou. The company has also worked to improve energy savings at its sites with the help of variable speed water pumps and improved synergies with neighboring facilities.
"At this point, it might be worth mentioning the recent outcome of one of our R&D projects," Giuseppe says. "The regasification process uses large amounts of water, which is treated with chlorine and then released into the natural environment, under strict control of maximum chlorine content limits. In order to reduce even further the environment impact footprint of our installations, we have financed an R&D program to develop an alternative solution to chlorine water treatment. This initiative, launched in 2014, yielded a number of interesting results.
"Ultimately, a biopolymer was identified as an alternative. After a pilot phase at the Fos Cavaou terminal, we decided last year to invest in the solution to replace the existing electrochlorination. The new biopolymer allows us to divide by 20 the amount of chlorine injected for water treatment. We are proud of this choice!"
With the new equipment set to be delivered by the end of 2021, Elengy is now investigating the potential its solution may have in helping solve similar issues. At the same time, the organization is financing another key R&D program – in this instance, with the aim of developing an optimized polishing and liquefaction process dedicated to biomethane plants for the needs of heavy mobility (road or maritime).
A milestone year in more ways than one, 2021 not only saw Elengy unload its 10,000th cargo of LNG – taking it to 326 million tons in total, or 10 percent of all LNG cargoes worldwide – but also, in April, the business transported its first LNG container by rail. Travelling from Elengy's Fos Cavaou terminal to a service station in Italy, the shipment's journey was the first in what Elengy hopes will become a mainstream practice as the company establishes a logistics chain by rail to serve remote regions in France and neighboring countries.
"Thanks to this test, we have now laid the groundwork for delivering LNG containers from our terminals directly to the client site by train," Giuseppe confirms. "It's the first time we have worked through a supply chain outside our terminals, so we have placed particular focus on identifying existing rail connections from Fos Cavaou to Italy, and in understanding the constraints of this kind of supply chain, including people, cost, delivery partners and specific technical requirements.
"It was a true test for Elengy," he continues, "as we had to take care of all the contractual and logistical aspects like road and rail transportation, as well as rental of the LNG container. It is now our intention to reproduce the experience and we are in discussion with several customers to develop the service for other destinations in France and abroad. We are convinced that LNG rail transport has a promising future, allowing us to maximise volumes transported over longer distances in order to supply areas isolated from LNG terminals, and to do so with lower CO2 emissions."
In terms of the wider future of bio-LNG in France, Elengy recently engaged with waste management firm EveRé to begin work on development of the country's first bio-LNG project. Total Energies and container ship giant CMA CGM will also both be part of the venture.
"The project is set to be carried out in the Fos-sur-Mer area and will benefit from a strong local and global dimension," Giuseppe declares. "Locally, it is a perfect example of circular economy, since it aims to use the biogas produced by EveRé plant from the municipal household waste of the Aix Marseille Provence metropolitan area. The biogas can then be purified and liquefied before being delivered to the LNG terminal and supplied to CMA CGM LNG-propelled ships."
As this project suggests, Elengy, with ENGIE Group's guidance, continues to support the development of LNG around the world through strategic partnership with some of the industry's major players. Internal investment is playing a significant role too. For instance, the company recently funded the increase of its truck loading capacity with the addition of two bays at Fos Cavaou in 2019. A similar expansion is planned for Montoir in 2022.
Of course, though the firm has achieved great success in 2021, it has been forced – like its industry colleagues – to do so against the backdrop of the Covid-19 pandemic, and all the associated issues this has presented. "The main challenge for Elengy," Giuseppe states, "was to maintain operations in spite of the risk created by the possibility of absent employees or contractors, which could have rendered us unable to fulfill our commercial commitments.
"We managed the situation by putting in place strict health measures very quickly. We limited the number of people on site by prioritizing activities related to terminal safety and customer service, and by implementing remote working for all compatible jobs. We also instigated exceptional measures during certain periods, such as two shifts of 12 hours per day instead of three shifts of eight hours. This has enabled us to maintain uninterrupted service to our customer base."
With another year close to an end, Elengy is ready to look towards the future of the organization. The challenges that lie ahead, Giuseppe argues, will be overcome with the aid of a three-pronged strategy.
"Firstly, we want to secure the future of our existing assets well beyond the current contractual booking – that is, well beyond 2030," he begins. "The second part of the plan is to further develop the use of LNG as a fuel for mobility (both on the roads and for maritime usage) to add value to our existing assets. Finally, we aim to support the development of 'carbon neutral' products like bio-LNG and e-methane to ensure the acceptability of LNG fuel solutions and back the emergence of a renewable energy import market."
Reflective of the company's wider intentions, and illustrative of the importance it places on facilitating positive environmental change, the last point of the strategy reaffirms Elengy's commitment to the decarbonization of the European energy system. While Europe will clearly need to import low carbon energy vectors, the question going forward is, which one?
"It's going to be tough, and nothing is sure yet," Giuseppe says in answer. "The selected energy vector may be different from the one used by the final consumer, but we think liquefied methane will remain an excellent candidate for mass import. It could then be used directly with CCUS, or cracked at the terminal into H2 and black carbon (methane pyrolysis) to be distributed to end users."
Of course, there are other low-carbon solutions. Bio-/e-methane, for example, could prove highly economical and Elengy is confident that the firm could be a vital player in the procurement and logistics surrounding the CO2 required for the process. With shipping evolving rapidly alongside it, Elengy believes a transition to bio-/e-methane could be the most promising way forward for deep sea ships.
"Biomethane is the most efficient way to produce a usable fuel from biomass, and e-methane is a very efficient way to transform renewable energy into a fuel usable in a ship, allowing for improved environmental performance when coupled with carbon capture and utilization," Giuseppe explains. "CO2 can easily be recovered during the biomethane production process and it is possible to efficiently capture CO2 onboard the vessel. Importantly, biomethane and e-methane are capable of using existing gas infrastructure, and shipping companies can benefit from a deep, flexible, market, with wide availability across the globe.
"Similarly, as a maritime fuel, LNG has demonstrated its relevance as a propulsion technology and boasts a number of advantages over lesser alternatives thanks to its high density, dual fuel-efficiency, and lack of a local pollutant," he adds. "In the shipping arena, we believe in a multifuel system and the 'LNG then bio-LNG then e-methane' route is our preferred path to supplying green solutions to a large and quickly expanding supply base. If we can put it into action, I think we will see Elengy well on its way to a low-carbon energy system, confirming our position as a leading light in the development of LNG as a fuel."
Elengy
www.elengy.com
Services: LNG terminal operator
All images, copyright Elengy