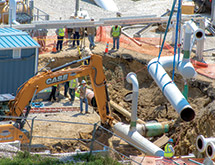 Elite Midstream Services Inc.
Keith Keane founded Elite Midstream Services three years ago to meet a need that he identified in the oil and gas industry. "There were only a limited number of companies that provided hot tapping services," Keane recalls. "It led me to believe that there was an opportunity for more competition."
Keane, who spent 40 years working in the utilities and pipeline industries, provided that competition when he started Elite Midstream Services. "Our home base is right in the middle of the Marcellus and Utica Shale region," he says.
The dearth of companies willing to offer hot tapping services is related to the risk involved in the high-risk work, Keane says. "The liability in hot tapping is tremendous," he says. "It's done live, and you have to have a lot of experience. Oil and gas companies seek technicians with a plethora of knowledge and experience because of the inherent dangers associated with the work."
Elite Midstream Services brings plenty of knowledge, experience and familiarity to the work it performs, Keane says.
The company has more than 100 years of combined experience among its employees, and several bring at least 15 years of background in hot tapping, engineering, welding and pipe laying to the job, he says.
A Growing Footprint
Elite Midstream built its client base close to home in Southwest Pennsylvania near Cuddy, but expansion began quickly during the first year. Today, the company provides hot tapping and numerous related services in Pennsylvania, Ohio, West Virginia, North Dakota and Indiana. It also has also established footprints in Texas, Louisiana, Puerto Rico and Maryland.
"We continue to grow," Keane says. "Our customers are located throughout North America. We travel well. A client's first impression is critical, leading us to arrive at a jobsite fully prepared to immediately begin the work on the project.
"We're set with our equipment and transportation group," Keane notes. "We work diligently to maintain a good-looking fleet of trucks and equipment. This approach speaks volumes to our commitment to high quality work. You want to make a good first impression. In fact, our oldest piece of fleet equipment is five years old and is not used on a routine basis."
Keane also understands the importance of taking good care of employees while they're on the road or stationed at remote jobsites. "We provide top-of-the-line, quality accommodations for our employees," he says. "They work hard and deserve some comforts while they're on the road."
Challenges Abound
Elite Midstream Services has faced several challenges since its inception, including raising the necessary capital to get the company off the ground, Keane says. Once operational, the most significant hurdle has been keeping up with the numerous licenses, certifications and training required to work for various clients. "The requirements typically vary from one client to the next," Keane says. "We spend many man-hours every year devoted exclusively to training. We have to meet the diverse needs of the various customers. Different companies require different qualifications and certifications to perform work on their jobsites." In fact, Elite Midstream has an employee who is dedicated to ensuring all employees' training and certifications are current.
Elite Midstream Services has competitors but sets itself apart by offering a complete solution. "We offer a total turnkey solution," Keane says. "It's a big competitive advantage. We assist customers in the initial design process and carry it through to the completion of the project. It's seamless for the customer."
Elite Midstream's numerous other services include valve inspection and maintenance, high-pressure torqueing, fabrication, installation of launchers and receivers, site development and excavation, project design and management, environmental services, and pipeline testing.
Existing customers often refer new clients to Elite Midstream Services, Keane says. "We've been fortunate because we continue to grow and welcome more clients to our customer base."