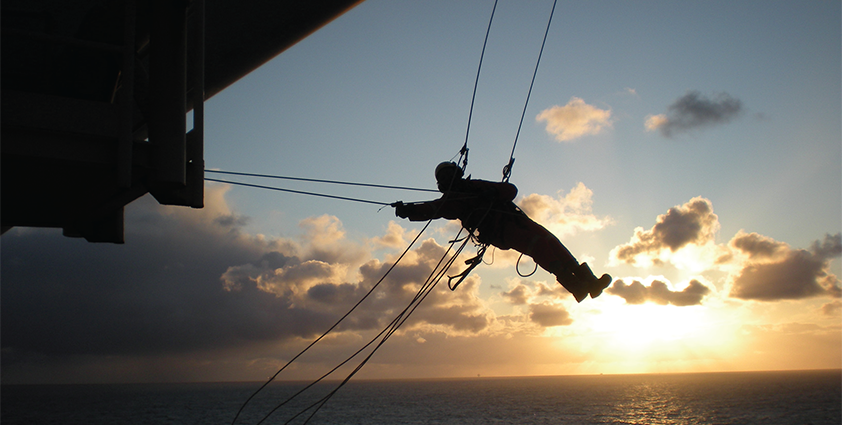 A vital asset
Asset integrity is a crucial componen for optimal performance of upstream oil and gas infrastructure, including offshore fixed and floating production facilities, onshore refineries and tank farms.
EM&I has been a pioneer in the oil, gas and petrochemical industries for almost 35 years and boasts a range of services including its state-of-the-art product; Operational and Asset Integrity Management System (O-AIMS).
O-AIMS is a proprietary management system and suite of best-in-class documentation, developed over the last 15 years. O-AIMS represents a life-cycle approach to asset integrity management incorporating bespoke criticality based programmes to ensure that inspection, monitoring and repair/maintenance activities are focused on minimising risk, cost and optimising production of unexpected events, including failures, which can cause unplanned shutdowns. This objective goes hand in hand with the most important task of optimising health, safety and environmental performance.
EM&I's commitment to health and safety standards is clearly evident. The organisation has earned a host of industry accreditations and awards, and indeed chief executive officer Danny Constantinis was a founding member of IRATA, the Industrial Rope Access Trade Association, an involvement that was triggered by EM&I's commitment to the provision of safe working environments. More recently, in 2010, EM&I was awarded the RoSPA Gold Award for Occupational Health and Safety for the third year in a row, in acknowledgement of its continuous improvement in this arena – a task that gets more difficult given that the standards were exceptionally high to begin with.
Since its establishment in 1976, EM&I has grown to become a global organisation with a proven track record and industry-leading standards of service, earning a client base that includes all of the oil majors with which it has been a trusted partner for more than 30 years.
Chief operating officer Alexander Constantinis talks further about the benefits of being global: "The global nature of our business generates a wealth of experience that is shared across the organisation on a regular basis. Indeed a network of strategically located bases worldwide, coupled with regular international workshops, training events and the discipline of weekly and monthly meetings ensures best practice is continually communicated across the organisation."
The spread of EM&I's operations allows it to provide an important blend of local service and global support – an essential element of the recipe for success according to Alexander.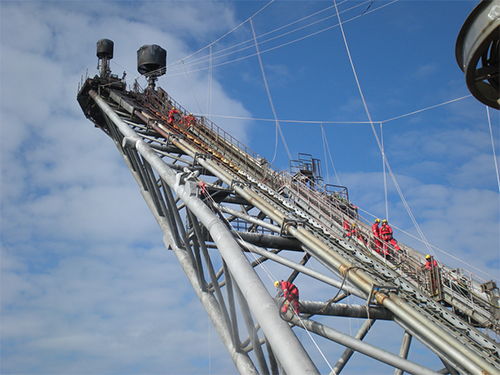 Whilst EM&I continues to partner with many of the large oil and gas organisations it is also finding favour with the major lease operators of floating production type assets, an area where the organisation has carved a highly successful niche owing to its significant experience supporting the operations of trading tankers and offshore fixed jacket type assets.
EM&I's service offering is both complimentary and broad, ranging from its consultancy services, delivered as part of O-AIMS, through to integrated inspection management and specialised repair and maintenance. EM&I site teams implement best practice risk and criticality-based inspection systems, with a focus on innovation through a combination of the latest technologies from the market and EM&I's own proprietary techniques.
Digital radiography is just one such technology where EM&I has demonstrated proficiency as an experienced operator. The technique is proving so popular that EM&I has just placed significant orders with the leading supplier of digital radiographic scanners and specialised reporting laptops to support growth in this area.
"We are currently developing a new product that will enhance the safety and efficacy of this service in conjunction with a Canadian university. In terms of inspection services, our niche is high end techniques, such as Computed Tomography – our ultimate goal is non-intrusive methods that minimise disruption and downtime," adds Alexander.
The third main category of service is focussed on repair and maintenance, again at a highly specialised level. The business has seen rapid growth in the number of on-station repair projects for offshore oil and gas assets. Recent and ongoing projects include carrying out major steel crop and renewal activities on board an FPSO producing offshore Malaysia and a significant manned platform located on the North West Shelf in Western Australia.
Again the focus is on the application of techniques that cause minimal disruption, with solutions from both the market and EM&I's own innovative product range. A good example of the latter is Automatic IGLOO, a hot work habitat system, which creates a safe and controlled environment within a potentially explosive one. Whilst IGLOO has been in use for many years, the new automatic system tackles the Persons On Board (POB) burden by reducing the number of operatives needed to monitor the hot work activity through a computerised, automatic monitoring and control system. This advanced solution enables the user to monitor the environment in a much more robust way, and helps increase safety.
On the company's service offering, Alexander adds: "Each service offering functions well on a stand-alone basis where required, but we find that many clients value the efficiency of a 'one-stop-shop' and a single point of contact. To that end we regularly see our projects starting to grow when our clients realise the full range of services that we can offer."
Unwilling to rest on its laurels, EM&I continues to focus on growth and innovative ways of working: "In 2010 we had the opportunity to acquire the intellectual property of a niche provider of Impressed Current Cathodic Protection (ICCP) systems, which has now been integrated into our suite of Corrosion Protection Services. We are already filling the order books well into 2011 for this new service and are delighted to welcome key members of that team to EM&I," says Alexander.
"Floating Liquefied Natural Gas (FLNG) is a new market that EM&I feels ideally suited to tackling. We have been watching FLNG develop into a very credible technology over a number of years and are pleased to be in discussions with several gas major clients regarding how we can add value to their FLNG business, including one client preparing to manage an entire fleet of these assets. As for the future, it really is a case of watch this space."
EM&I Alliance
Services: Asset integrity management support services