The heat is on
Enerflex's operations are divided into four different market sectors around the world, the Americas, Europe and the CIS, the Middle East and North Africa, and Australasia.
These areas encompass 35 countries, containing over 60 strategically located offices. Enerflex Europe is a supplier of compression, production, processing, and power generation equipment for the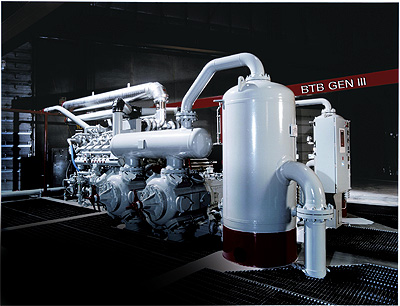 oil and gas industry. It offers this equipment, together with in-house engineering services and mechanical expertise across the world. As a specialist provider of gas engines and services relating to their applications, Enerflex also offers solutions that combine the engines with generators or compressors. These integrated solutions cover the full range of customers' needs; from the initial design stage through construction and installation to long-term servicing and maintenance, once the equipment has been commissioned.
Enerflex Europe/CIS has over 30 years of experience in cogeneration, otherwise known as combined heat and power (CHP), and natural gas compression, with expertise in power generation to deliver complete engineering, procurement and commissioning services across Europe. Enerflex's expertise in CHP and compression goes beyond the oil and natural gas industry. Its equipment is used in hospitals, greenhouses and industrial applications using alternative fuels such as biogas, landfill gas and vapour gas. For a broad range of applications, Enerflex offers field-proven equipment and in-house engineering resources plus a support team of factory-trained mechanics. The focus on process and equipment efficiency reduces clients' operating costs and maximises the life of the equipment.
The business serves not only the oil and gas sector, but also the cogeneration industry. As an important part of the EU's energy policy, cogeneration is key to improving energy efficiency; currently the EU generates 11 per cent of its electricity using cogeneration. In this field the company looks specifically to the Netherlands, which is among the world's most intensive cogeneration economies. Here, cogeneration work is carried out in greenhouses, which can be operated with very high efficiency to use all the heat from the CO² exhaust to produce power for all kinds of applications. Cogeneration carries many benefits for the customer as well as the environment, including cost savings; improved efficiency; the ability to operate on fuels with a variety of heat rates; prime power, standby and utility support applications and Supervisory Control and Data Acquisition (SCADA) monitoring.
Over the past three decades, Enerflex has become the go-to source for producers seeking to optimise their energy production from oil and natural gas fields around the world. From multi-million-dollar gas processing facilities in Pakistan to combined heat and power generators in the Netherlands, Enerflex offers a variety of tailor-made solutions. The company's vast in-house resources allow it to engineer, design, manufacture, construct, commission and service energy handling systems, including field production facilities, natural gas compression and processing plants, as well as power generators.
Caspar de Jong, managing director of Enerflex Europe, further describes the services offered by the company: "We have a very broad experience of gas engines and their applications. We employ a large number of engineers who specialise in the operation of the engines and how to package them with generators and compressors. This service is specifically for the oil and gas industry, but is also used in cogeneration and power generation. We have a very broad service network to support this equipment, so we can offer total care services combined with an after-sales service, where the complete integrated solution is offered.
"With a presence all over the world, we work with the big oil companies, including the likes of Shell, BP and TOTAL, and we have a broad market reach, following a re-organisation two years ago.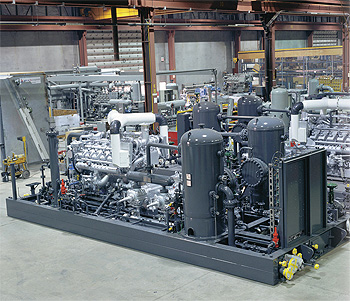 This served to regionalise the business, and I am now responsible for Europe and the former Russian states – the CIS. We work with energy companies all over Europe, which show a great interest in power generation and cogeneration. As a very fast-growing company, which has nearly doubled in size over the last three years, we plan to further this work and continue to grow in the coming years as well."
Over the years, Enerflex has completed a number of diverse projects operating in the European region. Its offices are located at the centre of the region's oil and natural gas industry to ensure the company provides local expertise that is supported by its global resources. Enerflex is now looking to increase its market presence in Russia. Caspar outlines the company's current activities in Europe: "We're working on some city heating projects in the Netherlands and Germany. Besides that we are continuing to develop the Russian and CIS market. Our presence is growing there and knowing that we have a high capability and vast experience of gas engines, coupled with a market which is very fast-growing in oil and gas projects, we see that as a positive growth area for the business."
He goes on to talk about prospects within the market as it currently stands: "Although the market is not that buoyant at the moment, we still see a lot of potential opportunities, and of course being a service organisation as well, the existing equipment in the marketplace still has to be serviced, providing us with a constant flow of work. We are now looking at new markets within the region and are excited about working with new and existing clients and helping them to maximise their potential. We want to increase our service organisation, so that we can deliver much better support to our customer-base to increase the up time of their equipment."
Looking to the future, Caspar explains how he sees the company developing in the coming years: "We are going to transfer more to the oil and gas market to ensure that we have a presence there and that we're one of the preferred suppliers to our customers. Our aim is to provide a strong support service to those customers, so that as soon as the commissioning of the equipment has been carried out, the up time can be guaranteed. There will certainly be more business in the oil and gas sector in the future and we plan to seize those opportunities as they arise."
Enerflex Europe
Services: Compression, production and processing equipment