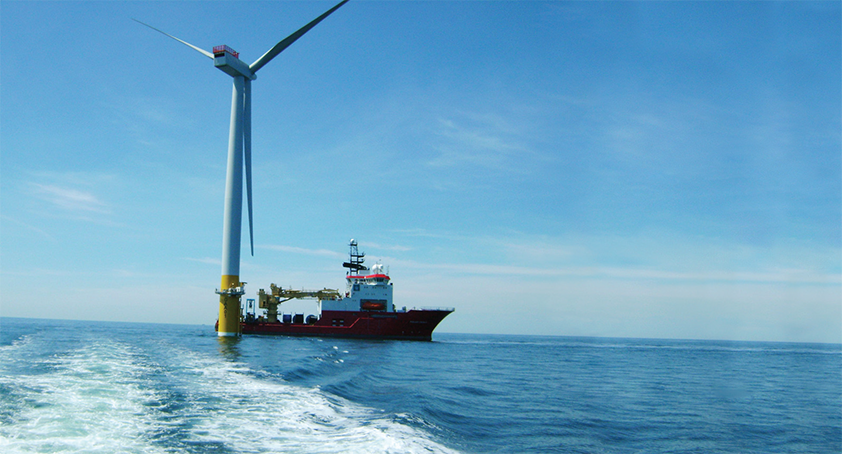 Energy hub
Bringing together the leading offshore renewables supply chain companies in north east England, for the last two years Energi Coast has been championing the skills and expertise of the region.
This representative group was born when chairman Alex Dawson, who is also CEO of TAG Energy Solutions, and CEO at NOF Energy George Rafferty, recognised that following the demise of One North East there was little promotional activity going on regarding the north east as a manufacturing base for renewables.
"There were things happening in individual areas, but nothing co-ordinated," begins Alex. "So we felt that there was a big opportunity to promote the north east with its extensive renewable energy sector expertise, and to push the region for future developments – particularly in the UK. This is because so far in terms of the offshore UK renewable sector around 80 per cent of development has been delivered from manufacturers outside the UK. In some instances this is due to a myth that there is no manufacturing and therefore developers were using an existing European network. We want to change this by dispelling that myth and promoting UK manufacturing with the north east as a key hub."
Since its formation Energi Coast has worked to pull together a steering group made up of board level executives of the leading supply chain companies in the north east area. This means that the Group can take decisions and progress much more quickly. As well as setting the strategy of Energi Coast, the steering group carried out an assessment to identify the key competencies available in the north east. It was discovered that there was a comprehensive balance of plant offering from this single geographical location, which means everything from the transition piece to the subsea cabling, as well as design and geophysical work, could be undertaken by companies in the region.
"We started to build this hub by undertaking activities such as meeting with Government and developers, and hosting events and conferences. In March we are holding a meeting to decide the strategy for the Group going forward in terms of how we promote all the member companies and the kind of offering we will make. What we've been able to do is pull together all that talent and promote it as a region – so we can offer work as Energi Coast and deliver projects in an aligned way, but equally we operate as individual businesses as well," elaborates Alex.
Interestingly many of the companies operating in the region have been focused on other industries such as oil and gas, and are now making the move into renewable energy. "The north east has a very long and strong heritage in heavy engineering particularly through shipbuilding, refineries, and then into the North Sea oil and gas developments," notes Alex. "When you think that something like 75 per cent of all oil and gas developments in the North Sea were delivered from the north east there, is clearly a lot of experience there, which is perfectly positioned to move into renewables.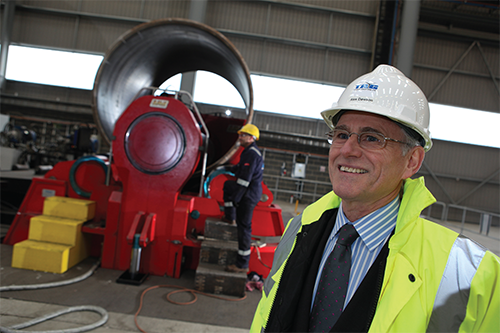 "In my own company, TAG, we saw the market for offshore drilling rigs disappearing and so I decided to refocus the business into renewables. The reason for that is this is an absolutely massive market and the north east is perfectly located to service all the developments of the UK east coast, and into Europe as well. A lot of local companies have delivered significant oil and gas prospects previously and recognised the potential of renewables. Some of these companies have been trying to break into the market and finding it difficult because certain developers were content to use an existing European supply chain. That said, the supply chain is coming under some stress because there is insufficient capacity to deliver all the work need for the UK Round Three, even with the European capacity, so clearly there are huge opportunities," he continues.
There is certainly a lot that the renewables sector can gain from those with a history of oil and gas project execution. This includes experience of delivering large-scale projects and knowledge of how to do things offshore in a marine environment. From a developer perspective, which is often coming from more onshore based activity, the ability to deliver projects effectively on time and to budget in the offshore environment is vital.
With the proposed growth in the renewables sector set to outstrip current supply chain capacity there is a need for new entrants to the market. Wind is certainly the most well established of the new technologies, with around a 90 per cent market share, and showing decades of future growth in monopile foundations, jacket foundations, and eventually floating foundations. Nevertheless there is also a burgeoning wave and tidal market, which again the companies in Energi Coast are perfectly placed to deliver into.
"The main thrust during this period is to make sure that the market understands where Energi Coast is and what it does," concludes Alan. "So we have key developers coming to meet these companies and present their view of what they are trying to do in their own wind farms and how we can contribute. In my opinion this is a European market and there is almost as much to do in the German sector as there is in the UK. For those projects to be effectively developed across Europe there will be a need for co-operation between the UK and European supply chains. The market we see right now is right through to 2030 from a development point of view, and then on to 2050 for ongoing operation and maintenance, so it's a real opportunity for UK manufacturing and Energi Coast companies."
Energi Coast
Services: Renewables representative group