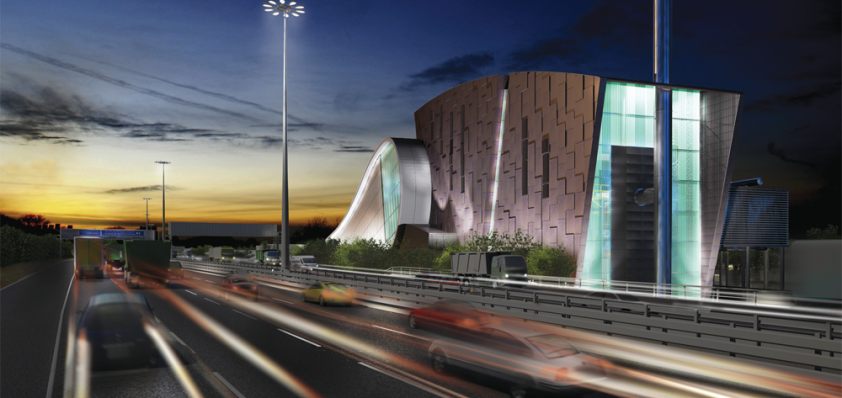 Fortum Glasgow, a joint venture between Fortum Oyj and Verus Energy, has purchased the South Clyde Energy Centre from Peel Environmental for an undisclosed sum. The site, which has planning permission for an energy recovery centre that could treat up to 350,000 tonnes of waste a year, is located on Bogmoor Road near the Hillington Industrial Estate and next to the M8.
Commenting on the deal, Richard Barker, Development Manager at Peel Environmental, said: "The Peel Land and Property Group is committed to delivering significant investment across its portfolio in the Clyde Estuary Gateway and has several key projects including the Glasgow Harbour Lifestyle Outlet in the pipeline.
"The Peel Environmental team is proud to have played its part by delivering the South Clyde Energy Centre to this important milestone, securing this investment from such an experienced operator, and bringing new inward investment to Scotland.
"Fortum and Verus Energy are leading sustainable energy companies with a strong track record across Europe and we're delighted to see the project come forward."
Originally granted consent in 2012 by Glasgow City Council, the energy centre will divert waste from landfill and use it to generate electricity and heat. Peel Environmental, part of Peel L&P, has been working closely with Fortum Glasgow to bring forward the energy centre with plans for work to start on site early in 2020. The construction will support around 350 jobs.
Order of distinction

Leading international oilfield services company, Expro, has been recognised with an Order of Distinction for 15 consecutive Gold awards in the RoSPA (Royal Society for the Prevention of Accidents) Health and Safety Awards.
The prestigious award is presented to organisations that sustain the highest standards of health and safety management and innovation over consecutive years. It recognises Expro's continued success in safety, as well as a range of new safety initiatives carried out during the past year.
Ian Robb, HSE and Service Quality Director, commented: "Safety is our critical priority at Expro. We pride ourselves on having a strong safety culture and we encourage our employees to champion safety at every opportunity while we work towards being recognised as the benchmark for safety in our industry."
Expro launched a company-wide internal safety climate survey, focused on gathering employee opinions and perceptions around a series of safety specific matters; the results of which are being used to shape the future direction of health and safety in the company. The company also focused on HSEQ management reviews, embedding of global audit systems, and lessons learned 30 years on from the Piper Alpha disaster, highlighting the importance of individually championing safety.
In Brief
Close partnership
DNV GL has awarded Arkona Offshore Wind Farm with its project certificate. The certification was carried out according to the German Federal Maritime and Hydrographic Agency (BSH – Bundesamt für Seeschifffahrt und Hydrographie) standard BSH7005 and covers all stages of the project development from design planning over construction to commissioning. The project certificate confirms all relevant safety features of the wind farm and validates the technical and quality compliance with the BSH standard requirements, to ensure a safe and reliable power supply.
Photovoltaic partners
DuPont Electronics & Imaging's Photovoltaic Solutions business has entered into a collaboration agreement with the Fraunhofer Institute for Solar Energy Systems to optimise accelerated testing protocols for crystalline silicon solar panels. Fraunhofer ISE will validate and accelerate solar panel sequential testing methods developed by DuPont, to enable service life estimation calculations. The tests aim to address the most common types of panel degradation observed in the field at the backsheet level, by type of material used.
Vulnerable to attack
The energy industry is vulnerable to increased cyber espionage and sabotage attacks, according to a new report from F-Secure. The data highlights that threat actors are advanced and persistent, but companies are using outdated systems and technology to save money. Poor security posture, prioritisation, and awareness are also gifts to attackers. "Espionage and sabotage attacks against CNI organisations have increased over the years and I don't think we have seen it all yet," says Sami Ruohonen, Labs Threat Researcher at Finnish cyber security company F-Secure.