Built to last
"The genesis of Energy Drilling stems from the success of a heritage tender rigs business, a journey that our core management team participated in," begins Lyle Ewashen, Vice President of Operations for Energy Drilling. "Our present management group directed a fleet renewal program that added ten units to a heritage fleet from 1999 to 2012 and secured numerous contracts with premium clients until shortly before the business was sold in 2013 for approximately $2.9 billion dollars. It was this success story that founders of Energy Drilling wanted to replicate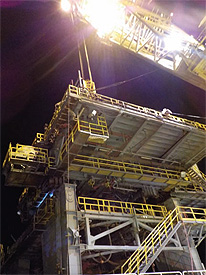 independently."
Having secured venture capital and private equity funding, said management team went on to approach several shipyards in China, one of which was chosen to undertake construction of two new generation tender assist barge rigs, EDrill-1 and EDrill-2. This was later followed by the construction of the high specification semitender EDrill-3.
"The tender and semi-tender assist barge rigs are infield development drilling units," Lyle explains. "The tender rigs are often referred to as 'Factory Drillers' since they are so well suited to development drilling by virtue of their ability to carry vast amounts of materials, people and have the ability to simultaneously perform multiple activities required for well construction. Historically, these rigs have been dedicated to shallower water depths offshore West Africa and Southeast Asia. At present EDrill-1 is chartered for a long-term development drilling campaign in the Gulf of Thailand, while EDrill-2 is stationed in the Gulf of Mottoma, Myanmar."
Energy Drilling entered into a three-year contract with PTT Thailand in October 2014 for the use of EDrill-1. In December 2016, talks began to extend this contract, discussions which proved to be very fruitful and which will see EDrill-1 remain in use into 3Q 2019. The performance of the units, together with excellent safety records, has also placed the company in a strong position as it enters negotiations with PTTEPI Myanmar to extend the 18-month firm term contract for EDrill-2 by up to 26 months.
"The quality of the units and their uptime performance levels to date have been well above industry averages," Lyle continues. "Both EDrill-1 and EDrill-2 have delivered Technical Utilisation figures of 99.5 per cent and 96 per cent respectively. In addition to this, the units are consistently helping the Client to achieve significant budget savings, to beat their predicted project timeline and to maintain an enviable safety record. This is a point of pride for a young company that has transitioned Energy Drilling from concept to success story."
Turning to the company's third asset, EDrill-3, Lyle is keen to highlight the unique nature of this custom unit. "EDrill-3 is 'Best in Class' as the world's largest semi-tender assist rig. The four column, Gusto Ocean class rig is based on a deep-water exploration hull design and is excellent for specialised service coupled to floating Spar or Tension Leg Platform installations in harsher environments with up to 6500 feet water depths."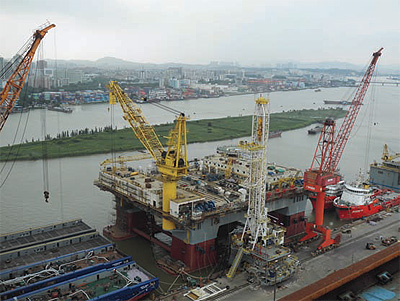 EDrill-3 opens new tender assist markets that previously would have been inaccessible. One example is Western Australia, which is susceptible to highly unpredictable cyclonic events. No previously built tender assist rig can survive a cyclone and must be disconnected from their drilling package, de-anchored and towed to shelter. Western Australian cyclones can spin up quickly and are therefore highly unpredictable necessitating units that can withstand severe environmental forces seen only once every 50 years.
"EDrill-3 is the only rig of its type purpose built to withstand these cyclonic conditions," Lyle says. "Reason being is that EDrill-3's pedigree is vastly improved over typical heritage tender assist rigs. It is an exploration semisubmersible unit designed by the Gusto with a large stable geometry, deep draft, high vessel displacement and robust mooring system and proven to safely withstand some of the most severe environmental forces. This allows Energy Drilling to pursue new tender assist markets with challenging environments such as offshore New Zealand or the southern North Sea and to present cost effective development drilling solutions in existing hurricane environments such as Central America."
When asked about the future, Lyle is cautiously optimistic that market conditions will continue to gradually improve. "There's still an ongoing hydrocarbon over supply phenomenon in the form of unconventional light oil and gas. We understand US shale exploitation successes and see further technological advances and cost reductions that continue to make established players viable. These successes are also repeatable in South America, Australia and even China."
With oil prices expected to hover around the $50 to $60 mark for the next couple years, at least, Energy Drilling is doing what all sensible companies are doing and that is increasing cost effectiveness, minimising waste, maximising efficiencies and marketing the business to new clients. "We're in a strong position to grow the business and will look to buy or build new assets at attractive valuations," Lyle concludes. "However, we are Drillers above all else and this means a never-ending pursuit of Operational Excellence, building track records we're proud of, transitioning client relationships into true partnerships, advancing the tender assist concept and continuing to win contracts."
Energy Drilling
Services: Self-erecting tender rigs