The complete package
In March 2019, the privately -owned land drilling contractor, Energy Drilling Company (EDC) officially celebrated its 40th birthday. Based in Natchez, Mississippi, it was formed at a time when the shallow land drilling industry in and around the southern US states was struggling. Beginning life with a single rig, the company grew steadily, increasing its fleet and extending its reach into the states of Louisiana, Alabama, Arkansas and Texas, where it specialised in drilling wells on a turnkey, footage and daywork basis, predominantly on behalf of independent operators.
Moving into the 21st century, EDC adopted more modern technology and found itself increasingly involved in a greater number of complex, high risk drilling operations. Today, it operates eight drilling rigs, including three trailer mounted mechanical rigs, one 1000 HP box on box mechanical rig, one 1000 HP box on box SCR electrical rig with a walking system and a top drive, one 1200 hp box on box SCR electric rig with a top drive, one 1500 hp box on box SCR electrical rig with walking system and top drive and one 2000 hp box on box SCR/AC electrical rig with a walking system and top drive. Able to tackle shallow, vertical, and directional wells to double pipe setters and extended reach horizontal wells, all of the company's rigs come equipped with digital instrumentation, satellite communications with real time capability, electronic data management and IADC reports.
For EDC's General Manager, Jody Helbling, his introduction to the company came in 2003, but, as he explains to Energy, Oil & Gas, it was in 2014 – when he was made the company's first partner from outside the founding families – that the most recent significant development in its history occurred. "At that time, the US land market was increasingly moving to horizontal drilling and it was clear that EDC needed to modernise in order to meet the changing demands of its clients. Our response was to carry out upgrades to several of our rigs, placing the company back into the electrical rig arena, and introducing a walking, horizontal, high pressure rig capable of delivering services to the 'factory drill' market where clients are producing lots of wells rapidly. Then, in September 2018, we went on to unveil our 2000 HP rig, which is one of only a handful of 2000 hp highly specialised rigs currently operational in the company's market area."
Complete package
The above-mentioned fleet of assets places EDC in a unique position, in that it finds itself in exclusive company for being able to drill virtually any depth of well on land in the US, whether said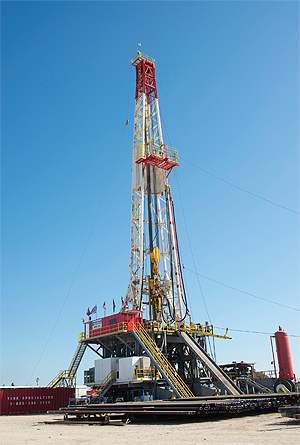 well requires a small, trailer mounted double rig or the efforts of its 2000 HP triple rig. This flexibility and adaptability – together with the company's long established model of providing excellent value for money to its clients – means that it can target work with industry players of all sizes.
"Traditionally, we have worked with the smaller scale, often family-owned operators present in the US, of which there remains thousands in play today, which are typically looking for turnkey solutions," Jody continues. "In recent years, we have also started to target work from the medium-sized entities in the market, which require help in developing their well portfolios, and in the last six months we have begun to reach out to the bigger players out there. This has coincided with the introduction of our 2000 HP rig, which allows us to drill targets at a depth which we previously could not tackle – one well that we are currently active on reaches depths of 20,000 feet for example – and we are already seeing this capability open new doors for EDC."
Jody and his team's face-to-face discussions with the larger operators currently active in the region are also being supported by a revamp of EDC's website, an increased focus on communication through its social media and email channels, and various other activities designed to publicise the increased capabilities of the company. EDC is also keen to stress how its four decades of experience in the industry allows it to today provide complete drilling operations support to its clients. "Leveraging our combined experience – the Operations team has over 130 years in the business – we are able to offer a number of value added services and a complete package of offerings, from engineering to operations," Jody adds.
Although commodity prices have steadily increased in recent months, the US land market for oil and gas activities remains a challenging one, with operators becoming more and more financially prudent, and working within their cash flows. In spite of this, EDC still sees opportunities for itself to expand its customer base, its geographic reach and the type of work it can carry out, hence its drive to make contact with as many potential clients as possible.
When educating potential clients on the type of drilling contractor EDC is today, Jody and his team have every right to reflect upon the impressive transformation the company has made in the last few years in particular and, as he states, it is this that Jody finds a particular source of professional pride. "We have truly worked hard to transform the scope of EDC, especially since 2014, and that is something I am immensely proud of," he declares. "As far as what drives me forward, it is all about the next steps we take, whether that be building bigger rigs, consolidating our fleet, or seeking external investment. Whatever direction we go in, I am determined that it leads to higher profits from which our employees can benefit and coincides with retaining the best environment for them to work in."
Energy Drilling Company
Services: Land drilling contractor