The power of ten
Founded in 2008, EnerMech is one of the world's leading specialist mechanical, electrical, and instrumentation services companies for large scale energy and infrastructure projects. Though the work the company performs is complex, the structure of EnerMech's core offering is simple – the business offers its clients ten key services that can be tailored specifically to the customer or project needs. As the company's CEO Chris Brown points out, EnerMech does not generalize, it specializes.
"We've grown over the last 12 years through a mixture of acquisitions and organic strategies," Chris explains. "From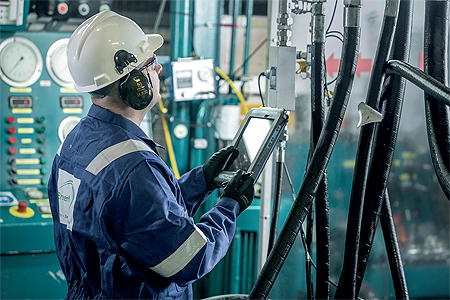 a small business started in Aberdeen, we have gone on to achieve a presence in 23 countries and a workforce of over 4000 people.
"Even though we're only really 12 years old, the businesses we've acquired along the way have given us a resume of more than 40 years' experience in both onshore and offshore oil, as well as vast expertise in technology, project delivery, and service delivery. The part that makes EnerMech unique though is that we are very specialist. We have a number of core services we are able to offer our customers and we bring further value by bundling those services together to give our clients an efficient, cost-effective, time-effective, all-inclusive solution to their needs."
The ten services that make up EnerMech's core offering include maintenance; commissioning; mechanical, electrical, and instrumentation installation; specialist cranes and lifting services; hydraulics; process, industrial and valve services; integrity management; equipment rental; training; and subsea pipeline work.
"Integrity management is a large part of what we do," Chris adds. "This usually consists of going into a client's asset base and using unique specialist inspections and monitoring techniques to help form and propose solutions that help clients to reduce cost and extend the life of their facility. We also have turnkey solutions when it comes to hydraulics and we have skilled people with the ability to make all types of hydraulics systems. All this is underpinned by our large equipment rental business, which gives companies the ability to perform their own construction, maintenance, or hydraulic work with the latest equipment and fleet."
Invaluable experience
EnerMech's reputation for delivering tailor-made service packages means that the company continues to draw interest from clients across the globe. Through 2017 until early 2019, the firm supported a highly comtechnical subsea pipelines contract with TechnipFMC, secured due to its credentials in working in complex deepwater subsea structures. Working on Angola's Kaombo offshore development, EnerMech provided critical pre-commissioning services during the floating production storage and offloading (FPSO) hook-up operations phase of the project. This complex project comprised the tie-in of six fields of the Kaombo North and South FPSOs in ultra-deep water (up to 1950 meters in depth). EnerMech's experience working with complex subsea systems was invaluable during the project supporting the connection of over 300 kilometers of subsea pipelines.
More recently, EnerMech has been working on the WestConnex project, a predominantly underground, 33-kilometre motorway scheme in Sydney, Australia. Currently Australia's largest integrated transport and urban revitalization project, WestConnex is also a landmark development for EnerMech in terms of its monumental size and scale. The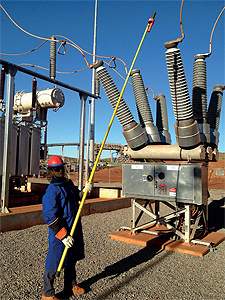 firm has been involved in the testing and commissioning of mechanical and electrical systems in one of the tunnels, as well as overseeing procedures for lighting, fire safety, water, and ventilation in another. EnerMech recently secured a contract for further work on the next phase of the WestConnex M4-M5 link and hopes to soon be able to provide similar services in the UK.
As WestConnex and the Kaombo offshore project illustrate, EnerMech boasts a degree of technical agility and business flexibility unmatched by the vast majority of its competitors. Chris suggests that these traits continue to distinguish EnerMech from the rest of the industry and, earlier in 2020, helped to win the company a place in the top 20 of the Sunday Times Profit Track.
"The type of services we offer, and the people we hire to develop and train within those services, are true differentiators for us," Chris says. "We've got industry-leading expertise in a number of areas, including subsea pipeline commission and testing, and when it comes to hydraulics technologies and integrity management, we've got some really unique offerings and some really good people to support them."
For a business the size of EnerMech, with offices in 40 locations across the world and a truly global footprint, maintaining the company's renowned flexibility can be difficult, but it is a challenge that Chris relishes.
"There's only really one way you can do it," he claims. "People have always assumed that the bigger you get, the more centralized you need to get for economies of scale, but I disagree with that. I believe the bigger you get, in terms of numbers of people spread across the globe, you've actually got to further decentralize.
"The way we stay agile is by having four very strong regional leaders, with their own comteams, that are close to the customers, which allows us to be responsive, reactive, and adapt to changes in the market. Now, we need a degree of governance to make sure that the four businesses don't just operate as independent entities, and that's what my role is at the center. We have a small number of people at the top that manage the portfolios to make sure that we've got good quality control across the regions and we operate an approval matrix to assess cost, risk, and value, before we deploy capital allocation.
"That's how we run the business from an agility standpoint, which is needed when you develop as many services and locations as we have but still want to be close to your customers. It's all about balance. We've got to make sure we don't blow the business up by making different decisions across four corners of the world that may not be aligned to where we are as a larger company."
Infrastructure projects
EnerMech has always valued the importance of investment as a way to grow the business and in 2017, the firm acquired EPS Australia and Americas, adding electrical and instrumentational technical services to its portfolio and paving the way for the company's entrée into the Australian infrastructure market. Supported by The Carlyle Group, EnerMech also invests over £10 million per year on new equipment and Chris is grateful for the support offered by EnerMech's parent company, both from a technical standpoint, as well as on capital issues.
"We are backed by a great group like Carlyle and I just couldn't think of anything better," Chris declares. "Having a good, close connection with our capital providers means we've got the resources to employ more people, train more people, build more offices, and ultimately, win more work. During 2019, the objective was to build a stronger platform for the future and increase our bandwidth in preparation for an attempt to double or treble growth in the coming years. Now it is my job to work with Carlyle and take us to the next level.
"Diversification is going to be a key part of our future expansion. People have always seen us as an energy service provider, but we're not. We're more than that. We've recently diversified the business into more infrastructure-related projects, and we are now more OPEX-focused on the oil and gas side of our work. We've always managed cost well, developed our offering through differentiating technologies, and trained people successfully in those areas, but the key to our future is going to be in moving further away from the traditional oil and gas market and more into infrastructure and related markets such as renewables."
When it comes to planning for EnerMech's future, exploring opportunities in the renewable sector certainly features high on the list of Chris' priorities, along with preserving the company's agility, maintaining its customer focus, and keeping its workforce safe.
"In everything we do, whether we are making investments in new service lines or bringing in new people, we have to make sure we preserve our safety culture, maintain our customer focus, and retain our agility. If we lose any of that, we start to go down a path towards forgetting who we are," Chris asserts.
"In terms of where our future opportunities lie, I see huge potential for our integrity management offering on aging oil and gas facilities that have been priced out of rebuilding because of oil prices and, instead, look to squeeze more out of their existing assets. We could also see new build projects for LNG facilities both in Africa and the Middle East, as well as infrastructure and sustainability work across all regions.
"Most of all, I think we will start working on more and more infrastructure projects and in renewable markets. A lot of the ten service lines we've offered in oil and gas are conducive to the renewable market too and we are currently bidding, winning, and executing more work on the road and rail cominfrastructure side of our business. We've already got a lot of experience in oil and gas, and now we will look to transfer our services to infrastructure and renewables. I think we'll be pushing very hard across all service lines in those areas."
EnerMech
www.EnerMech.com
Services: Specialist mechanical, electrical, and instrumentation services company