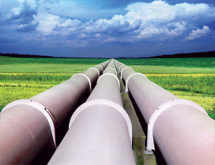 As a company, EnerVest's 21-year history of investing in the country's richest oilfields gives it the breadth of authority necessary to operate on a much larger scale. "Our operational expertise lets us base our decisions on a far bigger picture," the company says. "Simply put, we make it a point to know more."
EnerVest boasts a leadership team that it says believes in mutual respect. The company says this also might explain why its senior management team "has worked together so long for so well for so long – a rare trait in this industry."
"Our senior management alone has nearly a century of collective experience," the company says. "We're tenured and respected – industrywide – and have the connections to make the right deals happen in a timely manner."
In 1992, John Walker and Jon Rex Jones founded EnerVest as a buyer of conventional North American oil and gas properties. The strategy continues to be to buy, enhance and sell proven onshore production by using EnerVest's operational expertise to dominate key basins, and optimize efficiencies and profits.
In 2006, the company launched EV Energy Partners as an upstream master limited partnership to retain long-term profitable assets instead of always selling them off. This arrangement, the company says, resulted in consistent distribution for both companies and enhanced stability for employees. This past January, EnerVest restructured its business to create EnerVest Institutional G.P. to serve as co-general partner of future funds.
Entrepreneurial Spirit
Today, EnerVest is one of the largest oil and gas companies in the United States, with more than 27,000 wells across 16 states, 5.4 million acres under lease and more than $6 billion in proven and probable reserves. The company has more than 800 employees, including an experienced management team.
"As EnerVest continues to grow, we work to maintain the entrepreneurial spirit that has helped us earn our reputation as a solid energy company of exceptional talent, [and] a consistently top-rated place to work," the company says.
"We're extremely particular in our acquisitions," the company says. "We'd rather lose a bid than buy foolishly. After years of perfecting a successful strategy, we can afford to be selective."
EnerVest says it acquires onshore properties with proven reserves, enhances and builds up those assets, and then sells prudently within the life of a fund. "We have established dominant positions in key basins, and we mitigate market volatility through an innovative hedging strategy," the company adds.
Basin Domination
EnerVest holds properties in the Utica, Barnett and Bakken shales; the Appalachian Basin; the Mid-Continent area; the San Juan Basin; the Monroe Field in Louisiana; the Permian Basin; central and East Texas; and Michigan.
"As a top-25 oil and natural gas producer, we're ahead of the curve on new technologies, horizontal drilling and emerging shale plays," the company says. "Combine that with an exceptional team of reservoir and production engineers and geoscientists, and you have a uniquely indispensable tool for dominating basins."
Through its extensive experience in the oil and gas industry, EnerVest and its investor have the advantage of being able to establish the size and scale for low-cost production.
"Our basin dominance and technical expertise translates to increased purchasing power and enhanced access to services and product markets," the company says.
Along with its aggressive strategies, EnerVest also touts its health, safety and environmental initiatives. The company says it is progressive in its safety initiatives, creating programs for its employees and vendors that encourage extreme thoroughness and care.
"And if a landowner has a request, we make sure communication channels are wide open," EnerVest says. "The way we see it, you can't work in a community without being part of it, as well."
This extends into the communities in which EnerVest operates, as well, where the company strives to have a positive impact. "This means a commitment to enhancing health, safety and the environment through meeting or exceeding all regulatory requirements, and implementing comprehensive, safety programs," EnerVest says.
EnerVest takes a similarly positive approach to its business partners and employees. "Fair and ethical business practices, mutually beneficial transactions, respect for royalty owners and an unwavering commitment to health, safety and the environment are all extensions of that belief," the company says.
This policy extends to philanthropic efforts, as well. The company supports activities like fundraisers, bayou cleanups, holiday gifts for soldiers, local food banks and Race for the Cure.
Acquisition Mode
EnerVest says combining operational expertise with an investor focus makes it a good partner that can be trusted to make the right decisions. The company's focus continues to be on long-life onshore properties in North America with meaningful development drilling upside.
"Years of making the right decisions have given us significant leverage when it comes to making deals," EnerVest says. "We close fast, but never in haste, and will happily lose most of our bids in favor of making the best choices for our business. Once assets are acquired, we'll manage, enhance and ultimately sell within the life of the fund."
The company says its experience in the industry allows it to remain nimble. "As an experienced operator, we have the know-how and resources to make prudent decisions quickly," EnerVest states. "Moreover, as one of the nation's largest oil and gas companies, we have the leverage to implement efficiencies and take advantage of economies of scale."
'Small-company Spirit'
Despite being one of the top-25 oil and gas companies in the United States, EnerVest boasts a "small-company spirit." "We believe in fairness, mutual respect and goodwill, which forms the basis of every transaction, business or otherwise," the company states. "Our corporate culture is positive and dynamic. For all employees, we provide stability, encourage initiative and reward achievement.
"Around here, it's open. It's exciting," EnerVest adds. "You might even say it's fun. It's an approach that's brought out the best in every endeavor."
In its relationships with partners and customers alike, the company employs the "golden rule."
Buying and Holding
Because EnerVest is built on a buy-enhance-sell model, its resources and operational expertise allow the company to hold onto these assets for the long term. The company created EV Energy Partners as a buy-and-hold entity in 2006 to acquire assets in one of three ways:
• It purchases properties on the open market in competitive bids;
• It participates in joint acquisitions that make much bigger deals possible; and
• Pending recommendations and approval from the board members and conflicts committee, EV Energy Partners and independent advisors of EnerVest, EV Partners will purchase assets directly from EnerVest.
EnerVest also believes the best way to achieve success is through guided autonomy, not middle management. The company says it encourages its people to take on responsibility and reward professional achievement accordingly.
"Essentially, we're an entrepreneurial family – a little unorthodox for a financially stable company with an extensive history," the company says. "But our unique combination of seasoned, supportive senior management with creative, energetic employees has been both dynamic and manifestly successful."