ennox biogas technology GmbH
A flare for sustainability
"We have more than 16 years of experience within the biogas sector. We are small, fast and we have no fear when it comes to taking on difficult projects," stressed ennox biogas technology founder and Managing Director, Falk Russow, when he spoke to Energy, Oil & Gas back in October 2016. At the time, Falk emphasised the importance of the company's international team to its aims of stabilising and growing its presence in the European biogas industry, and all the signs are that they are succeeding.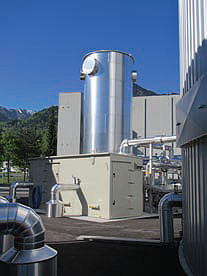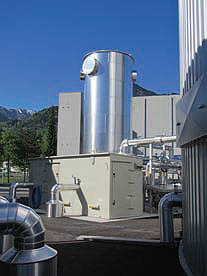 Founded in 2011, ennox biogas technology specialises in gas flare technology and serves all the associated aspects of biogas, sewage gas and landfill gas technologies. Experts in the design, planning and manufacturing of all the components that make up the gas lines of biogas plants and wastewater treatment plants, including biogas upgrading, services offered by the company include gas extraction from digesters, gas treatment, gas storage and flaring.
A quick glance at ennox biogas technology's map of previous projects reveals a veritable feast of examples located throughout Europe in Germany, the Czech Republic, the Netherlands, Slovakia, Austria and the UK, to name just a few, with contracts also won in Iran, China and Indonesia.
One particular example that Falk and the company are very keen to discuss is its contract with the Austrian company 11er Nahrungsmittel. A traditional family business, founded in 1941 by Wilhelm Grabher and based in the west of the country, 11er Nahrungsmittel is responsible for producing more than 80,000 tonnes of the finest potato products the continent has to offer. These potatoes are sourced from plentiful growing regions found along the Danube, the March and the southern Bavarian area. From these potatoes 11er Nahrungsmittel produces its range of fries, croquettes, potato rostis and its unique stuffed rosti pockets.
In addition to the quality and taste of its potatoes, 11er Nahrungsmittel takes great pride in being recognised as, what it calls, a 100 per cent carbon neutral business. Acutely aware that its own success relies upon a combination of fertile soil, pure water and clean air, the company makes a concerted effort to combat climate change and support environmental protection.
An integral part of 11er Nahrungsmittel achieving its carbon neutral goal is its integrated biogas plant, which is responsible for taking 23,000 tonnes of organic residuals, from potato peelings to starch and cooking oil, from the company's potato processing operation and transferring this into biogas. With the old plant having been in operation for more than 20 years, in 2016 building a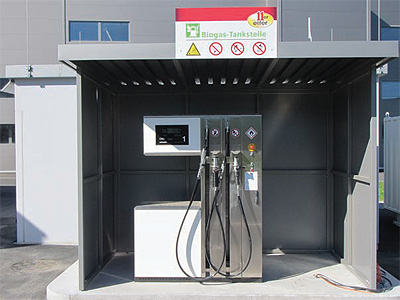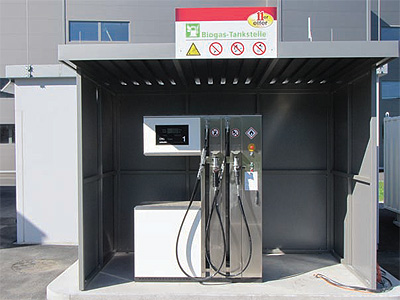 new biogas plant started. ennox biogas technology was contracted by 11er Nahrungsmittel to carry out the complex gas system for new plant including gas treatment, storage, booster station and flare.
"11er Nahrungsmittel's philosophy of creating a small ecological footprint from its operations requires, amongst other things, an integrated biogas plant delivering the highest possible technical standards," Falk explains. "This complex project requires ennox biogas technology to perfect the 100 per cent cleaning of the produced biogas from sulphur, gas drying, storage and installation of emergency flare. Special demand was 100 per cent availability of gas treatment system and hand over of cleaned gas to upgrading station and finally gas fuelling station.
A project of this nature and scale brought about its own unique challenges, which ennox biogas technology have had to overcome. Some of these challenges were the sole result of the actual location of the plant, situated as it is among the Austrian Alps. The site of the plant itself required the company to employ all of logistical expertise, while the climate of the region regularly brings with it temperatures as low as minus 20 Degrees Celsius in the depths of winter and regular deluges of snow. Fortunately for 11er Nahrungsmittel, ennox biogas technology is able to call upon extensive knowledge and experience acquired from operating in such conditions in similar European countries.
"From a technical perspective," Falk says, "one of the biggest challenges comes after the initial gas treatment process, when the gas is then upgraded, so to speak, to the levels of purity required from all natural gas. The gas needs to be treated as thoroughly as possible and when you are undertaking biological desulphurisation this requires the use of an O2 generator, rather than simply using air in the process."
From the 23,000 tonnes of organic residuals processed by the plant per year the plant produces 400 normal cubic metres per hour (Nm3/h) of raw biogas and finally 250 Nm3/h of concentrated methane. Just as importantly, the plant's gas production has contributed to the replacing of 2,630,000 litres of diesel per year and the saving of 5500 tonnes of carbon dioxide. With the generator installed and startup of 11er Nahrungsmittel's integrated biogas plant complete, the company's 100 per cent carbon neutral approach has clearly only gained further traction.
ennox biogas technology GmbH
Services: Technical components for bio, sewage and landfill gas plants