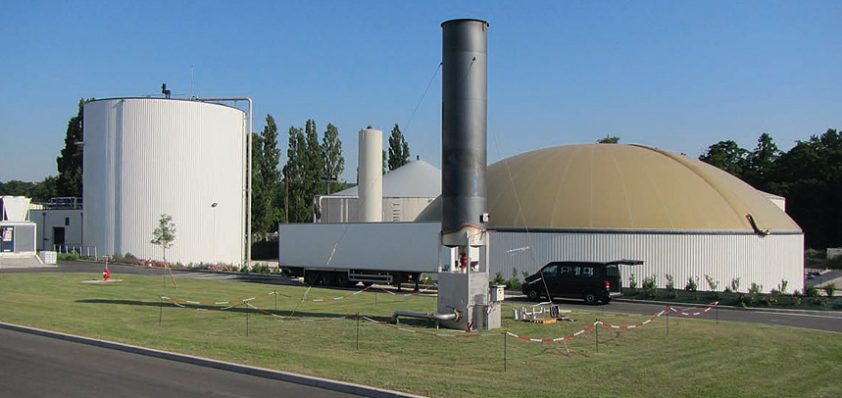 ennox biogas technology GmbH
Environmental options
Founded in 2011 and operating with an international team of experienced biogas professionals and technicians, ennox biogas technology GmbH is a leading supplier of biogas technology and equipment in Europe. The company specialises in gas flare technology and serves all aspects of biogas, sewage gas and landfill gas technologies. "ennox is a specialist in the design, planning and manufacturing of all components within the gas lines of biogas plants and wastewater treatment plants excluding biogas upgrading. These services include gas extraction from digesters and different types of gas treatment; gas storage; and flaring," explains company founder and Managing Director, Falk Russow. "With more than 16 years experience in the biogas industry we know
different kinds of anaerobic digestion (AD) plants and their technologies. We can calculate/design/supply complete gas trains or only some components. Our biggest advantage is that we love challenges – we are able to provide standard products as well as very small or very large bespoke equipment."
The majority of the products delivered by ennox are manufactured at its own workshop facilities, while others are fabricated in association with trusted industry partners. The company's main focus is on flare equipment for waste, landfill, industrial and biogas with applications including digester equipment, gas treatment, gas storage, and flaring. Its core business is comprised of the most state-of-the-art quality gas flare technology for a safe, efficient and environmentally friendly combustion of gases from a variety of systems. ennox delivers a comprehensive suite of manual and automatic solutions in the field of flare gas technology, including its automatic NOXmatic gas flare system. The NOXmatic system includes an extensive range of accessories that can be applied to both low and high temperature combustion applications. Furthermore, through the introduction of various burner systems the company can meet the demands of a complete spectrum of power requirements in both single and multi-stage operation.
Within the field of biogas management, modern and large systems for biogas upgrading to natural gas quality is becoming ever more popular. Here ennox is able to provide its biomethane flare NOXmatic BM solution for the treatment of biogas and the complete removal of all unwanted gaseous materials. This allows for the feed of biogas into gas networks or to be used as fuel in vehicles. The technical requirements in this area are critical as to be suitable with pure biogas and biomethane, the treated gas must have a methane content of more than 95 per cent. This can be easily achieved by the ennox NOXmatic BM system, which incorporates flexible burner technology that allows for the safe combustion of materials while producing low levels of emission.
The ennox range of flare equipment is complimented by its ECO manual gas flare system – a robust and maintenance-free flare that is suitable for small biogas systems, special installations or when automatic gas flare is not required. The ECO flare is entirely manufactured from stainless steel and equipped with high quality components, while the ignition of the system's electrode is achieved with the simple press of a button located in the control cabinet. The required equipment for automatic operation is readily available for retrofit and an ignition system rated for 12VDC is also available on request. This comprehensive portfolio of flare equipment has allowed ennox to deliver several highly successful installations around the world, in countries including Germany, Austria, Turkey and Iran.
"We have recently realised large high temperature flares for biogas and waste water treatment plants of 2000Nm³/h," Falk says. "In Austria for example, we have completed a gas line for a biogas plant that is connected to a potato processing facility, which manufactures food items such as potato chips and croquettes. Here we supplied biogas desulphurisation, gas drying, booster station and gas flare equipment. Within Iran we have supplied a gas treatment, gas drying and booster station for a wastewater treatment plant in Tehran, while in Turkey we built flare, gas storage tank and gas treatment for a biogas plant.
"Another big part of our current business is retrofitting of old flares, gasholders and digester equipment. Most companies want to sell new and expensive equipment. But often old equipment is partly in good condition – especially stainless steel parts. Sometimes it needs a new gas membrane, sometimes a complete new control system for an old flare. This needs very experienced companies, which have the right knowledge about older technologies. That's also a good field for ennox. Every year we retrofit gasholders or flares – saving money for the customers."
While the market for biogas has been increasingly challenging in recent years, ennox has established an international presence that has enabled it to operate in new markets while shielding the business from the slowdown of biogas orders in Germany. "The market is very difficult at the moment because Germany, which was formerly our biggest market for biogas components, has almost entirely declined during the past two to three years. Fortunately we have previously worked abroad and established other markets in Eastern Europe, Turkey and Eurasia," Falk concludes. "We have more than 16 years experience in biogas, we are small and fast and we have no fear to take on difficult projects or work in countries far away. We have an international team within ennox, including people from Austria, Germany, Poland and Turkey who all bring with them different mentalities and ideas. During the coming years we want to stabilise our position in European biogas industry, while continuing to develop new important markets in Eurasia and Africa."
ennox biogas technology GmbH
Services: Technical components for bio, sewage and landfill gas plants