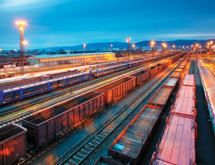 Enserco Midstream LLC/Twin Eagle Resources Management
Twin Eagle Resources Management is expanding its logistics services throughout North America while remaining focused on the reliability, value and customer service qualities upon which it was founded.
The company's subsidiary Enserco Midstream LLC, which Twin Eagle purchased in 2012, announced plans earlier this year to build and operate a crude oil transloading terminal serving producers in the Niobrara and Bakken shale formations and from Canada. The facility will be built at the heart of the Powder River Basin in Douglas, Wyo., and will have unit train capability on the main line of the BNSF Railway. The facility will also have crude oil storage capacity.
"Enserco Midstream is committed to meeting the expanded demand for logistical assets to move crude oil and other energy commodities efficiently from growing producing regions of North America to markets," Twin Eagle Resources Management President Griff Jones says. "With its prime location on the main line of the BNSF Railway, the Douglas Rail Terminal provides access to storage and refining markets across the United States."
The rail loading capacity of the facility will be approximately 60,000 barrels per day of crude oil with expansion capacity of up to 120,000 barrels per day. Full train operations will be available in March 2014.
"Our Douglas rail terminal will be one of the first to provide rail export to companies in this growing producing region of the country," Senior Vice President of Crude Oil Marketing and Midstream Tim Kirwin says. "It expands our ability to provide our customers with cost-effective transportation of excess production."
Company Capabilities
The new terminal facility expands Enserco's already impressive list of crude oil logistical assets. The company owns assets in North Dakota, Montana and Wyoming, and has plans to develop additional assets in these states as well as other areas around North America. The company's holdings include:
Twelve physical crude terminals averaging 30,000 barrels per day;
A natural gas marketing business with 8 billion cubic feet equivalent (BCF) of leased storage;
A power marketing business serving municipal and retail loads; and
A physical coal marketing business with 35,000 tons per day in deliveries serving supply contracts throughout the United States.
Enserco is one of Twin Eagle Resource Management's two subsidiaries. Its retail division, ENCOA, provides retail electricity, natural gas and energy solutions to end-use customers within deregulated markets in Texas, Illinois, Ohio and Pennsylvania.
Twin Eagle Resource Management was founded in 2010. Headquartered in Houston, Twin Eagle provides wholesale commodity, midstream and retail energy services that are focused on creating value for its customers throughout North America.
"Our dedicated team offers decades of experience in the intricacies of today's competitive markets in crude oil operations, distribution, markets and pricing," the company says. "This team provides creative solutions to problems ranging from inefficient truck transportation to lack of market flexibility, and focuses on earning and maintaining a preferred status with its business partners through quality of work and integrity in transactions."
In addition to its business activities, Twin Eagle believes strongly in contributing to the communities in which its employees and customers live. "We seek to make the greatest impact on communities by supporting causes that are important to our team members and our customers," the company says. "We encourage our team members to be active in the community and to make a positive difference through their volunteer efforts and financial contributions. Our team members are directly involved by determining how Twin Eagle dollars will be used to support causes that are important to them and our customers."