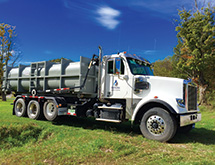 Although it is a new company, Entegra Energy Solutions is built on a foundation of experience. Founding the company in July, its leaders had already carved out strong track records in the energy industry and brought together their expertise in the new company.
Leading the way for the company are CEO Ralph Sutton and President Aaron Horne. Sutton is the former owner of United Coals, which operated for more than 30 years in the energy sector with its focus on the coal industry. United Coals received national recognition within the energy sector for its various safety and reclamation efforts over its years of operation.
As for Horne, he is a former drilling and completions manager for a large oil and gas operator in the Marcellus and Utica shale basin. Horne holds a degree in occupational safety and environmental engineering.
In addition, Horne has an extensive background in a number of areas. This includes management of environmental reclamation projects, spill response teams, well-hookup installation, trucking logistics and pipeline work.
"We decided to bring our talents and experience together to form Entegra Energy Solutions," Horne says. "We both love working within the energy sector and the challenges it brings on a daily basis. It is all both of us have ever known."
Getting Established
Entegra is positioning itself as an environmental services contractor. It is providing services such as emergency spill response, environmental remediation, hazardous waste disposal and industrial cleaning services within the Marcellus and Utica basin. Additionally, Entegra is providing competitively priced roll-off truck services to customers in industrial, commercial and residential sectors.
The company's market stretches through West Virginia, Pennsylvania and Ohio. Entegra maintains its focus on the energy sector as a whole. Entegra's main market sector is the oil and gas industry, but the company also works in other areas. This includes working with concrete companies, pulp mills, city municipalities and the coal industry while working on residential projects as well.
"We find our place in the market to be refreshing," Horne says.
"We are breathing life into a new company, which is both nerve-wracking and exciting," Horne continues. "Being a new company, we are working on expanding our reach through a mixture of marketing and advertising efforts along with generating a lot of word of mouth as well. Once we get with a new client, we let our crews do the talking from that point on because their work speaks for itself."
Moving Forward
Entegra's main investments have been in staff and equipment. Horne says the workforce is the most important investment because hiring the right people and treating them well leads to exceptional performance.
"Your staff makes or breaks you," he says. "You cannot get a client to love your company if your employees don't love your company first. Company culture is key to success."
As for equipment, Horne says that speaks to the company's brand and image. By making the right investment in the correct and most versatile equipment, it can put the company ahead in the field in terms of its ability to execute, as well as provide staff with tools they will be proud to be seen with and to operate.
"We always hire local and always go to our local vendors first for equipment needs," Horne says. "We invest back into our community as much as we can."
Entegra's current initiatives are mainly focused on finding and securing opportunities for controlled growth. The company's ultimate aim is to treat each of its clients as if it was Entegra's only client.
Entegra wants all of its clients to feel like they have the company's whole focus when it is present on their locations. The company believes that nothing else matters but doing a great job for the client.
"Along with controlled growth comes an increased focus on efficiencies," Horne says.
"We will always look for ways to be faster, streamline projects and help our customers to save both money and time," Horne adds. "That will lead to us taking a stronger look at all of our equipment needs."
As the company considers its next steps, it understands that its major challenge is the energy sector itself. Right now, commodity prices are impacting its clients, and Entegra is operating in a depressed market.
These cycles are nothing new, so Entegra knows that it must be able to survive in the worst of times and ramp up in the best of times. The changes that have taken place over the last few years require the company to make sure it is on the lookout for diversification opportunities.
"For example, coal was once king in West Virginia, but now natural gas has taken over," Horne says.
"In the years ahead, we hope to keep ahead of the curves and adjust with the varying markets," he continues. "Our honesty, quality of service and efficiency allow us to stand out. Communication with clients is key, and we will be honest about our skills and realistic with our pricing."