Enterprise Engineering Services
Strategic growth
A key strategic acquisition in the Highlands of Scotland has enabled Enterprise Engineering Services (EES) to significantly expand its portfolio of services. EES has recently acquired Caithness-based firm Mowat Technical & Design Services (MTDS) from administration.
Aberdeen-based EES, which provides global services across the engineering spectrum, has previously subcontracted work to MTDS and the deal enables the firm to continue with its plans for considerable expansion.
MTDS, which designed, commissioned, fabricated and installed components for the oil and gas, renewables and nuclear industries, was placed into administration in May this year. Following the acquisition in June, EES aims to expand its work particularly in the nuclear sector, drawing on MTDS' extensive knowledge in its pursuit of new contract opportunities. EES also plans to increase its work in the oil and gas and renewables markets, adding to its proven track record of providing efficient and effective solutions to suit its clients' needs both in the UK and internationally.
Andy Scott, managing director of Enterprise Engineering Services, says: "The acquisition of MTDS provides us with additional specialist expertise, allowing us to penetrate new markets and maintain our strategic growth plans in the future.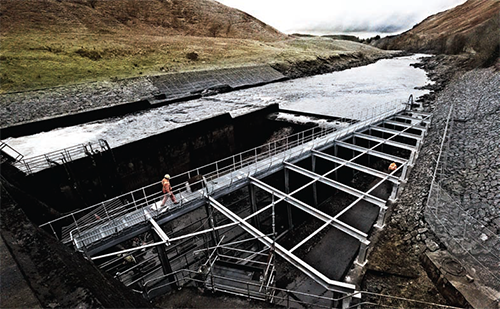 "We have always provided design services, but now, detailed design will become one of our core services, allowing us to keep all project work within the EES group. Whereas before design work was subcontracted to trusted firms including MTDS, it had always been our longer-term strategic aim to bring this in-house. This deal has allowed us to bring the design process under the same umbrella as our existing manufacturing, installation and inspection services."
Following a period of sustained organic growth, the acquisition of MTDS is just the latest stage in EES' strategic growth plan, which has seen the company's total payroll grow to over 220 employees working in the EES offices, on site at projects, and offshore at client facilities. As such, EES is on track to hit one of its five-year growth targets two years early, with an expected increase in turnover of over 50 per cent. EES has since taken on a number of new projects, which will see it continue to grow its client base and workload.
Andy continues: "We have plans to increase EES' current business streams with the recruitment of further designers, fabricators and welders into the MTDS division. In addition to this, we plan to introduce an MTDS design presence into our Aberdeen workspace. MTDS' Thurso base is also crucial in our efforts to better support our hydro energy clients, many of which operate in the Scottish Highlands, and we plan to utilise this to its full potential."
EES boasts a diverse portfolio of skills and services, and its proactive approach to the development and application of new technologies ensures that its range of services is constantly evolving and expanding. Founded in the 1960s as a sheet metal fabrication facility, EES has expanded into a five division group comprising Enterprise Hydro and Nuclear, Enterprise Manufacturing, Enterprise Offshore and Energy, Scottish Rig Repairers (SRR), and the newly added MTDS. While each division has its own distinct disciplines, experience and expertise, together they provide expansive world-class manufacturing services to the oil and gas industry, repair and modification services to a number of major drilling companies worldwide, and onsite maintenance to the hydro power, water control and supply vessel sectors.
Onshore, EES specialises in the manufacture and installation of water control gates, valves and pipework for the power generation, petrochemicals and utilities sectors. Its team of experienced engineers has also played key roles in large-scale hydroelectric schemes as well as major river and dock installations. These onshore operations complement the full range of offshore support and power generation services provided by EES in tandem with its SRR division.
This latest acquisition is a key step for EES towards realising the strategic goals set by the management team following a management buyout in 2010. The company has invested significantly in is main manufacturing facility, requiring a financial commitment in excess of a quarter of a million pounds in the three years since the MBO. The 4000sqm workshop space is capable of handling small and large-scale projects for numerous sectors, and includes a sheet metal workshop and 340sqm machine shop, complete with dedicated clean area for handling of non-ferrous materials. In addition to this, EES has recently moved its head office operations to a new office building, which has enabled the company to expand its manufacturing and onshore/offshore operations.
EES' growth efforts are not restricted to acquisitions and the development of new technologies, however, and the company continually invests in its staff to keep the company in a highly competitive position. With over 80 years' experience between them, EES' board of directors understand that the workforce is the key asset in any business, and as such has invested in ensuring their staff are safe, well trained and motivated, and well equipped for their jobs. EES is committed to developing its staff in order to be able to provide the best possible service for its customers.
Enterprise Engineering Services
Services: Engineering services