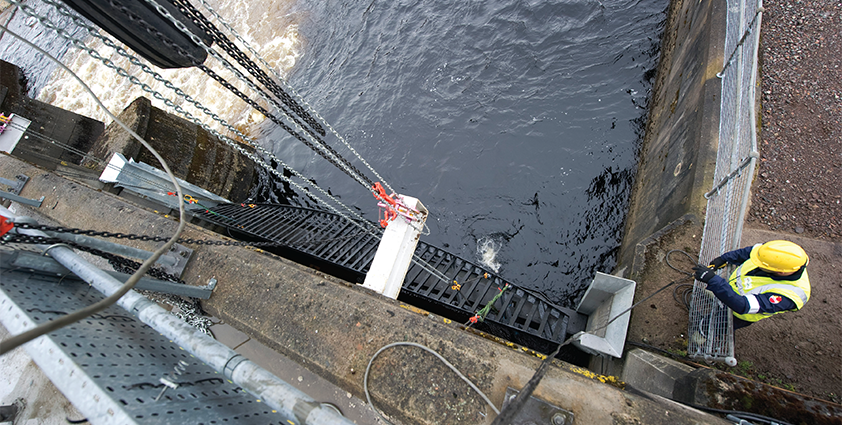 Enterprise Engineering Services
Enterprising atitude
Offering a unique set of services thanks to its three divisions, Aberdeen-based Enterprise Engineering Services is one of the UK's leading engineering companies.
Its 140-strong workforce operates in UK offices, onsite at projects and offshore on client facilities in the North Sea. The organisation has progressed considerably since its formation in the 1960s, and it now achieves an annual turnover of £14 million.
"We've grown from a sheet metal fabrication facility into three business units: Workshop Services, Scottish Rig Repairers and Site Services," explains managing director Andrew Scott. "The latter primarily started off to service the paper mill industry and has grown into the renewables market. Scottish Rig Repairers (SRR) is well known in the industry and has worked on jack-ups, FPSOs and various drilling rigs. It's grown from working in the North Sea to doing jobs all over the world."
SRR carries out repairs and modifications for the drilling industry, often mobilising personnel and equipment at short notice. With the backing of Enterprise Engineering's engineering and fabrication services, the division can provide impeccably integrated jobs from design to delivery to meet the project's needs. Working within the hydropower, water control and paper industries, Site Services undertakes onsite repair and maintenance contracts. Its expert engineers specialise in the manufacture and refurbishment of gates, valves and pipework.
Based at the company's headquarters in Aberdeen's West Tullos Industrial Estate, Workshop Services undertakes fabrication and assembly. The 4000 square metres of workshop space allow for sheet metal work, and light and heavy fabrication. The engineers working here are very experienced in pipework, including welding titanium and its alloys, carbon steel and stainless steel.
BP is an important customer, as is Seawell, KCA, Wood Group, PSN, Aker Solutions and Total, to name a few. In terms of Enterprise Engineering Services' work in the renewables sector, Andrew reports: "We carry out a lot of work through Site Services with the likes of Scottish and Southern Energy, Scottish Power and hydro generation boards in Wales and Ireland. For Scottish and Southern Energy, we're working on replacement gates by undertaking design, removal, installation, and testing of the gates."
Andrew is referring to the floodgate replacement contract that was awarded last July. The work involves onsite removal of the existing three floodgates at Rannoch Weir, which were Installed in the 1930s, along with the refurbishment of the existing headgear. During the 20-month contract, Enterprise is undertaking a detailed design phase and producing a 3D model of the gates prior to manufacture in the Aberdeen workshop.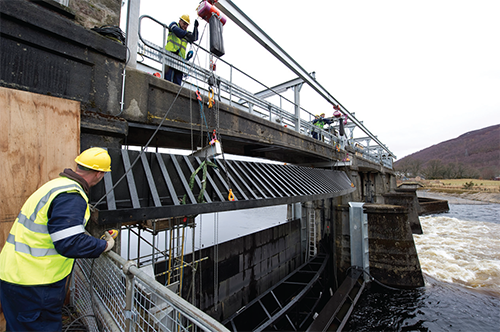 "The renewables market has been one of our business development focuses and will continue to be," Andrew comments. "We have the proficiency across our three units to be a key player and our model of three skill sets in-house offers clients cost efficiencies at a time when every penny counts. The renewables sector is a growth segment for Site Services, with increasing demand for the extensive Enterprise workshop facilities. We have carried out work for many renewable sector contracts and have an excellent portfolio of recent projects, including the design, manufacturing and installation of dam outlet gates, outfall gates, valves, and screens at hydro schemes at Glendoe, Pitlochry and Inverawe."
Enterprise Engineering Services' work with BP Exploration Operating Company has also been significant, and continues to raise the company's profile in the North Sea. "We've had our contract renewed for another three years and our ongoing work for BP includes providing pipespool and steelwork fabrication across all of its facilities in the North Sea," Andrew reveals. "We recently played a major role in the Schiehallion recovery project for BP, for which we received a letter of thanks from Bernard Looney, the MD of BP Aberdeen."
Considering the company's strengths that have contributed to its longevity, Andrew asserts: "Across all three of our business units, our experience, knowledge and problem solving abilities set us apart in the marketplace. For example, we're working on something with a client where the first option was too expensive, so we have come up with a secondary option that's cheaper but achieves the same results. We present innovative, simple solutions to solve clients' problems."
Continuing, he adds: "Much of the equipment we work with, certainly through Site Services, is 90 years old, meaning there are no instruction manuals. We're reliant on the skills and abilities of our workforce to be able to refurbish that equipment. We have a rolling training programme for staff and there's a great deal of on-the-job training."
With regards to recent improvements, Enterprise has relocated its machine shop in order to increase the range of services it can offer and it has invested in stress-relieving equipment, which works without applying heat, within structural steel. More developments are in store as the business adjusts to increasing demand for its services and more market opportunities.
"We're looking to develop the international side of the rig repair business and the sale of our stress-relieving equipment to clients, rather than using it in-house," Andrew explains. "We're also looking to expand the machining side of the business and, with Site Services, we're looking to getting more heavily involved in manufacturing new equipment for renewables, as well as concentrating on the refurbishment of existing equipment in renewables."
Enterprise Engineering Services
Services: Fabrication, assembly, installation and inspection