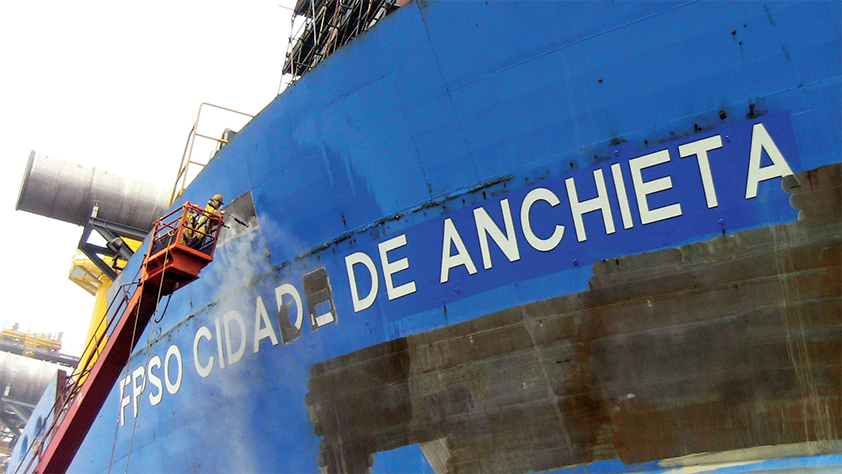 Entraco Group of Companies
Making it work
Given a vessel's exposure to sometimes the most extreme of the elements, maintenance and repairs are a crucial factor in ensuring a ship remains safe and reliable.
As one of the busiest ports in the world, Singapore has become a hub for marine repair and engineering firms. Originally started under the arm of Entraco Marine Engineering in 1995, it is one such company, based at SembCorp Marine Group's shipyard along the coast of Singapore. From its workshops and site, a wide range of clients are provided with a complete range of engineering services.
The Group started out in blasting and painting, and over the years it has become a renowned brand in the corrosion prevention industry, serving major shipyards in Singapore, international ship owners, rig builders and the construction industry. Today its initial business unit is known as Entraco Marine Engineering whilst other services are offered through other subsidiaries and related companies. Entraco Offshore Engineering carries out structural works and outfitting; Entraco Offshore provides tank cleaning, coating and sludge disposal for oil tankers; Tamaco is a structural steel galvaniser; Dolphin Workboats provides tug, barge and supply vessel services; McPEC Marine & Offshore Engineering is an engineering, procurement, construction, installation and project management (EPCIM) specialist; and oil tanker and vessel maintenance and repairs are undertaken by Entraco Marine Engineering.
Because of the group's wide range of disciplines, as well as its base at SembCorp Marine, Entraco Group benefits from a wealth of experience and hardware to offer clients the best possible services. SembCorp Marine Group offers a total of 216 hectares of space and nearly 7500 metres of berthing quays whilst its docking capacities of nearly 2,000,000 dwt. Using these, Entraco Group offers clients high quality with swift turnaround time in repair, conversion, engine overhauls, steel fabrication, spares machining, hull treatment and electrical works.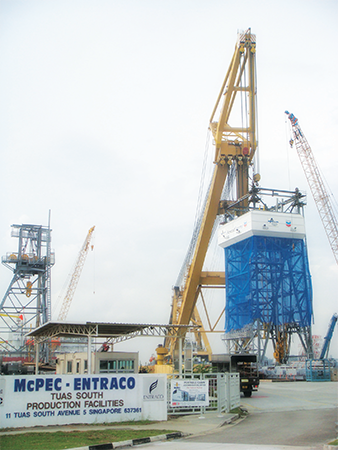 This means it has the capability to work on many different types of vessels. Primarily oil tankers but also very large crude carriers (VLCCs), chemical and product tankers, dry bulk carriers, container ships, tugs, pilot boats, and even commercial vessels such as yachts and ferries.
This would not be possible without an excellent roster of engineers and support staff. Its engineers are selected from well educated, experienced people that can bring both reliability and skill to the position as well as recent graduates from engineering schools that are ready to become the next generation of ship repairers. Meanwhile, the support staff offer customer friendly services and execute orders and requisition efficiently.
Health, safety and environment (HSE) policies are an essential part of the entire Entraco Group. Entraco Marine Engineering and its related companies are no exception. Based on a KPI-driven safety management system, the Group ensures that minimal or where possible zero rates of accidents or pollution incidents are achieved. This includes working towards BizSAFE STAR and OHSAS 18001 standards as well as a number of in-house safety key performance indicators. The Group gives staff continuous training and education for them to take a personal and communal sense of responsibility for safety across the organisation.
Entraco Marine Engineering under the flagship of Entraco Group has been keen in presenting itself at road shows both at home and abroad. Over the next six months it will be stepping up it's marketing by taking part in events across the region. Entraco Marine Engineering is now looking at investing in high-tech equipment to better serve existing customers whilst attracting new ones to its business.
Though it has always been a strong location for the maritime industry, Singapore is experiencing even further growth in this sector today due to the growing prominence of countries in East Asia such as China and Korea. As China in particular becomes an important maritime centre, Singapore's position as a key hub for support services will continue to grow. Entraco Marine Engineering, offering high quality maintenance and repair to a wide variety of ships, is thus in an ideal position to capitalise on this. Supported by the experience and financial muscles of the Group, and with its location on the busy Strait of Jurong, the company is sure to perceive many prospects on the horizon. It is therefore looking toward the future with optimism and confidence.
Entraco Group of Companies
Services: Vessel maintenance and repair