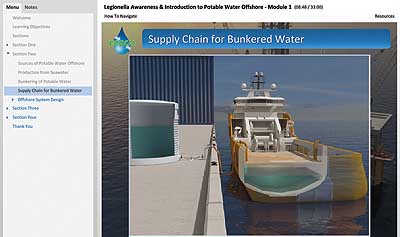 Portable water solutions
Founded in 1992, EPSCO began as a business focused on bringing advanced European technologies in remedial water treatment to the mains water industry in Scotland. EPSCO then further developed its presence throughout the UK and diversified its service offerings to deliver water management solutions to clients within the oil & gas and marine industries. Today the organisation maintains offices near Aberdeen, Scotland as well as Stavanger, Norway and continues to provide specialist chemical cleaning and services to clients within the marine and offshore, industrial and water utilities sectors as well a host of support services that allow EPSCO to meet all of its clients' needs.
The strategic location of the company's bases within the UK and Norway, coupled with its high levels of knowledge and experience, has allowed EPSCO to become a premier provider of water solutions to clients operating within the North Sea. "EPSCO is able to draw on a multidisciplinary technical knowledge of water along with extensive practical experience onboard offshore installations," explains Operations and Compliance Manager, Fraser Inglis. "This includes microbiological, chemical, engineering and logistical factors, which enables us to provide a more holistic understanding of why clients' may have particular issues with their water quality. Also, we do not use sub-contracted operatives and provide all services in-house enabling a tighter control of quality and the most efficient delivery of projects. We assign projects cradle to grave – the same staff will be involved in planning the scope of work and delivery offshore."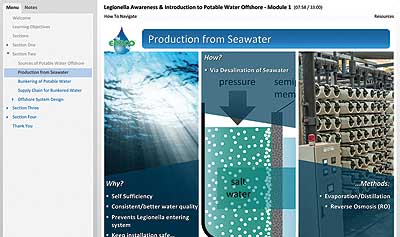 EPSCO's in-depth understanding of water hygiene, safety and treatment allows it to reach a broad base of clients, including any duty holder that is responsible for an installation providing water. The company also works extensively with project teams and EPC contractors to provide water system design improvements through commissioning services and best practice advice. Within the offshore industry its clients are primarily global oil and gas operators, drilling contractors and owners of various support vessels. Elsewhere its client base is also comprised of onshore facilities and infrastructure companies, including downstream refining and petrochemical clients seeking increased efficiency and compliance in process water systems.
As well as overseeing the design and application of water treatment systems, EPSCO is also heavily involved in providing consultancy and educational services. In response to demand across its client base, and particularly within the oil and gas sector, EPSCO has recently introduced a market-leading suite of potable water and legionella awareness training modules. "Having worked with our oil and gas industry clients for many years, we have regularly encountered a demand for more accessible and offshore applicable training in this area," Fraser says. "As an organisation we wanted to respond to this demand and provide something that sets a new standard, and leads the market by teaching people using visual aids and removing unnecessarily complex material. In order to do this, we have chosen to develop an e-learning course with computer based training (CBT) specialist provider Oilennium, due to their industry knowledge, bespoke approach and ability to deliver the required level of animated technical detail. Module One provides Legionella Awareness & Introduction to Potable Water Offshore and is applicable for personnel at all levels. This module also acts as a lead-in for several more specific and detailed modules, which are following very soon and are aimed at responsible persons and key personnel."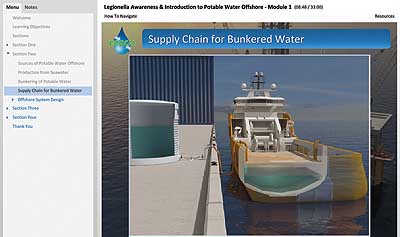 These training courses will be deliverable either online or offline as required by clients. Indeed technology is at the forefront of the service offered by EPSCO, which is further demonstrated through the implementation of online resources in support of in-field monitoring operations, as Fraser reveals: "To complement our water sampling and monitoring support services, we have invested in the development of an online portal tailored exactly to meet the need of our clients with multiple offshore installations. It is called EPSCO WATERSafe'™ and allows an improved way to gather, share and view essential water quality data by all persons across various installations and onshore support staff."
While EPSCO has established a long history and proven track record as a full service water management company within the North Sea and in onshore applications, it is keen to further expand its presence globally and further engage new and existing clients, as Fraser concludes: "With the maturity of our core market in the UK North Sea we are starting to explore growth in other areas, with our sister company in Norway still able to gain opportunities from a larger amount of new activities. As water becomes more of a focus globally, we are starting to see growth opportunities in regions more challenging for water management such as West Africa and South East Asia, which will require development of further operational bases. In summary, EPSCO is now well positioned and setup to deliver full service potable water support for clients across the globe."
EPSCO Ltd
Services
Potable water, treatment systems, cleaning and disinfection, sampling, consulting, monitoring and advice
Issue 125 Octiber 2015