A driving force
Equipco was established at the end of 2005, when it separated from its parent company, German engine producer Deutz, and became independent.
Through a management buyout (MBO) the facilities in Antwerp in Belgium and Ridderkerk in the Netherlands split from Deutz and became Equipco. In November 2008, a further MBO saw Frank van Laar and his brother take over the company. Equipco now serves as the sole distributor and service provider in the Benelux region of compact engines and gensets produced by Deutz AG, which is one of the largest engine manufacturers in the world. Equipco is a total supplier in the area of products, services and advice regarding Deutz products. With more than 60 employees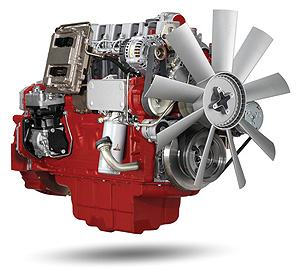 the business focuses firmly on its customers and their requirements. Twenty highly trained engineers are available to solve any problems as quickly as possible, should any arise.
As the exclusive distributor of Deutz engines, Equipco benefits from the trusted brand name of the diesel engines, which are known across the world for their reliability and toughness. Managing director, Frank van Laar elaborates: "The Deutz product is very versatile and flexible, as it can be configured in many different ways, catering to individual needs within a variety of industries. In this respect, Deutz has a widespread base across markets including the agriculture industry, in terms of machinery, and the marine and offshore sectors." Equipco's longstanding experience in the maintenance and sale of Deutz engines means it is well-placed to advise its customers and support them during and after the purchasing process. The company provides the distribution of new engines, spare parts, and all services, warranty-related and aftersales, to its clients.
Frank explains the initiatives put in place after he and his brother took over the company: "Following the MBO, we implemented several projects to improve customer satisfaction, in terms of new services that we plan to provide in the future. These include remote monitoring of our engines, more variety and maintenance contracts, track and trace possibilities of engines, spare parts sales on the internet, and last but not least, for new engines, the Deutz ADG genset, which is a completely new product available now."
In terms of its service provision, Equipco offers 24-hour support to its customers in the Benelux region. A team of highly qualified specialists and a consulting service are always on hand to provide after-sales technical support to customers. This service aims to establish longstanding and trusting customer relationships – attributes that reflect the organisation's endeavours to provide a superior standard of service to its customers. In addition, the aftersales service is also global, thanks to Telematics, a remote monitoring system, which is also available from Deutz.
Qualified and experienced personnel put the engines' economical maintenance concepts into practice, meaning the customer benefits from a high level of support from the very start.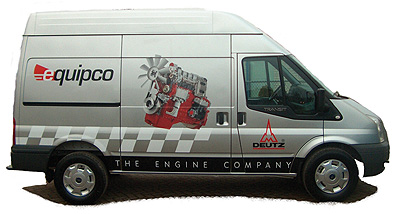 Commissioning, maintenance, servicing, and repair from a single source enhance the operational reliability of each engine through prevention, early recognition, and timely repair of damage, reducing any risk of failures. The tailor-made service contracts offer the customer calculation reliability and cost control over the entire useful life of the engine.
In light of the recent economic downturn, Frank explains what Equipco will do to take the business forward: "We are definitely aiming to expand in the future. If you look around and see what's changed in the last few months, there is constant talk of the current situation and how serious it is. We have decided that, instead of sitting around and waiting for better times, we are going to improve the company to ensure we can meet the problems head on and develop the business. We have invested in hiring new personnel, training our current personnel to a higher level, especially in the service area, as well as investing in new knowledge, new techniques, and new products to actually expand our business and broaden our customer base as much as possible.
"In this way, we are looking to renew our presence in several areas, including the offshore sector of the oil and gas industry. We still have knowledge and experience within this area, and although the move to independence meant that activities have decreased in recent years, we want to reverse this trend and revisit this and other markets. We are actively looking to step up our work within this area as a part of our expansion plan."
He goes on to describe the market conditions, and how they will affect Equipco, in more detail: "The current situation is certainly much worse than it was six months ago, but we don't think it is as bad as the general opinion seems to be in Western Europe. Everyone is seriously concerned about the credit crisis, and although a lot of the market seems to be at a complete standstill, it's not the case for us. Our challenge for the future is to be aware of customers' changing needs. We need to continually improve the business, in line with improvements Deutz is making to its engines. We are not going to sit back and relax and rely on our brand name to do the work; instead, we are going to continue to develop and improve in these tough times, to demonstrate the advantages of a Deutz engine and show the customer why they should choose it over another engine."
Equipco BV
Services Distribution of Deutz engines