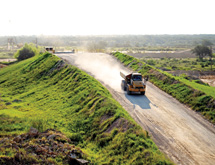 Whenever Erna Frac Sand's clients need its product, the firm is ready to deliver, Brett Nix says. "We operate 24 hours a day, seven days a week, and have over 20 million pounds of storage," he says. "Our sand is ready any time, day or night."
Nix manages the sales, marketing and acquisitions for the Mason, Texas-based company, which produces the sand from a previously untapped formation in Texas. A longtime veteran of the oil and gas industry, Nix co-founded the company in 2008.
At the time, Nix and his partners saw a need for frac sand in the industry. "We knew of an excellent sand deposit with the right characteristics to produce a premium frac sand," Nix says. "One of the most exciting traits of the deposit was its white color and well-rounded sand grains. After careful research, we decided to purchase the deposit and move forward with building a production facility in order to meet the growing market demands."
Today, Erna operates from a state-of-the-art facility that ensures it delivers premium-grade hydraulic fracturing sand. During the production process, its sand is washed, dried and sieved to its clients' specific needs.
However, "We don't produce extremely high volumes," Nix admits. "We're kind of a niche company; a smaller producer focusing on high quality, as opposed to producing higher volumes." A typical month of finished product at its plant is about 35,000 tons.
Shining Brite
Erna's signature product, known as Erna Brite, sets it apart from competitors, Nix says. "Texas frac sand companies tend to produce coarse brown sand, which is excellent proppant for low to mid pressure formations," he says. Sand companies in the northern states tend to produce finer-sized white sand, which is excellent proppant for higher-pressure formations.
The company's Erna Brite product is an incredible mix of the two, Nix asserts. "We call it 'Brite' because it combines the best characteristics of brown sand and white sand," he says. "It provides excellent conductivity in not only low-pressure formations, but also in higher pressure formations as well. The fact that it is whiter in color and produced in Texas is just icing on the cake."
Erna Brite also sets itself apart with its size. Although most Texas sand companies produce a product that can pass through a 12 mesh sieve and get caught along the way to a 40 mesh sieve, Erna's product will pass through a 40 mesh sieve and get caught on the 50 to 70 mesh sieves, Nix says.
"Many, if not most, Texas sand mines produce course products such as 16/30 and 20/40 mesh sizes," he says. "Erna, on the other hand, specializes in finer products such as 40/70 and 100 Mesh."
In-Between
Since its founding, "[We] have enjoyed a great market," Nix says, noting that Erna is still seeing strength in the oil sector. "Dry natural gas has obviously slowed down in the last couple years."
Erna has an advantage over its competitors with its location, which is less than 75 miles from the Permian Basin and 140 miles away from the Eagle Ford, Nix says.
Because it is so close, Erna has the advantage to provide service at a lower price. "Our customers are not burdened with the high cost of long-distance transportation, demurrage, transloading and storage," he states.
"Over 1.75 billion pounds of Erna Brite has been pumped in the Eagle Ford and Permian Basin," he says. "In doing so, our customers have significantly reduced their down hole proppant costs while simultaneously increasing production."
He stresses that Erna remains extremely focused on customer service. "We communicate with our customers and logistics team so they are always aware of truckloads [and the] status of production," Nix says.
Local Provider
Erna is committed to sourcing its staff locally. "We take great pride in offering opportunities for about 50 people from our neighboring communities," Nix says, adding that its managing partners live in Mason County, Texas.
"We treat our employees like family, and use a 'just ask' approach," he explains. "In turn, we enjoy many great employees who are making a long-term career with Erna. They help us to better understand our company and to continuously improve."
For the future, Erna has room for expansions but intends to stay at its current rate of production. "We like our position in the market and our ability to focus on our customers," Nix says.
"Our goal is to continue focusing on our customer's needs, while making a premium product, lowering our production costs and working on our efficiencies."