Essentra Pipe Protection Technologies
Bigger and better
Essentra Pipe Protection Technologies, which forms part of the Component & Protection Solutions division of Essentra plc, specialises in the manufacture of high performance innovative products from commodity resins to engineering-grade thermoplastics and polymer alloys for use in a range of end-markets, in particular the oil and gas industry.
Until recently Essentra Pipe Protection Technologies traded as MSI Oilfield Products, with the business only changing its name in October 2013 when the entire Group rebranded to Essentra. This abstract name was specifically chosen to capture what each of the constituent businesses manufactures and supplies; namely millions of relatively small but essential components which often play a critical enabling role in the products of the Group's customers, everywhere and every day.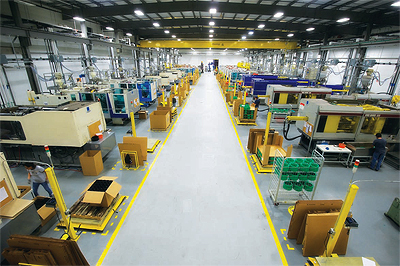 John Boben, president of Essentra Pipe Protection Technologies, highlighted that being part of such a large group is of major benefit to his business: "As part of the Essentra plc organisation, Essentra Pipe Protection Technologies is extremely well resourced to support and service our customers in the energy industry," he stated. "The Group has the financial capability to add capacity, deliver value-added product innovation and establish operations in new markets around the world. Additionally, our CEO, Colin Day, who is also a non-executive director of the energy engineering consulting and services company AMEC plc, is very supportive of the future of the oil and natural gas industry and of Essentra Pipe Protection Technologies' position in that industry."
John continued with some history on the Pipe Protection Technologies business, noting it was established 34 years ago as a plastics injection moulding company manufacturing thread protectors for oil and natural gas drilling pipe. "Then, in 1994, the business was acquired, subsequently to go on to become part of the extensive worldwide organisation now known as Essentra plc," he added. "Today Essentra Pipe Protection Technologies is a market leader with operations in four countries which – over and above our headquarters in Houston, Texas, US – are Veracruz, Mexico; Edmonton, Alberta, Canada; and Aberdeen, UK. And we are in the process of adding manufacturing capability to an Essentra site in Paraguay, to support our current commercial activities in Brazil and our future regional expansion efforts in South America."
The Houston headquarters is where the company opened a state-of-the-art manufacturing facility in 2012. "This 136,000 sq. ft. facility provides injection moulding, CNC threading, tool building and product warehousing utilising the latest moulding and part threading technology, along with robotics and automated part handling equipment, to assure the highest quality," John pointed out. The project represented a significant investment – an approach that is required when working in a fast moving sector like oil and gas; Essentra also believes that its strategically positioned, modern facilities are one of its key strengths. "They mean we can serve customers wherever may be required," said John. "No other supplier of pipe protection products serves more locations than we do, and furthermore, we provide the widest range of product offerings available in our industry."
Of particular note is the recently launched MaxX line of thread protectors. "This is a leader in our industry," explained John. "This high impact resistant product was developed in response to
newly enacted thread protector specifications by the American Petroleum Institute (API) to assure maximum protection for the threaded ends of pipe used in oil and natural gas drilling operations."
The Essentra MaxX thread protector is available in sizes ranging from 2 3/8" diameter to 9 5/8" and is of an all-plastic design. The MaxX was the first product to be certified by independent laboratory testing certified to comply with the API specification. Following the success of the initial MaxX product, Essentra has responded to customer feedback and designed and launched a complimentary product line to service drilling wellsite applications that require protectors, which allow pipes to be lifted individually onto the drilling floor.
The product is a perfect illustration of how Essentra Pipe Protection Technologies is at the forefront of product development. Indeed, alongside new products, significant research and development (R&D) is dedicated to creating new plastic resin formulations to assure that the company is providing the highest quality products at competitive prices to better service its customers. As John put it: "As a leader in our industry, our engineering and R&D resource is critical to meeting, and exceeding, the exacting requirements of our customers."
These customers are well-known brands in the energy industry and include major and independent oil producers, drilling contractors, oil service companies, OCTG pipe manufacturers and pipe threaders, as well as a cross section of other companies that provide services to the energy industry.
"Without being able to mention specific customer names, we have been successful in securing long-term commitments from some of the major players in our industry for the supply of a variety of our pipe protection product offerings – from thread protectors to lifting bails, pipe chocks and bumper rings," said John. "We continue to expand our market reach to customers outside North America, and several customers now specify the Essentra MaxX as their protector of choice when an API certified product is required.
"Our products are used in all exploration and production drilling applications both onshore and offshore, as well as for pipe protection needs for transmission and pipeline applications. As a global industry, our customers require a close working relationship with the ability to provide our protection products wherever the need arises. As a result – and as a trusted partner to the industry – we must 'think global but act local' when servicing their pipe protection requirements," he continued.
Essentra Pipe Protection Technologies has invested millions of dollars into facilities, the latest manufacturing equipment and R&D over the past few years and has plans in place to continue that going forward, to support the growth expected in the industry. Over and above expanding further in South America, the business is determined to move into areas where it believes new opportunities will arise. "We see exciting times ahead for the energy industry throughout the world and we are keen to expand our geographical footprint into other markets globally," confirmed John. "It is likely to come from M&A opportunities, which are an integral component of Essentra's overall business growth strategy, and we see great opportunities ahead. The recent growth in North American oil and natural gas exploration, as a result of horizontal drilling and hydraulic fracturing technology, continues to evolve and is expanding into other regions of the world," he added. "We will continue to expand our manufacturing capabilities andcapacities, as well as our emphasis on innovation and new product launches that support our customers' needs. We aim to service our industry in more locations globally than any of our competitors, and will be bigger and better than ever, continuing to be a leader in support of the opportunities that lie ahead for our industry."
Essentra Pipe Protection Technologies
Services: High performance innovative products